"What you keep, you lose.
What you give away, you keep. And when you leave, you take with you, only what you have given away."
So reads the beginning of Lola Haden McDaniel's obituary. Lola was dedicated to the concept of giving – she and her husband Moran K. McDaniel cofounded the McDaniel Charitable Foundation, which supported scholarships, research, and community projects in her hometown of Galveston, Texas.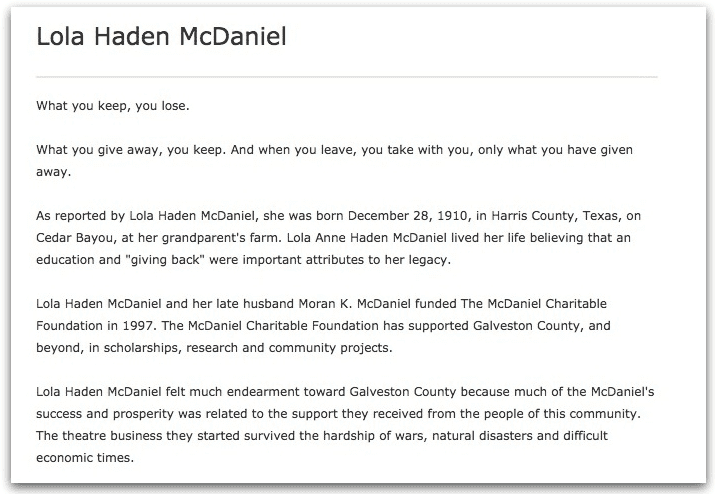 Lola passed away in 2010. I discovered her obituary using GenealogyBank. Interested in finding recent obituaries of Mayflower descendants, I searched GenealogyBank's archives using the terms "Mayflower" and "ancestor." Because Lola's obituary mentioned her Mayflower Pilgrim heritage, her obituary was the first result in the "Recent Obituaries" archive.
Lola Haden McDaniel was proud of her many heritages. A lifelong member of the Mayflower Society and the General Society of Mayflower Descendants, she was also a member of the Daughters of the American Revolution and the Daughters of the Republic of Texas.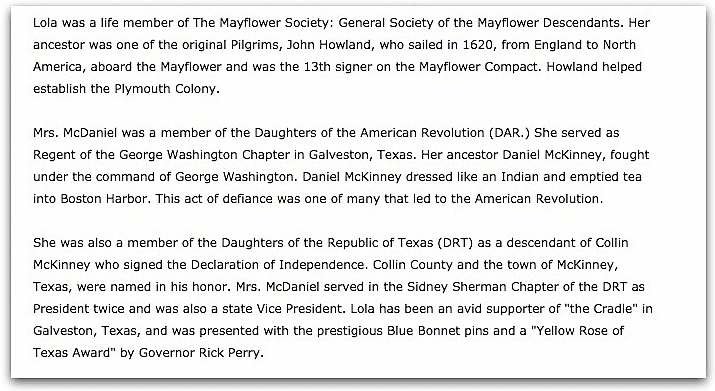 According to the obituary, Lola was a descendant of Mayflower Compact signer John Howland, Daniel McKinney who fought under George Washington, and signer of the Texas Declaration of Independence Collin McKinney.
That makes Lola and me cousins multiple times over via all of her ancestors. I didn't know I had a cousin who not only signed the Texas Declaration of Independence in 1836 but was, according to Wikipedia, "one of the five individuals who drafted [it] and the oldest person to sign it." Thank you GenealogyBank!
Lola's legacy continues on with the McDaniel Charitable Foundation. The Foundation's mission is "to produce profound good." Wow – wonderful mission statement.
On its website, the foundation describes Lola and her husband as follows:
"The McDaniel Charitable Foundation (MCF) is a 501-(c)(3) charitable foundation based in Texas City, TX. The Foundation was established in 1997 through the generosity of Moran K. and Lola H. McDaniel of La Marque, TX.

"Lola and Moran McDaniel lived in Galveston briefly before settling in LaMarque, TX, where the couple ran a theater. Mr. and Mrs. McDaniel both attended Southwestern University in Georgetown, Texas. The McDaniels have been supporters of the University and various other organizations throughout the state, including the Galveston County Junior League, the Daughters of the American Republic, the Daughters of the Republic of Texas, the Mayflower Society, and the First United Methodist Church."

– McDaniel Charitable Foundation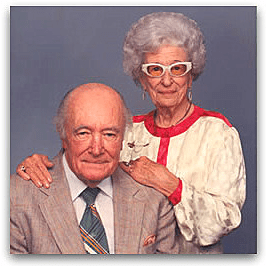 This is terrific – what good people. I never would have read their story and found these cousins without GenealogyBank!
Genealogy Tip: Discover the stories of your relatives and other notable people by searching GenealogyBank's Historical Newspaper Archives and Recent Obituaries for keywords that connect you to your family – and learn more about them.
Related Articles: