Introduction: Mary Harrell-Sesniak is a genealogist, author and editor with a strong technology background. In this guest blog post, Mary searches old newspapers to learn about lineage, hereditary, heritage and patriotic societies, lists a number of these societies, and provides their website links in case you want to find out more.
The listings and records kept by various genealogical societies can be a gold mine for family historians.
But there are so many American lineage, hereditary, heritage and patriotic societies, you'd be hard pressed to find them all. And if you attempt to search on the keywords "genealogy" or "lineage society" on the Web, you'll find the results overwhelming!
This blog article makes searching these societies a more manageable task, by discussing several key categories and providing links to make your genealogy record searches more efficient. It also shows how articles from an online newspaper archive can provide more information about these types of societies.
Societies & American History
Many societies have a long history in America, with some of the oldest going back to the early days of our nation's founding.
This article from a 1985 Louisiana newspaper lists heritage societies active in New Orleans that year. It reports that the oldest society in the area is the St. Andrew's Society, founded in 1729 with membership open to men of Scottish ancestry.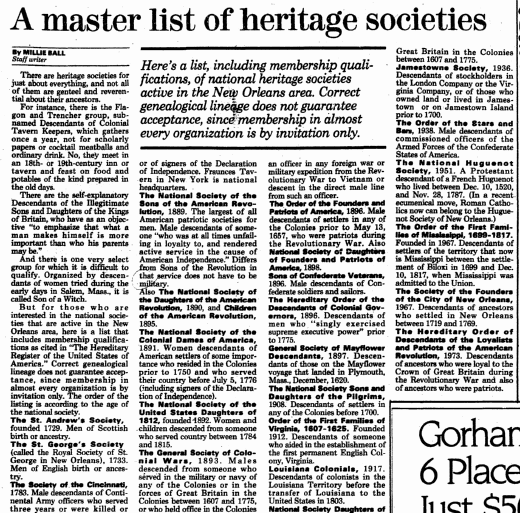 Lineage societies restrict membership to lineal descendants. Some have "good character" requirements, or are by invitation only. Hereditary, heritage and patriotic societies have similar restrictions, or their groups may be open to those of shared interests.
Most of these societies ask for documentary evidence, establishing the birth and death of each generation, to link to the applicable ancestor. Marriages may or may not be required, as some societies recognize that making out-of-wedlock births ineligible is a deterrent to recruiting members. Certificates are generally preferred, but alternate proofs, such as genealogy books, biographies, family letters, and state or local histories, may be acceptable. To learn specifics about what is required to join, contact the registrar of a society and he/she may even assist you in acquiring the necessary documents.
The Oldest Society in America
The society thought to be America's earliest is the Ancient and Honorable Artillery Company of Massachusetts, founded around 1637. As noted in this 1916 South Carolina newspaper article, the society's origins date to an earlier organization incorporated by King Henry VIII in 1537 (see www.ahac.us.com).
Newer Society Organizations
Some of the newest society organizations in America include the:
National Society of Saints and Sinners (founded in 2010)
Sons and Daughters of World War II Veterans (2011)
Order of Descendants of the Justicians (2011)
(In case you are wondering, the Medieval Chief Justiciar (hence the term "Justicians") was the modern-day equivalent of an English Prime Minister.)
Society Categories & Lists
Comprehensive lists of heritage and lineage societies can be found at these websites:
Most lineage, hereditary, heritage and patriotic societies can be lumped into broad categories pertaining to:
Ethnic or Religious Affiliations (associations with countries of origin, i.e., ancestral locations; customs; etc.)
Military (specific war, such as the American Civil War or American Revolutionary War)
Pioneers and Settlements (first families or early arrivals to areas)
Prestigious or Unusual Connections (descent from presidents, rulers, military officers, even those who owned taverns—or were accused of being a witch)
Here are some of the groups that caught my attention.
Ethnic and Religious Societies
Persons with shared countries of origin or religious affiliations might contact groups such as the:
Huguenot Society of America (www.huguenotsocietyofamerica.org/), whose members left France to escape religious persecution
Daughters of Norway (www.daughtersofnorway.org)
Any of the "Saint Societies" which mostly relate to ancestry from Great Britain (England, Ireland, Scotland, and Wales)
A few of the latter category, which may have branches in your area, include:
Saint Andrew's Societies (open to lineal descendants of Scotland)
St. David's Societies (Welsh descent)
St. George's Societies (service in the Britannic Majesty's Armed Forces)
Saint Nicholas Societies (Irish ancestry)
Military Societies
There are too many to list them all, but some better-known military societies include the:
The illustration below, from an 1898 Alabama newspaper, portrays the prominent officers of the DAR.
You can discover much of the history and learn about former members of these societies in the newspaper archives. Just search the society name in the "Include Keywords" field.
American Pioneer and Settlers' Societies
These organizations celebrate arrivals at, or settlements in, particular areas prior to a certain date. In addition to the list below, search newspapers and the Web for "Pioneer" or "First Family of" in connection with a location, such as "California" or "Indiana."
Some examples of pioneer and settlers' societies are the:
Society of the Ark and the Dove, which celebrates the first families of Maryland (http://thearkandthedove.com/)
National Society of the Colonial Dames of America (www.nscda.org) and National Society, Colonial Dames XVII Century (www.colonialdames17c.org/)
General Society of Mayflower Descendants, for those who can trace their ancestors' arrival on the Mayflower in 1620, thereby establishing Plymouth Colony
Jamestowne Society, for those tracing lineage to the first permanent settlement in America (www.jamestowne.org/)
National Society, Sons and Daughters of the Pilgrims (www.nssdp.com/)
Society of Descendants of the Founders of the New Haven Colony (

http://www.societyct.org/societies/newhaven.php

)
Occupational & Unusual Societies
Although they range from the ridiculous to the macabre, these are some of the most noteworthy societies.
Presidents
Prisoners & Outlaws
Royal Bastards
Descendants of the Illegitimate Sons and Daughters of the Kings of Britain (http://royalbastards.org/) grants membership to individuals who can prove descent from an illegitimate son or daughter of a king, an illegitimate son or daughter of the child of a king, or an illegitimate son or daughter of the grandchild of a king of England, Scotland, Wales, Great Britain or the United Kingdom.
Saints and Sinners
Tavern Keepers
One of the more unusual organizations, Flagon and Trencher Society (www.flagonandtrencher.org/) resulted from a speech on genealogy in which Walter Lee Sheppard, Jr. commented that there was a lineage society for every group except Colonial tavern keepers. Shortly thereafter, the society was formed by Sheppard and Dr. Kenn Stryker-Rodda. Membership is open to anyone (even children) who "can prove direct descent from a person conducting a tavern, inn, ordinary, or other type of hostelry prior to 4 July 1776 (within the area which became the first 13 states)." Brewers do not qualify. The society's name is derived from the terms "flagon" (a drink container) and "trencher" (a wooden plate or platter used to serve food in a tavern). The annual meeting is a luncheon held in a Colonial tavern.
Whalers
Witch Societies (Accused)
If you think you are descended from an unfortunate person imprisoned, persecuted or placed on trial for witchcraft, then consider contacting the Associated Daughters of Early American Witches (hwww.adeaw.us/).
If you have an interest in any of these societies and want to learn more, contact them directly via the website links provided. The process of documenting your eligibility, plus interactions with other members and officials of the society, may well help you with your own family history research.