Introduction: In this article, Melissa Davenport Berry tells stories about the California Gold Rush, based on letters a 49er wrote to his fiancée. Melissa is a genealogist who has a blog, AnceStory Archives, and a Facebook group, New England Family Genealogy and History.
Recently a client, William Luckow, shared a large collection of letters written by his ancestor Francis Henry Nicholson, who was among the many Americans who got the "gold rush fever" and headed out to California to make his fortune.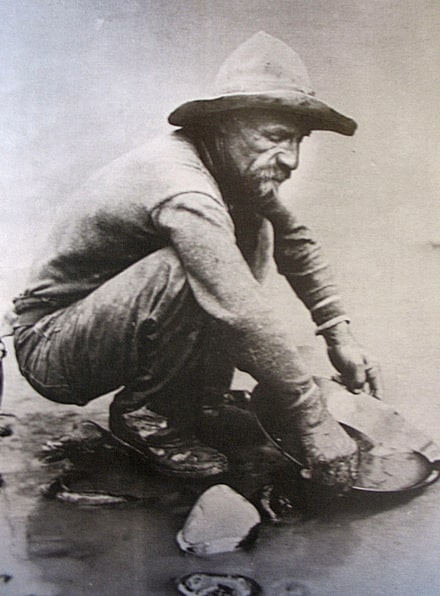 His letters reveal a rich history of these times in Nevada City, California.
Francis was born in Batavia, New York, to Francis Abner Nicholson and Mary Ann Burdge. His paternal lineage traces back to Puritan stock: Henry Cooke/Cook, who settled in Salem, Massachusetts; and includes allied lines the Merriman, Hull, Ives, Potter, Parker and Andrews.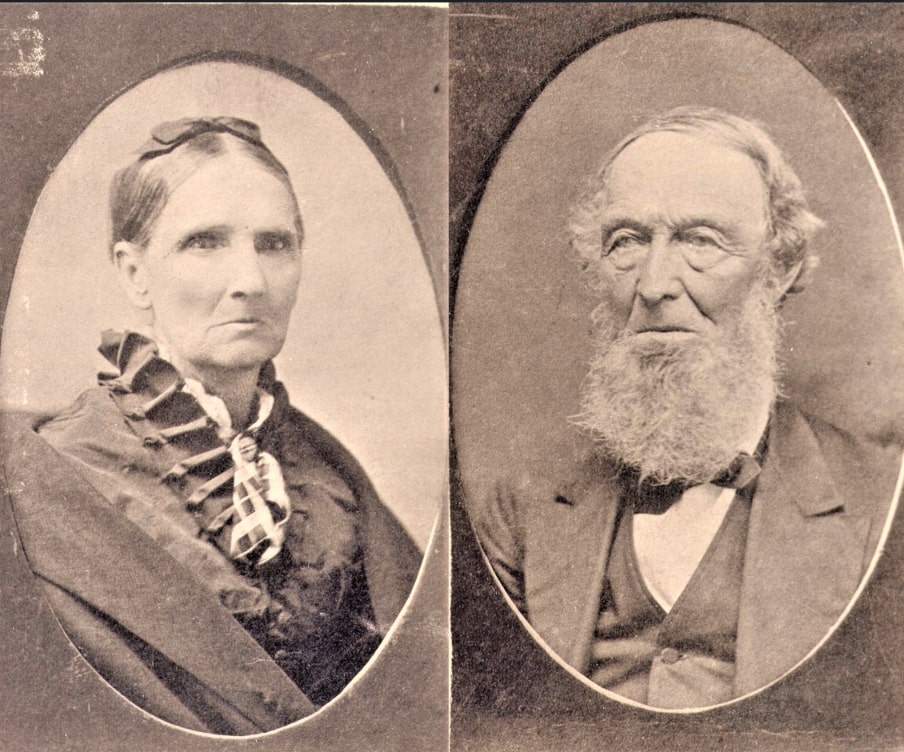 In 1864 Francis Henry married Elizabeth "Lizzie" Charles, born in Kilcock, Ireland, to John Charles and Mary Bruton.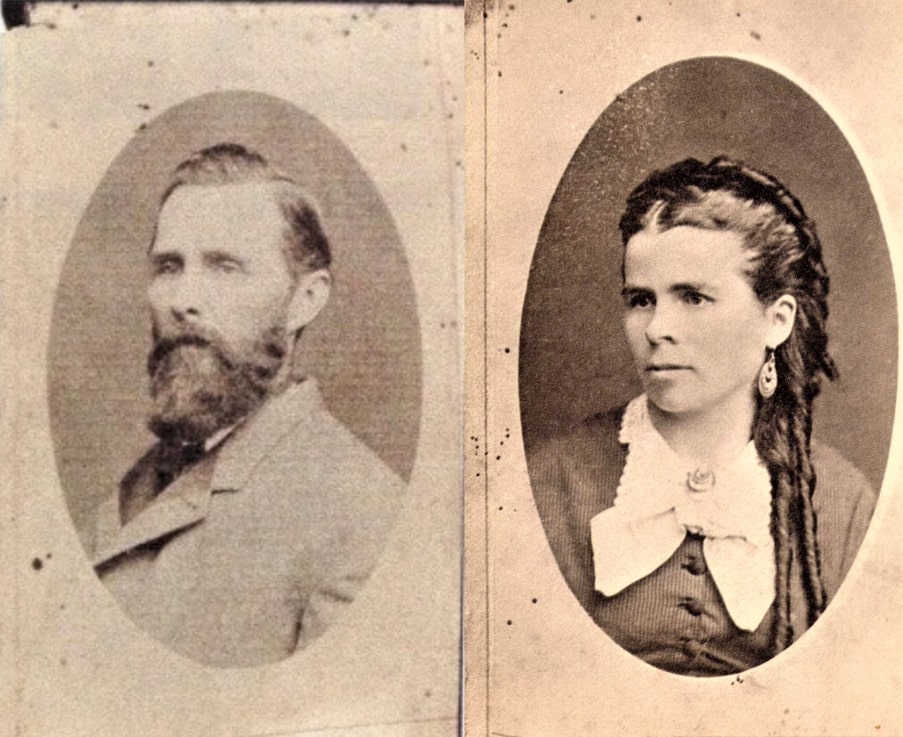 Their courtship, which started when he was mining for gold, lasted almost nine years, and is detailed in many letters. (More to come in future stories.)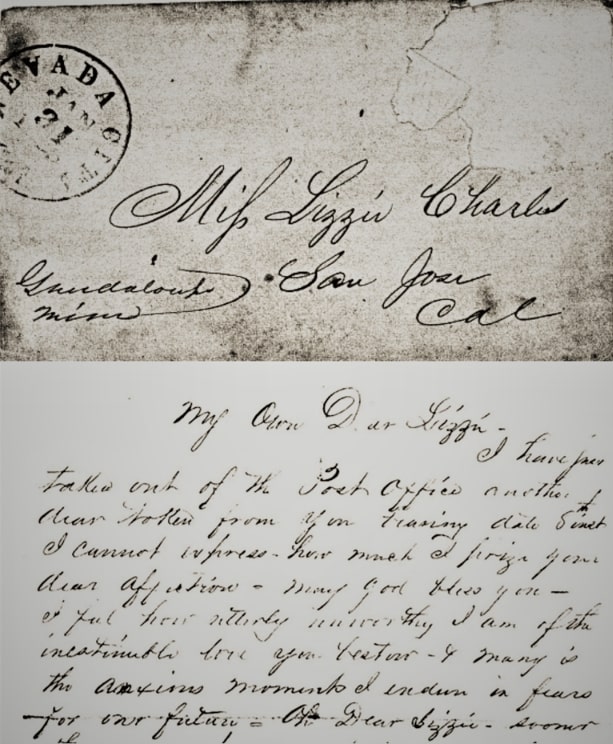 In a letter written to his future wife Lizzie, dated 28 February 1858, Francis Henry noted a disturbing event. He witnessed the execution of a prisoner, David Butler, who murdered Robert Moffat in 1855.
The trial and the events surrounding the murder made headlines. What brought about this tragedy was "filthy lucre," a term often used by Francis Henry in his letters to describe mining for gold and the toll it has on the soul. Like many who fell prey to the fantasy of getting rich quick via gold, Butler came from Ohio to mine gold and seek his fortune – but turned to gambling and drinking, which ended his own life.
Francis Henry was not present at the execution of his own accord, but as a guard for the Nevada Rifle Company organized just over a week prior to the prisoner's fate. He wrote to Lizzie:
My own Dear Lizzie:

…Days have elapsed since I last wrote you and, in that time, several important items have transpired. The execution of David Butler on Friday last was one of the most affecting scenes that it has been my lot to witness, and that I may never be obliged to behold another is my devout wish.

I was under the command ordered by the sheriff to shoulder a musket in company with 39 others and guard the prisoner to the scaffold. There has lately been organized a rifle corps in this city and I was unfortunate enough to have subscribed my name as one of the company, and under the command of a captain and the requisition of the sheriff we were obliged to act as guard on that very melancholy occasion.

I saw Butler walk out of the jail and get into the carriage and at the scaffold – saw him mount the scaffold with cheerful and resigned air.

I then turned my back to the place and remained in that position until two or three minutes after the fatal drop – heard him in his dying speech in a loud and firm voice exhorting to his friends to turn from their evil ways… [he told them about] his sin and wickedness until he committed the fearful crime for which in a few minutes he was to die an ignominious death.

But he had no fears in leaving this world – he had made peace with God and was anxious to join him in the next world, where he was sure of justice – which he said had not been done him in this.

After he got through talking, he walked across the scaffold and said to [Sheriff] Sam Boring, "I am ready, farewell all. May God bless you and may he have mercy on me." He then shook hands with Mr. Boring, and several of his personal friends.

Mr. B then proceeded to tie his arms and feet; then the rope was placed around his neck. The Methodist minister Mr. [David Anderson] Dryden delivered a short prayer and at the word Amen the rope of the drop on which stood was cut.
Here is a photo of Sheriff Samuel Watson Boring (1824-1903), son of Absalom Boring and Elizabeth Ruhle. More on Samuel to come later. Credit: University of California Library Archives.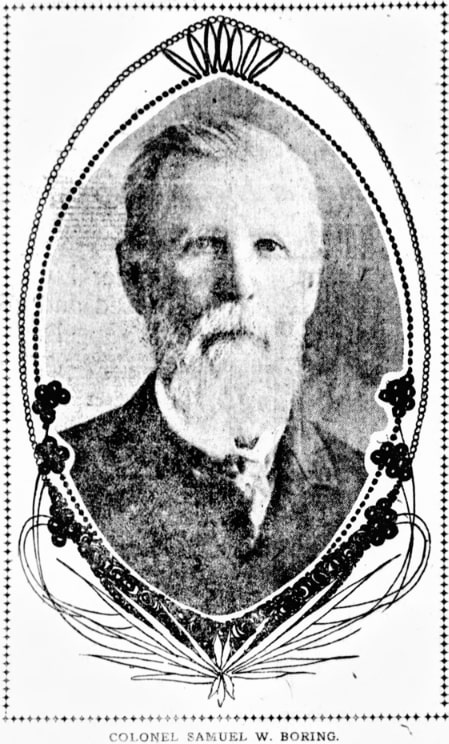 The Nevada Rifle Company was formed on 15 February 1858, and William P. Harrington (banker, merchant and railroad builder), Henry Meredith, and Rufus Shoemaker served as captains. It was comprised of the leading business and professional men.
For a full list of the roster which includes Francis Henry, Sam Boring, and John B. Endicott, a juror on the Butler trial, as well as 145 other men, go to Americana-Archives.
I was able to find a few news clips in my searches that give details. The first is an announcement made in the Nevada Journal on 2 February 1858 for all Nevada Rifle Company men to assemble and attend Butler's execution.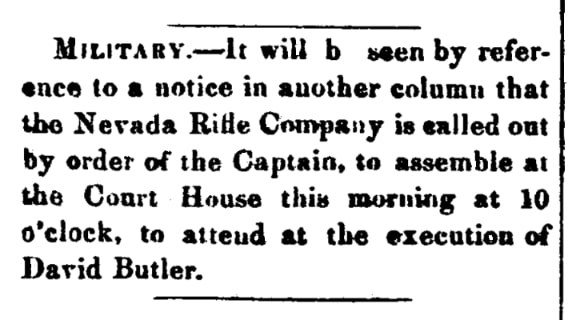 The report of the execution was published in the San Franscico Bulletin on 4 March 1858.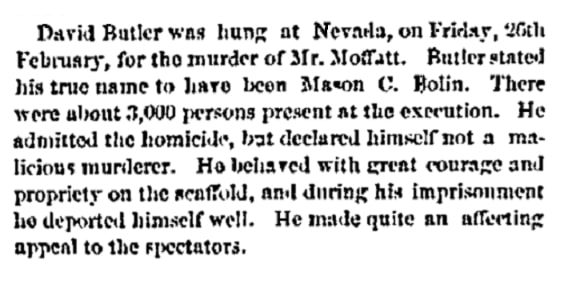 This article reported:
David Butler was hung at Nevada [City, California] on Friday, 26th February, for the murder of Mr. Moffat. Butler stated his true name to have been Mason C. Bolin. There were about 3,000 persons present at the execution. He admitted the homicide, but declared himself not a malicious murderer. He behaved with great courage and propriety on the scaffold, and during his imprisonment he deported himself well. He made quite an affecting appeal to the spectators.
To be continued…
Explore over 330 years of newspapers and historical records in GenealogyBank. Discover your family story! Start a 7-Day Free Trial
Note on the header image: prospectors working gold placer deposits on 9 July 1850 during the California Gold Rush. Credit: Wikimedia Commons.
Related Articles: