Family stories.
Imagine if you had the last words spoken or written by your ancestor.
If you are related to Tom Bell – who was born about 1825 as Thomas J. Hodges in Rome, Tennessee – then here is his "last letter" preserved in the old newspapers put online by GenealogyBank.
This letter was written to his mother just before he was executed.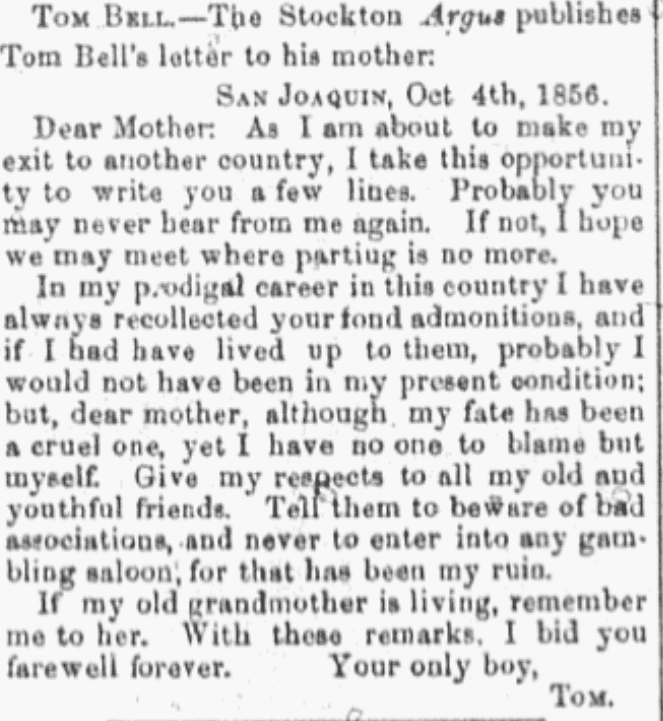 Powerful.
But, why did he write: "Probably you may never hear from me again."
Why so dramatic – so dour – did he know he was about to die?
Yes.
He was a thief – a stagecoach robber. Worse, men and women were killed by him and his gang during their robberies.
Caught and arrested, he was executed the same day this letter was written.
The San Andreas Independent tells us more of the story.
He was born Thomas Hodges in Rome, Tennessee, and took the name Tom Bell.
He served in the Mexican-American War and went to California in 1850.
He was well educated and was a physician with "considerable surgical skill."
Once, when a man was wounded during one highway robbery, "Bell immediately dismounted, took up and tied the bleeding vessel, with much skill, had the man conveyed to a house, giving direction for his treatment, and rode off. The wounded traveler got well."
Tom was captured and put in the State Prison at Angel Island, but escaped while faking an illness.
Tom Bell was a surgeon and threw a bright future away for a life of crime.
Why?
According to his letter to his mother:
"I have no one to blame but myself," adding that his "ruin" was caused by "bad associations" and frequently entering "into… gambling saloon[s]."
Memorable.
Find your family's stories in America's newspapers.