Introduction: In this article, to help celebrate National Hispanic Heritage Month (Sept. 15-Oct. 15), Gena Philibert-Ortega writes about guacamole, an ancient treat created by the Aztecs in present-day Mexico. Gena is a genealogist and author of the book "From the Family Kitchen."
If you drive south on California's Interstate 15 toward San Diego County, you will see them: small produce stands where farmers sell fruits and vegetables to commuters and those making their way home from a weekend trip to the beach. One popular item at these stands is local avocados.
California is where domestic avocados are grown, by 3,000 avocado growers. (1) It's even the home of a uniquely California fruit, the Haas Avocado (yes, avocados are fruits). Originally referred to as "Alligator Pears" in older recipes, California has been growing avocados since 1871 from trees imported from Mexico. (2)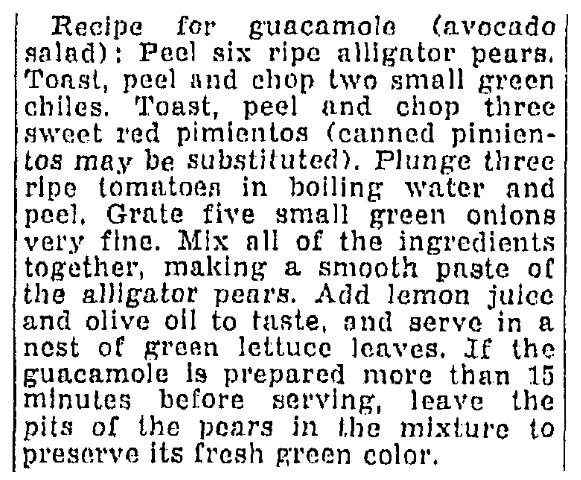 There's no doubt in my mind that the best thing to do with avocados is to make guacamole, an ancient Mexican treat first created by the Aztecs. Guacamole is a simple recipe combining mashed-up avocados with salt and lime juice – but like many recipes, it has evolved over time.
Guacamole?
What is guacamole? Today you may think of it as a dip for tortilla chips, but in the past the term "guacamole" was a little looser and often referred to a salad. Consider this 1934 recipe that includes green peppers, pimento, and French Dressing. It instructs the home cook to "not mold this salad. Let it drop onto the lettuce with a splash motion."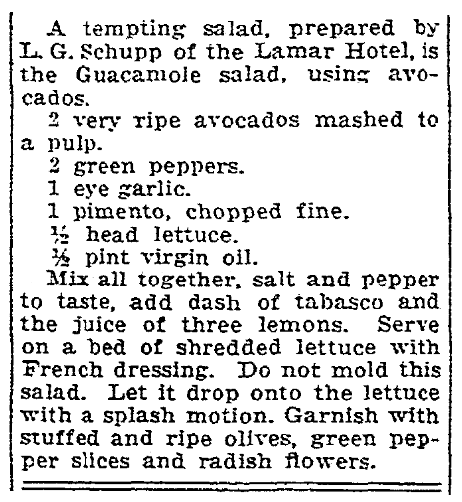 A similar guacamole salad recipe was submitted by a reader of the New Orleans newspaper Times-Picayune in 1939. Mrs. R. H. Nestler relates that her friend had visited Mexico and was given the recipe by a restaurant owner who was only too happy to share. The recipe includes avocados, hard boiled eggs, stuffed olives, tomatoes, onion, and French Dressing.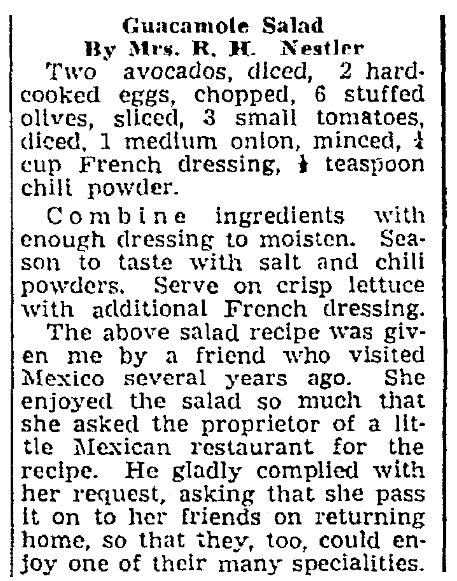 Guacamole wasn't always well-known in the U.S, even in California – as this 1940s Sacramento, California, food column demonstrates. The guacamole recipe is similar to the ones above, and the writer even tells the reader how to pronounce it (wa-ca-molay).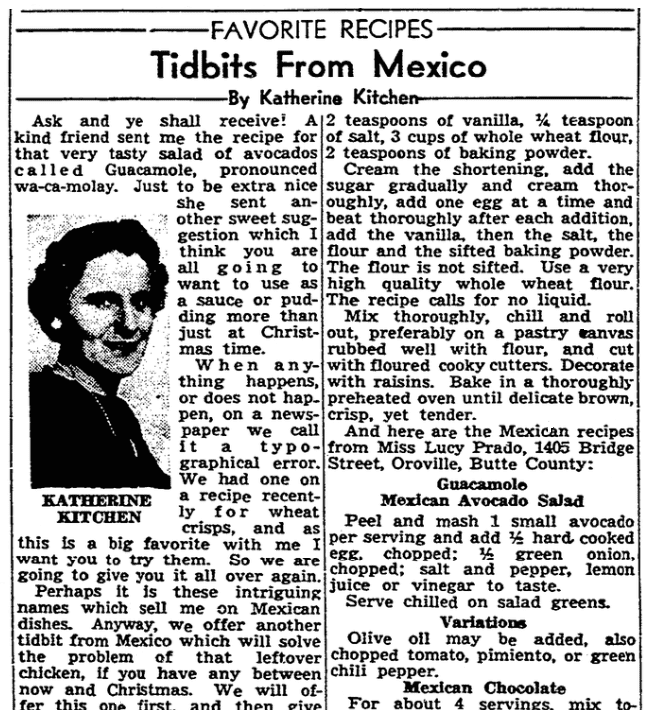 Guacamole!
It seems whenever we go out for Mexican food, we end up ordering guacamole – and whether it's served at a restaurant or we make it at home, the preparation is fairly simple. The only thing that is important to keep in mind is to add citric acid (lemon or lime) to keep the dip from turning brown from being in the air for too long. Otherwise, whether you like onion or tomato in it or prefer to add some hot sauce or jalapenos for a little kick, it always is the best addition to a meal.
My favorite cookbook author, Elena Zelayeta, was a "rock star" chef long before Food Network was an idea. She even had a TV show before Julia Child! Her Mexican cookbooks were popular (Elena's Famous Mexican and Spanish Recipes published in 1944 had over 70 printings), and of course she had her own version of guacamole which was published in her cookbooks and in the newspaper.
This column from 1953 includes her advice that guacamole is a salad, a sauce, a filling for tortillas and a garnish. She also advises that "Mexicans do not mash their guacamole to a smooth paste as do Americans… there are lumps in it." My favorite part of this recipe is the suggestion to add "crumbled bacon, chopped peanuts or, best of all, chicharones." Chicharones are described in this article as "crisp fried bacon rings." A better description might be fried pork rinds.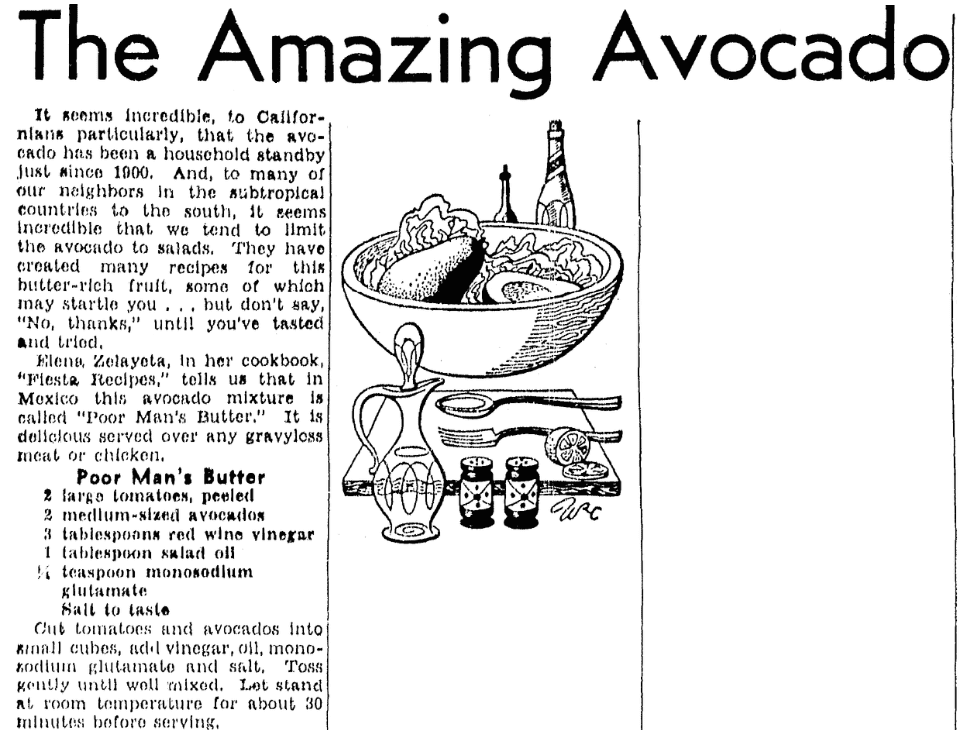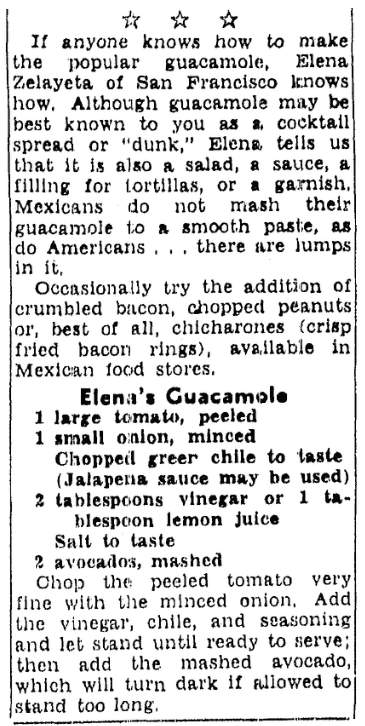 What's Your Guacamole Recipe?
Hungry? I know I am! Guacamole is a favorite at my house, but it's not the only thing you can do with avocados. Do a search on GenealogyBank's Historical Newspaper Archives for avocado (or for earlier recipes use the phrase "alligator pear") to find some other great ideas.
_________________
(1) "The History of California Avocados," California Avocado Commission (https://www.californiaavocado.com/avocado101/the-california-difference/avocado-history: accessed 16 September 2019).
(2) Ibid.