Introduction: In this article, Gena Philibert-Ortega searches old newspapers to find the recipes that her Mom – and her friends' Moms – used to make. Gena is a genealogist and author of the book "From the Family Kitchen."
When I was growing up, I loved my mom's potato salad. It's really the best. Nothing compares to hers. Do you have one of those dishes that your mom made and you really miss? Maybe you have the recipe and continue to make it for your family. Does your mom's best dish have a story behind it?
One of the great aspects of researching historical newspapers is they provide the opportunity to find those recipes you remember from your childhood. With a few descriptive words and the ability to narrow your search using a particular ingredient or brand name product, you can find those recipes you remember so well.
I asked some of my Facebook friends about their favorites and the stories behind those recipes. Here are just a few of their food memories.
Tomato Soup
My friend Margaret Reed made the comment that her mom would make tomato soup with home-canned tomatoes. I think many of us regard tomato soup as something condensed that comes from a can, but for Margaret, her soup memory is homemade. Historical newspapers do include recipes for tomato soup that uses fresh or canned tomatoes. In this 1909 recipe the other ingredients include water, chopped onion, cloves, sugar, salt and pepper.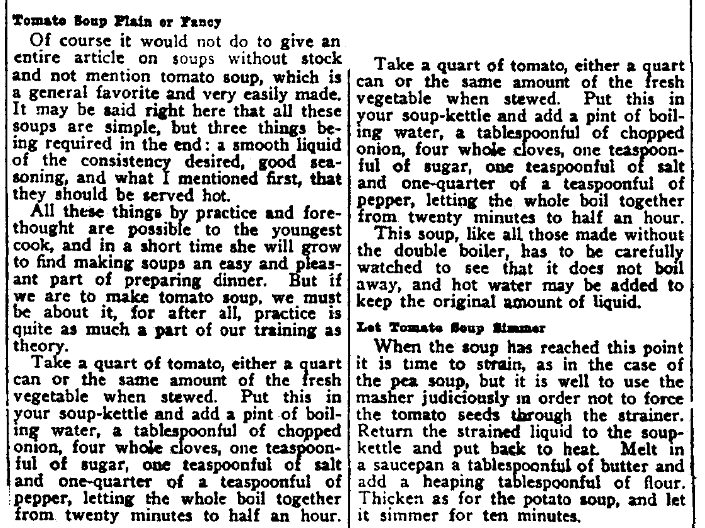 Stuffed Cabbage
A few of my friends mentioned cabbage rolls as being a favorite recipe their mom made. Professional genealogist Katherine R. Willson remarked:
"My mom made them, using her mom's recipe. When I became an adult, I hated cooking, so I'd frequently try out various restaurants' versions of stuffed cabbages. It was never as good as the way I remembered them. (Once, I even told the wait staff, 'No. Tell the chef that's NOT how you make stuffed cabbages!' I was obnoxious during that quest.) Finally, I decided to bite the bullet and try cooking them myself. I called my mom to ask for the recipe, and she said she didn't have one, she just threw it all together as she went along. I tried to do it the way she said, and success! Turns out the missing ingredient that the restaurants weren't using was a can of cream of tomato soup!"
I love how food history in our families can also include other aspects of family history including migration. Joy Kestenbaum said:
"Anything my grandmother, who lived with us, cooked, especially her stuffed cabbage. I'm sure she learned how to cook from her mother, who immigrated with her from Bialystok to London, before my grandparents moved to Montreal and then the New York metropolitan area. My mother wrote the recipe down on a card, along with other dishes my grandmother made, and which I have in my mother's recipe box."
I didn't find a recipe for stuffed cabbage using tomato soup, but I did find one for cabbage rolls using tomato juice for the sauce. This 1948 newspaper recipe also includes bacon.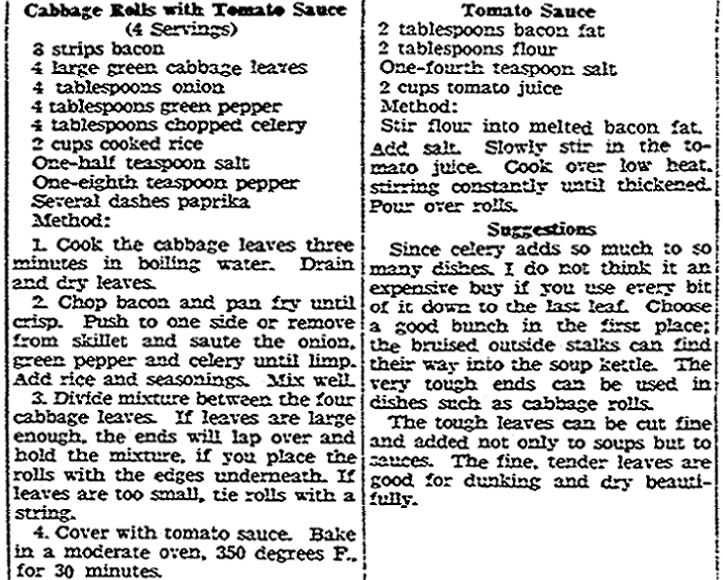 You Say Sloppy Joes, I say Spoon Burgers
Genealogist Laurice Hubka Johnson taught me something in her remarks about sloppy joes. She said:
"My mom made sloppy joes – they were called 'spoon burgers.' I think she got the recipe from the newspaper (her source for lots of great dinners). I only remember that they had dried mustard to spice them up and maybe a can of Campbell's Tomato Soup for the sauce. I've tried to duplicate without success. They were my favorite."
Who knew that sloppy joes had other names? I sure didn't – but here's a newspaper library column titled the "Library Pantry" that provides a recipe from the cookbook Burger Cook Book by R. E. Church that mentions the various names for the dish. The article states:
"Here is a versatile recipe with several names – Sloppy Joes, Spoon burgers, and Scoopburgers to mention a few. Someone has called it 'hamburgers for hungry boys' but girls like it too."
The recipe doesn't include Laurice's mom's secret ingredient, Campbell's Tomato Soup, but it still might be interesting to try. Note: the newspaper calls this a "Sloppy Jones" recipe, which might be an interesting variant of the name – but I suspect that's just a typo.
Crabapple Jelly
My maternal grandmother had a huge crabapple tree in her front yard. I don't remember her ever doing anything with them, though I'm sure she must have. From what I remember, they weren't really great to eat (too bitter) but they were perfect for throwing at annoying boy cousins. Genealogy librarian Mary Lynn Sharpe shared her food-related memory of crabapples and her mom:
"My mom used to make jelly using the crabapples from trees in the pasture behind our house. In grade school my favorite sandwich was white bread with crabapple jelly."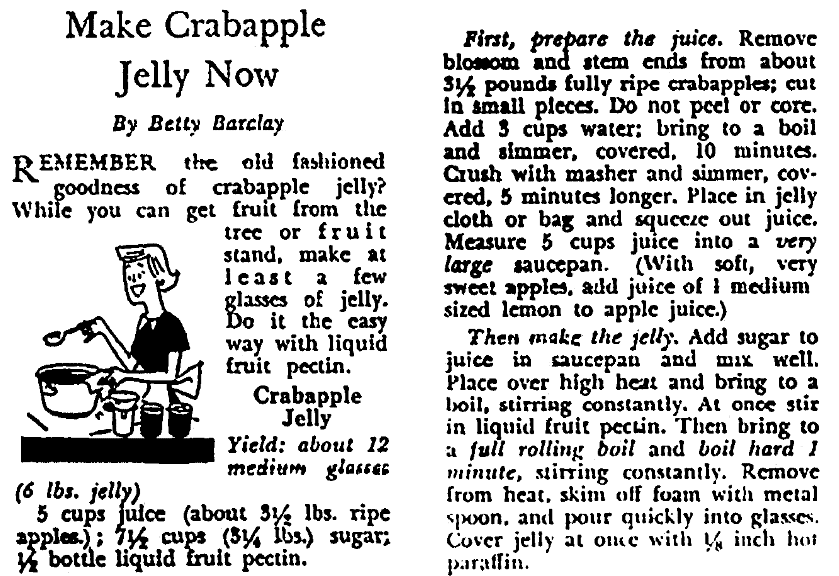 Dessert Is Served!
Genealogist Jamie Mayhew had a great memory about her mom, World War II, and lemon meringue pie:
"My favorite dish my mother made was lemon meringue pie. The recipe sometimes uses sweetened condensed milk. My mother made it during World War II before eating raw eggs was a no no. She would use vanilla wafers as the crust. She was very thin and the Navy doctor (she was in the WAVES – United States Naval Reserve), had her eating a can of sweetened condensed milk a day. She never did get fat."
Historical newspapers have all kinds of lemon meringue pie recipes, including those from Eagle Brand Sweetened Condensed Milk that might be very similar to what Jamie's mom made.

Now It's Your Turn
What's your favorite food that mom made? Do you still eat it? Do you make it for your family? Are there any changes that have been made to the recipe? Any history behind that recipe? Take some time to write down your memories of that recipe so that your family can learn more about your food history.
I'd love to hear about your favorites in the comments below.
Note: An online collection of newspapers, such as GenealogyBank's Historical Newspaper Archives, is a great way to find recipes your ancestors used to cook. Come search today and see what you might find!