An important event in the U.S. space program's history occurred on 20 February 1962, when astronaut John H. Glenn, Jr., became the first American to orbit the Earth. In Glenn's nearly five-hour flight he circled the globe three times, seeing four sunsets as he traveled 81,000 miles while whizzing along at speeds of more than 17,000 miles an hour – nearly five miles every second. When he safely splashed down in the Atlantic Ocean after his epic flight, the already-established American hero received international acclaim.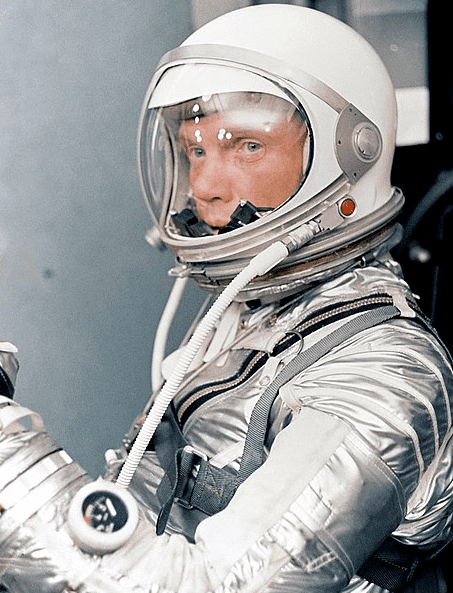 As detailed in one of the following newspaper articles, Glenn's achievement seemed to genuinely delight the whole world – even America's formidable rival in the newly-formed space race, the Soviet Union. The U.S.S.R. had put America on notice – and on edge – when it successfully launched the first artificial satellite, Sputnik, into Earth's orbit on 4 October 1957. It followed up that triumph by launching the first man into Earth's orbit, Yuri A. Gagarin, on 12 April 1961.
Ten months later, the U.S. National Aeronautics and Space Administration (NASA) put the spotlight on America's space program and scientific know-how when Glenn made his successful flight aboard the Friendship 7 space capsule.
Glenn was already a hero before his historic flight. A U.S. Marine Corps pilot, he fought bravely in both WWII and the Vietnam War. He was one of the first seven astronauts chosen for NASA's space program in 1959. After his career as an astronaut, he served in the U.S. Congress as a senator from Ohio from 1974 to 1999. During that time, he convinced NASA that it should study the effects of space travel on an elderly person – and on 29 October 1998, Glenn flew into space on board the shuttle Discovery. He was 77!
The following three newspaper articles are about Glenn's historic space flight in 1962. The first article describes the flight itself, the second presents international reaction, and the third reports Glenn's reaction.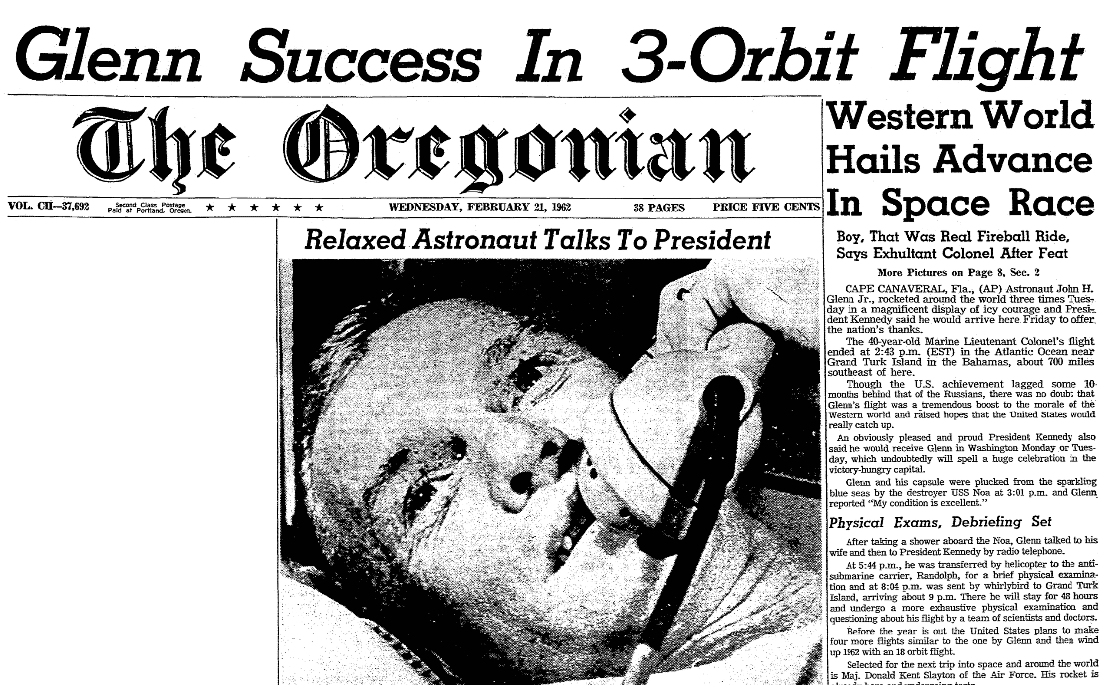 Here is a transcription of this article:
Glenn Success in 3-Orbit Flight
Western World Hails Advance in Space Race
Boy, That Was Real Fireball Ride, Says Exultant Colonel after Feat
CAPE CANAVERAL, Fla. (AP) – Astronaut John H. Glenn, Jr., rocketed around the world three times Tuesday in a magnificent display of icy courage and President Kennedy said he would arrive here Friday to offer the nation's thanks.
The 40-year-old Marine Lieutenant Colonel's flight ended at 2:43 p.m. (EST) in the Atlantic Ocean near Grand Turk Island in the Bahamas, about 700 miles southeast of here.
Though the U.S. achievement lagged some 10 months behind that of the Russians, there was no doubt that Glenn's flight was a tremendous boost to the morale of the Western world and raised hopes that the United States would really catch up.
An obviously pleased and proud President Kennedy also said he would receive Glenn in Washington Monday or Tuesday, which undoubtedly will spell a huge celebration in the victory-hungry capital.
Glenn and his capsule were plucked from the sparkling blue seas by the destroyer USS Noa at 3:01 p.m. and Glenn reported "My condition is excellent."
Physical Exams, Debriefing Set
After taking a shower aboard the Noa, Glenn talked to his wife and then to President Kennedy by radio telephone.
At 5:44 p.m., he was transferred by helicopter to the anti-submarine carrier, Randolph, for a brief physical examination and at 8:04 p.m. was sent by whirlybird to Grand Turk Island, arriving about 9 p.m. There he will stay for 48 hours and undergo a more exhaustive physical examination and questioning about his flight by a team of scientists and doctors.
Before the year is out the United States plans to make four more flights similar to the one by Glenn and then wind up 1962 with an 18-orbit flight.
Selected for the next trip into space and around the world is Maj. Donald Kent Slayton of the Air Force. His rocket is already here and undergoing tests.
While Glenn is at Grand Turk he will be visited by Vice President Lyndon Johnson, who will fly with him to meet the President.
Though the nation followed the flight with intense interest and pride, there was one whose vital interest in the flight exceeded all others: His wife.
At her Arlington, Va., home, Mrs. Glenn, here face shining with happiness, told reporters, "I'm happy – I feel great."
"It is," said the 41-year-old Mrs. Glenn, "the most wonderful day for my family… the children are so proud of their father and the Mercury team and everyone who made this possible."
The Glenns have two children, Dave, 16, and Lyn, 14.
Glenn's first comment as his capsule "Friendship 7" descended toward the gentle and tepid waters was contained in a radio message to Project Mercury control here:
'Real Fireball of a Ride'
"Boy, that was a real fireball of a ride!"
The decision to make that third orbit, after some minor technical difficulties had developed on the first two, was Glenn's.
When asked if he wanted to try for three, Glenn replied, "Affirmative. I'm ready to go."
Even so, he landed some 45 to 55 miles short of the planned landing area after firing his braking rockets at 2:20 p.m. The reverse rockets gave him such a jolt, he cried: "I feel like I'm heading back towards Hawaii!"
In any case, he came safely through and his main parachute, which opened at 10,000 feet, settled him down gently.
The Destroyer Noa and three helicopters from the Carrier USS Randolph raced for the floating capsule. The Noa won. It plucked the Friendship 7 from the ocean with its cargo boom and opened the hatch.
As he started the third and last leg of his magnificent trip around the world at 17,500 miles per hour, the 40-year-old, balding Marine lieutenant colonel reported:
"I feel real good. No problems at all."
Even while Glenn was in his last orbit, varying from 100 miles to 160 miles high, congratulations were pouring in from much of the world, including the Soviet Union.
Glenn began his climb into the blue-black of space at 9:47 a.m. (EST), 6:47 a.m. (PST), when his 360,000-pound thrust Atlas missile blossomed with clouds of smoke and bright yellow flame and arched eastward into a brilliant sun hanging over the Atlantic.
Except for some minor troubles with his altitude control jets – the little gas nozzles which establish his relationship to the horizon – the entire operation was a miracle of precision rocketry.
This trouble Glenn corrected by switching to a control system part manual and part automatic.
As he whizzed through space – from day to night and back again in minutes – Glenn sounded quite calm, as if he did this sort of thing every day.
While he confined himself mostly to reports on conditions within the capsule and technical summaries couched in space age jargon, he did make brief comments from time to time on the view from way up there.
'Florida Looks like a Map'
Once he said, "The horizon is a beautiful blue." At another point he exclaimed, "I can see the whole state of Florida spread out like a map. I can see all the way back to the Mississippi delta."
As he passed from the brilliant sunlight enveloping this space center, zipped across Africa and the Indian Ocean into the dark concealing Australia, he said, "Sure was a short day."
His first trip around the earth and into Wednesday Feb. 21, and back again at mid-Pacific to Feb. 20, required only 83.29 minutes.
As he hurtled over Perth, Australia, the city was lit by millions of lights, turned on by the residents as a gesture of good will and good luck. He told the ground tracking station to "thank everyone for turning them on."
After making his first trip, Glenn reported one oddity – still unexplained.
He said he noted thousands of luminous particles outside his cabin window, traveling at the same speed as his Friendship 7 spacecraft. They glowed in the sun rising over the Pacific. One guess is that they were dust specks.
As for his prolonged weightlessness, Glenn said during the flight that he was having no trouble at all.
On his first orbit – and even before he passed Africa – Glenn elected to try eating from his squeeze bottle rations: 3,000 calories of baby food. He had been in the capsule since 6:03 a.m.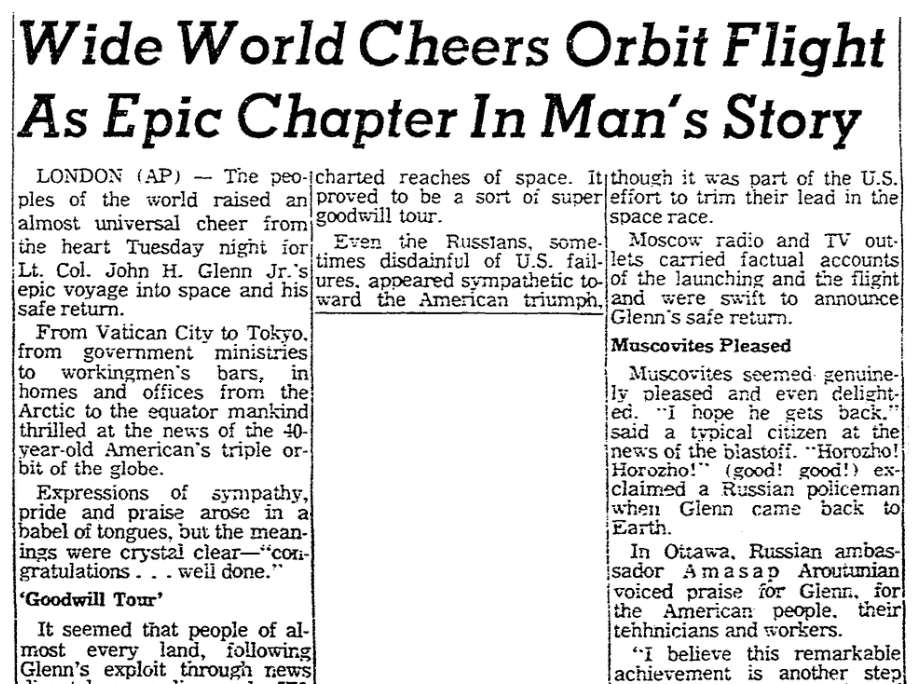 Here is a transcription of this article:
Wide World Cheers Orbit Flight as Epic Chapter in Man's Story
LONDON (AP) – The peoples of the world raised an almost universal cheer from the heart Tuesday night for Lt. Col. John H. Glenn, Jr.'s, epic voyage into space and his safe return.
From Vatican City to Tokyo, from government ministries to workingmen's bars, in homes and offices from the Arctic to the equator, mankind thrilled at the news of the 40-year-old American's triple orbit of the globe.
Expressions of sympathy, pride and praise arose in a babel of tongues, but the meanings were crystal clear: "congratulations… well done."
'Goodwill Tour'
It seemed that people of almost every land, following Glenn's exploit through news dispatches, radio and TV, shared in the tension, relief and enthusiasm of the United States and the joy that yet another human being had ventured successfully into the uncharted reaches of space. It proved to be a sort of super goodwill tour.
Even the Russians, sometimes disdainful of U.S. failures, appeared sympathetic toward the American triumph, though it was part of the U.S. effort to trim their lead in the space race.
Moscow radio and TV outlets carried factual accounts of the launching and the flight and were swift to announce Glenn's safe return.
Muscovites Pleased
Muscovites seemed genuinely pleased and even delighted. "I hope he gets back," said a typical citizen at the news of the blastoff. "Horozho! Horozho! (Good! Good!) exclaimed a Russian policeman when Glenn came back to Earth.
In Ottawa, Russian ambassador Amasap Aroutunian voiced praise for Glenn, for the American people, their technicians and workers.
"I believe this remarkable achievement is another step toward better cooperation of scientists of the world and in particular of the Soviet Union and the United States," he declared.

Here is a transcription of this article:
Happy Glenn on Sea Isle
GRAND TURK, The Bahamas (AP) – Brimming with delight, Astronaut John H. Glenn, Jr., reached this tiny Atlantic island a few hours after sunset – the fourth sunset he had seen Tuesday – to rest and tell the story of his fabulous space ride.
Fellow astronaut M. Scott Carpenter helped him out of his plane and playfully butted him in the chest.
Glenn declared, "I feel fine, wonderful, and I couldn't feel better."
He said "howdy" to his crowd of well-wishers and added, "It has been a long day and a very interesting one, too, I might add."
The American who zoomed through space at five miles per second arrived from the carrier Randolph in a Navy anti-submarine patrol plane with a top speed of about 175 miles per hour. He touched down at 9:10 p.m. (EST).
Glenn walked with some jauntiness, but his eyes showed fatigue as he greeted Mr. and Mrs. Geoffrey Guy at the airport. Guy is administrator of the Caribbean island.
Note: An online collection of newspapers, such as GenealogyBank's Historical Newspaper Archives, is not only a great way to learn about the lives of your ancestors – the old newspaper articles also help you understand American history and the times your ancestors lived in, and the news they talked about and read in their local papers. The same is true of more recent news. Do you have memories of John Glenn's historic flight?
Related Articles: