I was alerted to John Fuller's passing by DearMYRTLE. Others in the genealogy community have sent me items to include in writing about him. His complete obituary will be posted later this weekend.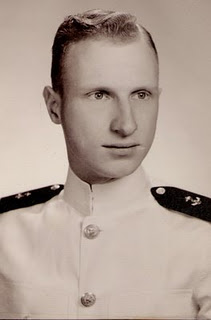 John Fuller was well known in the genealogy community for his landmark website – Genealogy Resources on the Internet – that made it easy to find "Genealogy Mailing Lists" and other resources online. He started that site back in 1995. That seems so long ago now.
A viewing and visitation will be held this coming Tuesday, June 23 from 2:00 – 4:00 pm at the
Murphy Funeral Home; 4510 Wilson Blvd.; Arlington, VA
Per his sister Cynthia, "John would not want flowers" – she suggested memorial gifts to the American Cancer Society.
(Photo supplied by the family – John was a career Navy Officer in the Submarine Service)
(Visited 10 times, 1 visits today)