Introduction: Scott Phillips is a genealogical historian and owner of Onward To Our Past® genealogy services. In this guest blog post, Scott researches the history of an old acting professor of his—Jeff Corey—and discovers that filling in the blanks of Jeff's life story in turn fills in some blanks in his own life history.
If you follow my posts here on the blog for GenealogyBank.com, you read toward the end of my latest article "Finding the Historical Articles That Tell My Ancestor's Story" that I had discovered a one-line death notice for Jeff Corey. He was one of my favorite professors when I was a student in the "World Campus Afloat" program. While I remember him as my instructor, you might best recall him as Sherriff Ray Bledsoe in the movie Butch Cassidy and the Sundance Kid.
Finding Jeff's death notice led me to think back on many of the stories that this friendly, approachable, and talented professor shared with me when I was a student, and reminded me how important he once had been in my life. Sadly, I realized that although he once mentored me, he actually was a blank in my life history—I really didn't know very much about Jeff Corey.
These memories prompted me to undertake another search in GenealogyBank.com and see what else I might discover about Jeff. As usual, I wasn't disappointed and I was able to more fully document and add this person from my own life to my family's extensive family history and genealogy—filling in the blanks about Jeff's story in turn filled in a blank in my own life history.
The first thing I did, as any good genealogist does, is look for multiple copies of an individual's obituary. I was very happy to discover that, while my earlier find had been only that one-sentence death notice, more than a dozen other newspapers provided more extensive obituaries for Jeff Corey. As you might expect for an American actor, one of the best I found was in a Los Angeles newspaper.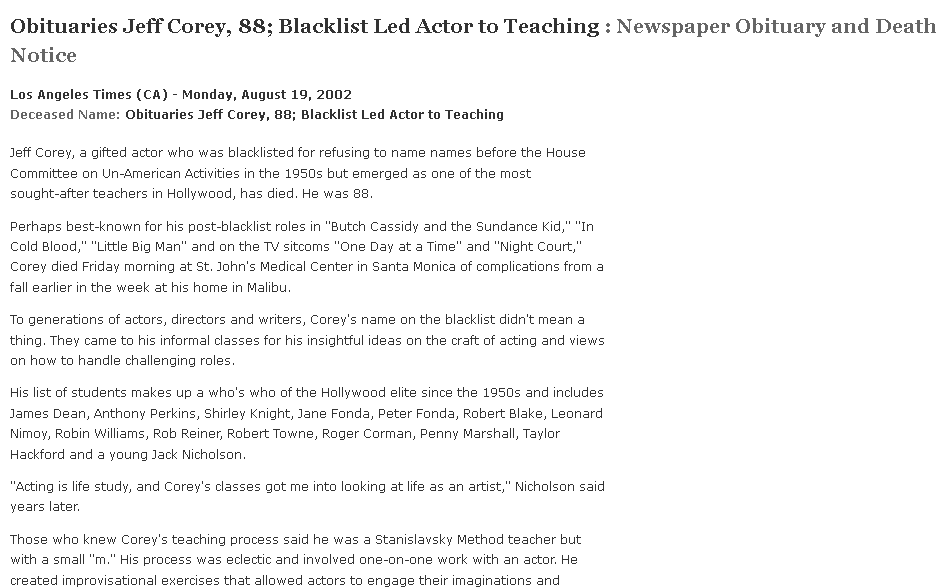 Not only did this extensive obituary list some of Jeff's best known roles in movies such as Butch Cassidy and the Sundance Kid, In Cold Blood, and Little Big Man, it also listed some of his television credits in successful sitcoms such as One Day at a Time and Night Court. Then his life story got really interesting.
I found more information on a time in Jeff's life that he had only briefly touched on when we talked those many years ago as student and instructor. This was the period when Jeff Corey was blacklisted in Hollywood for more than ten years! His mistreatment was a result of Jeff's appearance before the infamous Senator Joseph McCarthy and the House Committee on Un-American Activities in the 1950s. Once again, GenealogyBank.com and its database of historical documents proved invaluable.
In GenealogyBank's U.S. Congressional Serial Set collection, I found the Annual Report for the Committee on Un-American Activities for the year 1952. It included Jeff Corey with the notation: "(Appeared Sept. 21, 1951, and refused to affirm or deny Communist Party membership.)" On the same page you can see many others who also refused to comply with the committee's demands.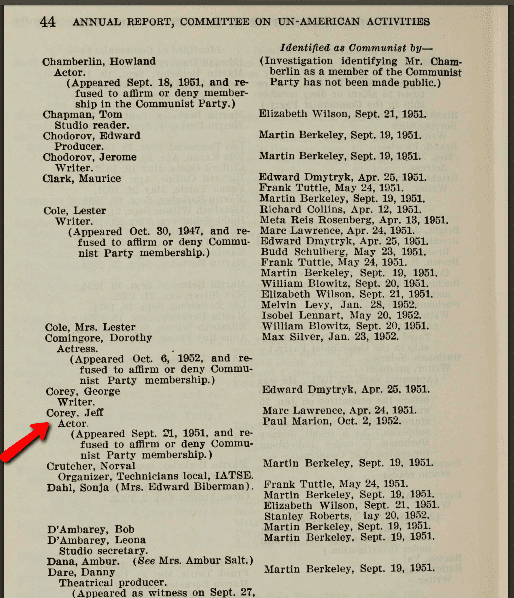 This action was enough to get Jeff Corey blacklisted and banned from any work in Hollywood for more than ten years. I found Jeff's comment, related in his obituary, to be most interesting. He said "The only issue was, did you want to just give them their token names so you could continue your career, or not?" He chose not to name any others in Hollywood.
I think you could say that Jeff got the last laugh, though. While I am sure he missed out on a multitude of roles in those ten years—and he did tell me they were some very lean years—he became one of the most sought-after acting coaches in all of Hollywood!
This 1975 California newspaper article reported that some of Jeff's more notable students were such Hollywood superstars as Jack Nicholson, Anthony Quinn, Jane Fonda, and Kirk Douglas. Needless to say, I was truly impressed by this talented group.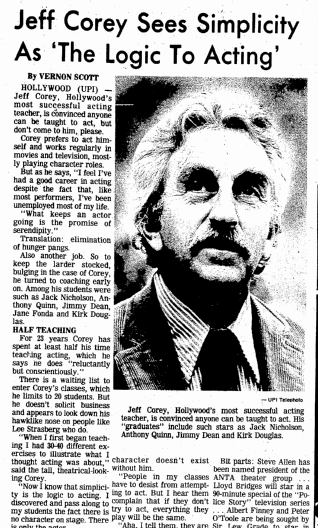 Jeff's return to the "big screen" was noted in this 1961 Louisiana newspaper article.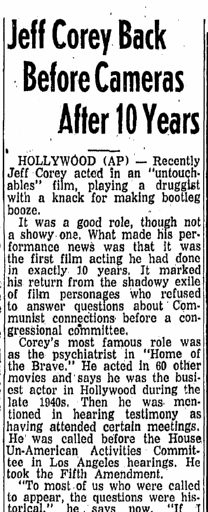 Jeff continued to coach actors even after he returned to his career in acting. I found a wonderful quote praising Jeff by one of my favorite actors, James Coburn, published in this 1979 Ohio newspaper article.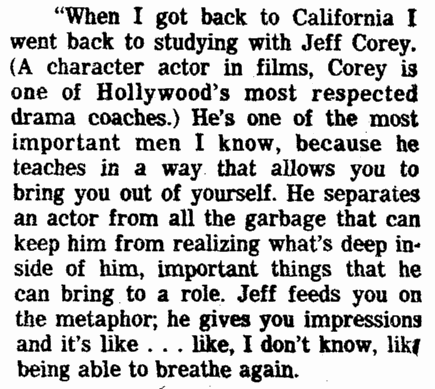 After I finished my genealogy research on Jeff, I was pleased with how much information I had found and how much more I knew of this cherished professor. I was also happy because I had filled in a delightful segment in my own family history story—one I hope my children and grandchildren will someday enjoy reading as much as I did researching and writing it.
My closing advice is this: Don't overlook your own life stories while you are working on your genealogy. They can be great fun and lead to many surprising discoveries!