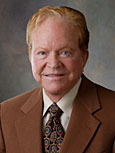 James L. Sorenson, a pioneer in DNA research has died. A self-made billionaire, he used his wealth in many causes.
Genealogists in particular are aware of his efforts with DNA and genealogy. In 1999 he started the Sorenson Molecular Genealogy Foundation. The group has collected more than 70,000 DNA samples, together with four-generation pedigree charts, from volunteers in more than 100 countries around the world.
His lengthy obituary and related newspaper articles appear in today's Deseret News (UT) – you can read them in
GenealogyBank.
Here is the article (used by permission):
Deceased Name: Inventor, philanthropist James Sorenson, Utah's richest man, dies at 86
James LeVoy Sorenson, whose success as an entrepreneur, real estate magnate and inventor of numerous medical devices made him Utah's richest man, died Sunday, Jan. 20, at a Salt Lake hospital.
Besides his wealth and business acumen, Sorenson was renowned as a philanthropist.
Sorenson, whose wealth was estimated to be $4.5 Billion last year by Forbes magazine, was 86 years old. He was listed as the 68th-richest American in September 2007.
He was the owner of Sorenson Cos., a parent company to 32 corporations in industries including medicine, bioscience, investment/development and manufacturing.
Sorenson held more than 40 medical patents during his lifetime and is perhaps best known for co-developing the first real-time computerized heart monitor. He also invented the disposable paper surgical mask, the plastic venous catheter and a blood recycling system for trauma and surgical procedures, as well as many other medical innovations.
"I think success in his mind was someone that had ideas, that had a strong work ethic and a tenacity," son James Lee Sorenson told the Deseret Morning News. "As you look at examples in the world today, those are important attributes. I think Dad was a calculated-risk-taker, and successful people generally are."
The younger Sorenson said his father's legacy will be as "a great American inventor, a man with a tremendous amount of innovation."
Among his philanthropic endeavors is Sorenson Molecular Genealogy Foundation, which is creating a worldwide, correlated genetic and genealogical database used in ancestry research. His donations have helped a Washington, D.C., university for the deaf and hearing impaired and assisted in establishment of an outdoor performing arts pavilion in Herriman. He gave more than $30 million for restoration of The Church of Jesus Christ of Latter-day Saints' temple in Nauvoo, Ill.
After the tsunami of 2004 hit Thailand, he donated DNA testing kits to assist in identifying the dead, and Sorenson Genomics — one of his companies — analyzed their DNA, matching some victims with their relatives.
He donated land and money to help build the Sorenson Unity Center at California Avenue and 900 West, next door to the Sorenson Multicultural Center. The YMCA's Camp Rogers in the Uinta Mountains also benefited from his generosity.
He and James Lee Sorenson reached out to help Gallaudet University in Washington, D.C.; together they donated $5 million to the country's largest university for the deaf and hearing impaired.
In April 2007, he gave $6 million to the new Intermountain Medical Center, raising his contributions to Intermountain Healthcare to $22 million. He pledged $500,000 during a fund-raiser for Primary Children's Medical Center in June 2007. In September 2007, the nonprofit Sorenson Legacy Foundation donated $6 million to the University of Utah, toward the James LeVoy Sorenson Center, which will be dedicated to encourage innovation and discovery among students across Utah.
A crisis concerning the Legislature's refusal to fund some items in the state Medicaid program was averted in 2006 when Sorenson and Intermountain Healthcare donated $1 million each. The next year, the Legislature picked up the tab.
Sorenson also was a poet and composer of LDS hymns, publishing some of them in a book titled, "Just Love the People, the World Is our Family."
After beginning his career selling pharmaceuticals to physicians for Upjohn Co. in Salt Lake City, Sorenson started buying real estate in the Salt Lake area. In 1957 he co-founded Deseret Pharmaceutical, and the company became the foundation for the establishment of Becton Dickinson Vascular Access. In 1962, he founded Sorenson Research, which was sold to Abbott Laboratories, a Fortune 100 company, in 1980.
He founded LeVoy's, a company that made lingerie for modest women and used Tupperware-style marketing with parties hosted in homes. He also owned and developed thousands of acres of commercial, residential and agricultural properties throughout Utah.
Sorenson, who was born in Rexburg, Idaho, and grew up in central California, is survived by Beverley Taylor Sorenson, his wife of 60 years, and two sons, six daughters, 47 grandchildren and 28 great-grandchildren.