Newspapers are terrific! They give us the real details of our ancestor's lives.
This week I found an article about the estate sale for my first cousin, Thomas Huse (1742/43-1816).
It was published in the Newburyport (MA) Herald, 16 July 1816.
Everything was being sold – his household effects; a covered sleigh; ox cart, an ox wagon; an eight day clock, a share certificate in the Merrimack Bridge, a grindstone and various tools.
It would be great to have these items as family heirlooms.
Was that "eight day clock" a Grandfather clock? Apparently most "eight day clocks" in that day were Grandfather or banjo clocks.
My Grandfather Huse made a banjo clock that still hangs in my uncle's home in New Hampshire. Who knows, maybe Thomas Huse made the clock that was sold in his estate sale.
Thomas Huse owned a share of the Merrimack Bridge – that was one of the first suspension bridges built in America. The original was built in 1792 and it was replaced in 1810 with a wrought iron suspension bridge designed by Judge James Finley.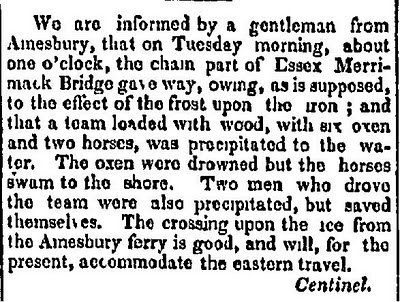 Thomas didn't live long enough to see it, but eleven years after his death, February 6, 1827, the bridge collapsed under the weight of six oxen and two horses that were pulling a cart "loaded with wood" across the bridge.
The animals, wood and the two drivers all went into the water. Only the two drivers and horses survived. Who knew that oxen were so heavily used in early Newburyport.
See:
Essex (MA) Register
8 Feb 1827. There are also articles describing the collapse of the bridge and the bridge that was built to replace it.
I think of my family and ancestors as "regular" people and I don't expect to find them mentioned in newspapers but now that I've found hundreds of articles about them, I see how "local" papers used to be.
These old newspapers show us clearly who they were and how they lived their lives. You just can't find this level of detail in any other source – newspapers are a terrific tool for genealogists.
GenealogyBank has over 2,400 historical newspapers from the 1600s to today. Give GenealogyBank a try (click here) right now.
Be sure to take advantage of
GenealogyBank's
special price: only $69.95 for an annual subscription – but hurry, this special ends soon.
It's a great day for genealogy!