Introduction: In this article – in honor of Easter this upcoming Sunday – Gena Philibert-Ortega searches old newspapers to find recipes for Easter dinner. Gena is a genealogist and author of the book "From the Family Kitchen."
What's for dinner on Easter Sunday? That's a question I'm still pondering, but I know it will most likely involve deviled eggs and ham. As I look over newspaper recipes in GenealogyBank's Historical Newspaper Archives, I am slowly coming up with additional ideas.
What are you serving? Historical newspapers have some great ideas if you need some holiday inspiration.
The Main Course
Ham makes up part of my family's traditional Easter meal. In the past we've bought a prepared ham and just heated it up, but maybe you want to cook and decorate the ham yourself. Yes, decorate. This 1942 newspaper article explains how to do that, which involves some brown sugar, maraschino cherries, a knife and a round cookie cutter.
Maybe ham isn't your favorite and you'd rather have lamb for your Easter dinner. This 1935 food column includes a few different ways to prepare lamb, including recipes for a sausage dressing or a current mint sauce. You can also decorate the lamb with either paper frills or potato and carrot balls.
Side Dishes
Now that you've decided on the meat, what type of side dishes will you serve? Unless it's a cold lunch, most people serve some sort of vegetable with the ham or lamb. For me, spring means asparagus. This delicious asparagus recipe is great for a holiday meal: prosciutto-wrapped asparagus. This recipe version calls for the asparagus to be grilled, which is perfect for those of us who will have nice weather this Easter Sunday.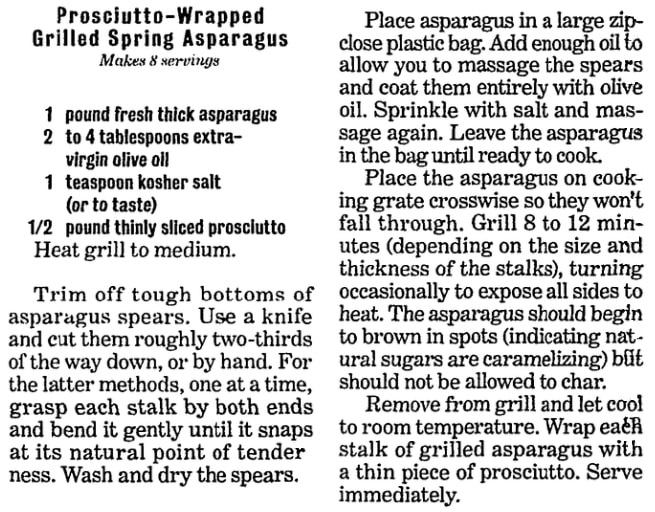 Dessert
I'm a big fan of cake, and there are various kinds of cakes you may serve for Easter. One example is this coconut almond cake that is topped with a whipped cream frosting, lots of shredded coconut, and candy.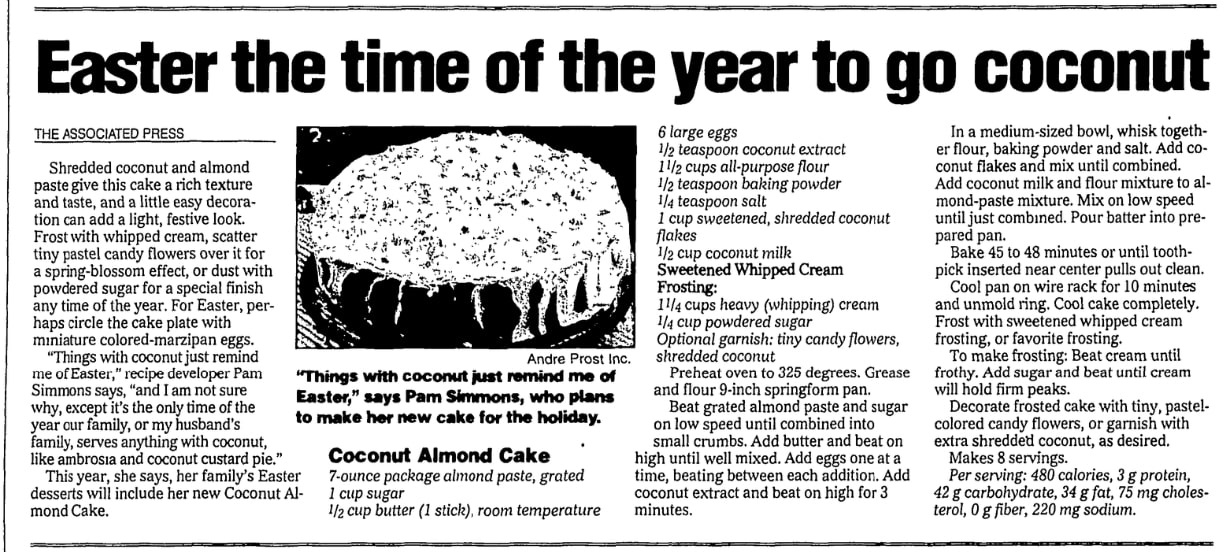 If you want to try something more "traditional," this 1935 newspaper article claims that this cake, Bethlehem Sugar Cake, is from the Moravian Brethren Church from Winston-Salem, North Carolina. One ingredient you might find "interesting" is the addition of a cup of mashed potatoes. The cake is topped off with cinnamon and brown sugar.
Happy Easter!
Whether you decide to go all out this Easter Sunday and make a dinner that is truly amazing, or decide to have a quiet brunch, I hope it all comes out delicious and you have a wonderful day of food and family!
Related Articles: