Introduction: In this article, Gena Philibert-Ortega provides recipes for deviled eggs so that you can use all those left-over dyed Easter eggs. Gena is a genealogist and author of the book "From the Family Kitchen."
One thing I miss this time of year, now that my kids are older, is dyeing Easter eggs. It is always fun to see the creative ways kids decorate the eggs. When you're coloring eggs, no matter how many you boiled, there never seems to be enough – but, after the fun is over, there's always the question of what to do with all of those eggs.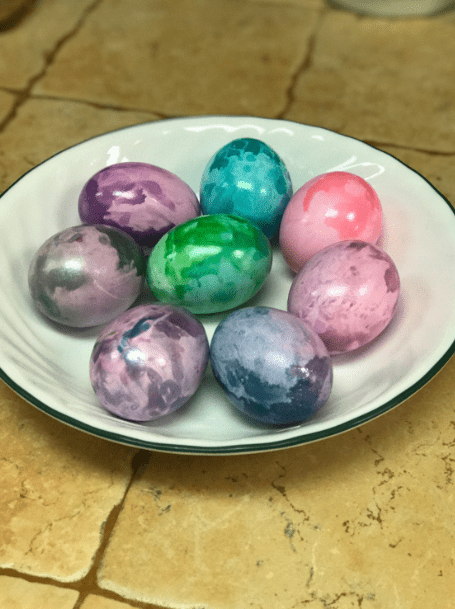 My favorite answer to that question is to make deviled eggs.
Not too surprisingly, if we read earlier recipes for deviled eggs we see some differences in what we are accustomed to today. You might even see them referred to by other names such as "stuffed" eggs. (That makes sense, since you are essentially stuffing them.) What makes an egg "deviled"? When any food is "deviled" it usually has some sort of spice like vinegar, mustard, or pepper, so recipes for deviled eggs will have some sort of "spice" to them.
More recently, cookbook and recipe writers have become creative in reconstructing the deviled egg. Who knew there were so many ways to make a deviled egg?
Based on my research into GenealogyBank's Historical Newspaper Archives, it would seem that our early 20th century ancestors also had some creative ideas for deviled eggs.
Award-Winning Deviled Eggs Recipes
Our grandmothers and great-grandmothers had the opportunity to submit their favorite recipes to the newspaper in the hopes of winning a cash prize or even to be included in a newspaper cookbook. These 1928 Canton, Ohio, newspaper recipe winners have very different takes on their similarly-named recipe: Deviled Eggs. The recipe by Mrs. J. M. Sinclair of 1740 Maple Ave NE, Canton, includes minced ham, celery, and pickles. She fills the eggs and then joins the two halves together again with toothpicks.
The second recipe, by Pauline Browne from RFD No. 2, North Canton, takes the usual savory deviled egg and adds a sweet component: she includes a filling of crushed pineapple and vinegar.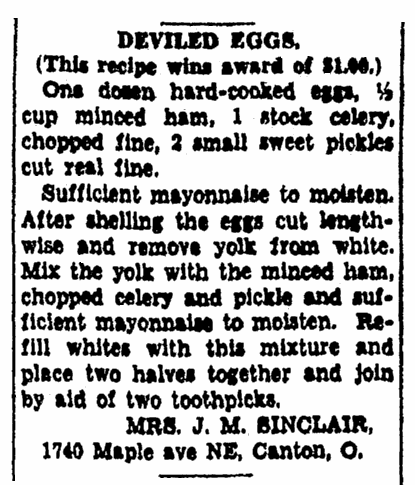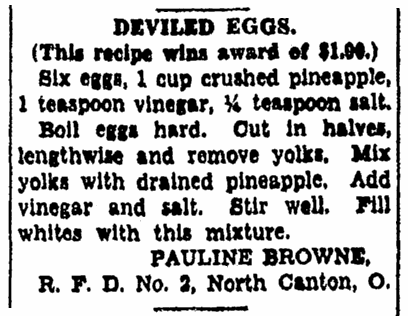 Fish and Eggs
I've been seeing recipes lately for deviled eggs that include avocado in the filling. Living in California, adding avocado to all kinds of recipes is fairly common. That made me wonder about all of the other kinds of ingredients that have been used for deviled egg filling. As I searched for deviled eggs recipes, I was surprised to see several that included either sardines or anchovies. Now, you might be thinking: Yuck! But the flavor combination of a salty fish would be a nice contrast with the more subdued flavor of a boiled egg.
In this recipe for Deviled Eggs with Anchovy Toast, ingredients include anchovy paste, tomato sauce, chutney and Worchester sauce. This is basically a toast with the boiled egg whites and then a sauce poured over the eggs and toast. This is essentially an open-faced deviled egg sandwich.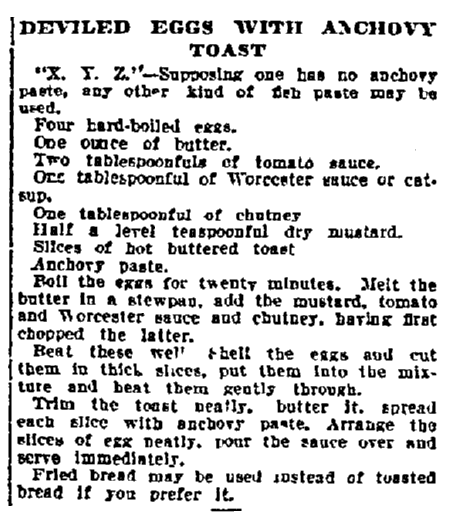 This 1919 Spanish Deviled Eggs recipe is one I wouldn't mind trying. You can imagine that the saltiness of the sardines adds much-needed flavor to the eggs and the addition of a flower decoration is a nice touch.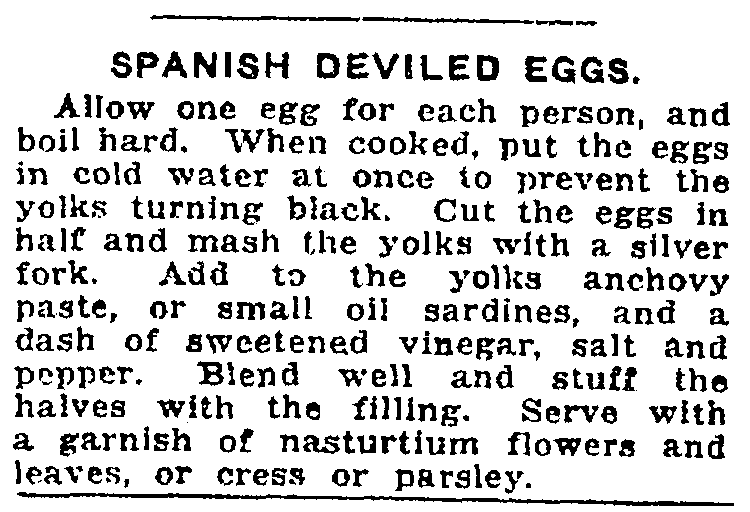 Jellied Deviled Eggs
Anytime we look at vintage recipes, there is the possibility the older recipes do not meet the taste or expectations of today's diners. It's no surprise to most that food from the 1950s included some rather interesting gelatin recipes that used savory ingredients not used in today's gelatin-based desserts. However, interesting gelatin recipes were not confined to just the 1950s.
My guess is that most people won't get past the first word of this 1927 deviled eggs recipe: Jellied Deviled Eggs. How are they jellied? In this case, the deviled eggs become ensconced in a gelatin mold.
These deviled eggs have quite a list of ingredients, including Worcestershire sauce, catsup, French dressing, onion juice, and celery leaves. Once those eggs are filled you press the two egg white halves together and you then add gelatin to make individual luncheon "salads" that are topped with lettuce and mayonnaise.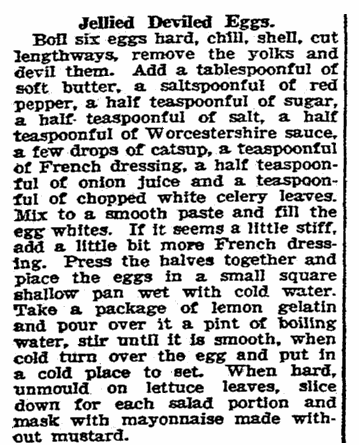 Traditional Deviled Eggs
Ok, so maybe you're not adventurous and you just want to make the traditional deviled eggs. When I make them I simply add some mayonnaise, mustard, and pickle relish to the boiled, crushed egg yolks. Once that is all blended together I fill a zipped plastic sandwich bag with the filling, snip off the tip of the bag with scissors and then fill each egg. Top it off with some paprika and they are ready to eat. I will admit though, they are even better topped off with bits of bacon!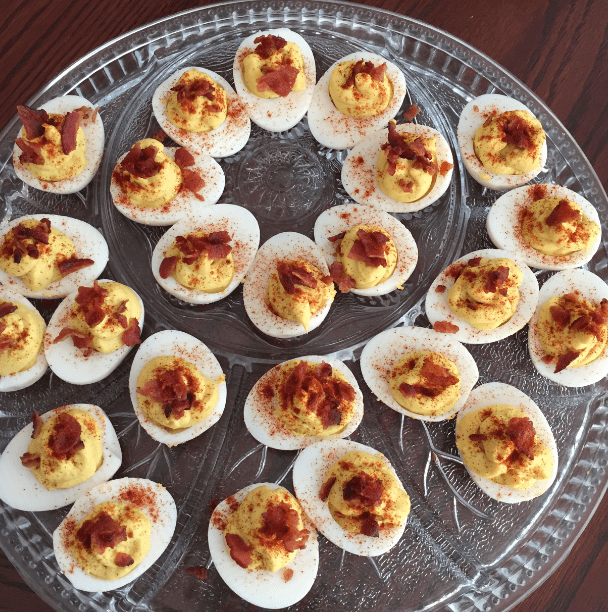 You can find other more recent deviled eggs recipes by searching on the phrase "deviled eggs" and specifying a year range using GenealogyBank's Historical Newspaper Archives search page. If you receive too many search results, try including the word "recipe" in your search. This will help narrow the search and exclude non-recipe results like restaurant menus or specials.
What's your favorite deviled eggs recipe? Have you tried something out of the ordinary? I'd love to hear about it in the comments section below.
Happy post-Easter eating!
Related Articles: