Introduction: In this article, Gena Philibert-Ortega searches old newspapers to learn more about deviled ham and other deviled foods, including recipes. Gena is a genealogist and author of the book "From the Family Kitchen."
It was an American staple: deviled ham sandwiches on white bread. Its low-priced canned version mixed with mayonnaise made a frequent appearance at lunch when I was growing up, along with tuna fish and bologna sandwiches. Have you ever had a deviled ham sandwich?
Maybe you're not sure what the term "deviled ham" even means. While the unfamiliar may erroneously believe deviled ham is a weird food from the 1950s, the history of this meat spread actually has roots in the 19th century and has long been a stable for some families.
I searched in GenealogyBank's Historical Newspaper Archives and found some interesting articles about the history and popularity of this tasty, convenient food.
Deviled Foods
"Devil" is more than a name. Most people are familiar with deviled eggs, but other deviled foods may be more unfamiliar. So what does it mean to "devil" a food? The food term "deviled" has been around since at least the 18th century.*
This 1984 newspaper article on foods named after the devil explains that "Deviled foods are usually red-hot dishes, highly seasoned with spices or tangy condiments." When we think of deviled eggs, that spicy addition of mustard provides a tang to the normally subdued and dry egg yolk.
Of course, not all foods that include the term "devil" in their title employ spicy ingredients, as in the case of Devil's Food Cake. As this article notes:
But there is one deviled dish that defies the description of red hot and spicy. One can only believe that devil's food cake was named because this dark, moist, fudgy dessert is so tantalizing that it could cause the most devout dieters to fall from grace. Most people agree that devil's food cake is divine. Perhaps Oscar Wilde had this dessert in mind when he said, "I can resist everything except temptation."
If you enjoy cooking like me, then this article's last line will interest you: "Since deviled foods have proven so popular, recipes for some of these dishes are printed below to tempt you." Don't worry – I include these recipes at the end of this blog article.
This 1975 newspaper article explains that the spices used in deviled foods may include "black pepper, cayenne, hot pepper sauce, Worcestershire sauce, powdered mustard, horseradish, hot paprika and garlic."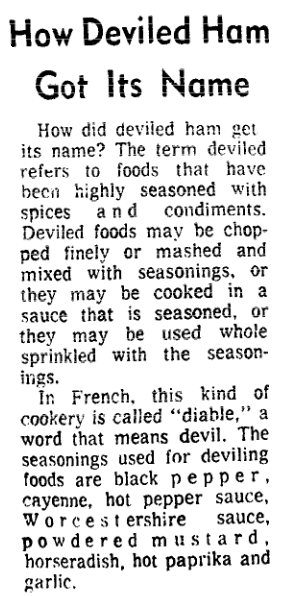 The Underwood Devil Trademark
While there have been various food companies that sell deviled ham, the most recognizable brand is Underwood Deviled Ham in the white-paper-covered can. Trademarked in 1870, Underwood Deviled Ham is still being sold branded with the recognizable Underwood company red devil trademark. In this 1931 newspaper advertisement, we see an early version of the Underwood red devil trademark.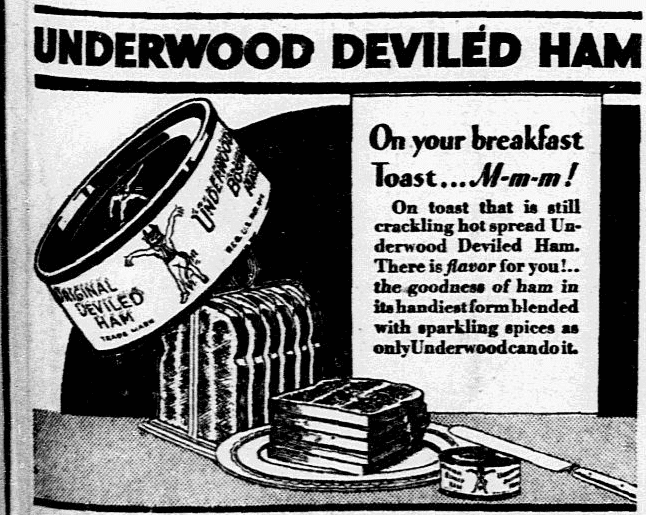 William Underwood began selling preserved food in 1821 but it was decades before the company was known for its canned meat products. According to an early 20th century recipe booklet published by the William Underwood Company, its foray into deviled meats came at the conclusion of the American Civil War.
During the Civil War, Mr. Underwood supplied the armies with various canned meats, clearly demonstrating the fact that it was possible to preserve perishable food in large quantities. After the war, he employed his energy in developing an old family recipe, famous among the neighbors, consisting of a process called "deviling," a method of mincing meats and adding a piquant dressing made of a great number of spices skillfully blended.
According to the Underwood recipe booklet, people soon stopped deviling meats at home for it became apparent that the canned product was even better than what they could make in their own kitchen. [p. 6]**
While most of us are familiar with deviled ham, that is not the only deviled meat product the Underwood Company made. Other canned deviled meats included tongue and chicken.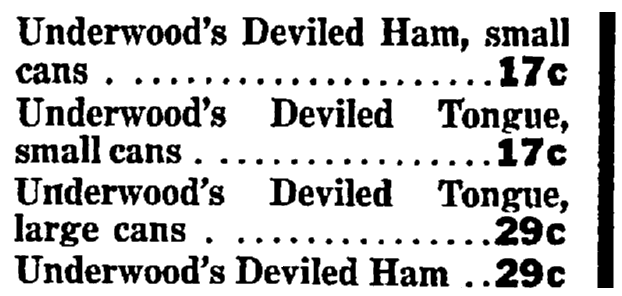 When I searched GenealogyBank's Historical Newspaper Archives for other examples of deviled foods I found recipes for deviled crab, biscuits, lobster, scallops, turkey, olives, and even nuts.
Deviled Ham: It's Not Just for Sandwiches!
So it's obvious that you would use a meat spread for making sandwiches – but what other recipes could deviled ham incorporate? This 1958 newspaper article points out that deviled ham is versatile and can be used to make other foods including appetizers. This recipe for Spicy Devil Ham Balls "saves the day" when you need a quick appetizer for guests. Once you mix all of the ingredients you pan fry the appetizers and serve with mustard.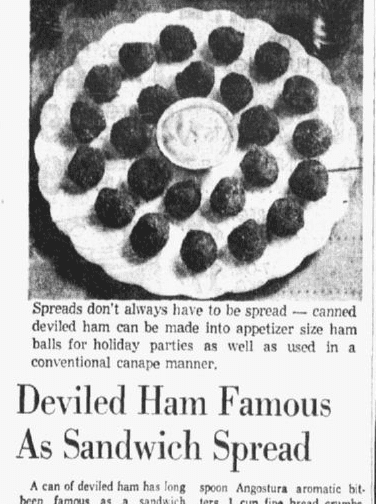 Here is the recipe: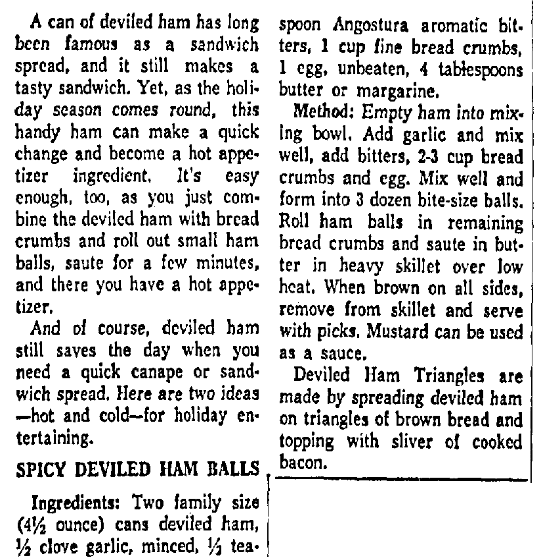 One of the more "interesting" deviled ham recipes I found in the newspaper was published in 1963. The Deviled Ham Ring is:
A ring of full-flavored squash and meaty, deviled ham surrounds a center of color mixed vegetables…You'll find Deviled Ham Ring nourishing, too, and so easy to use left-over vegetables although we suggest munchy lima beans and opulent small boiled onions.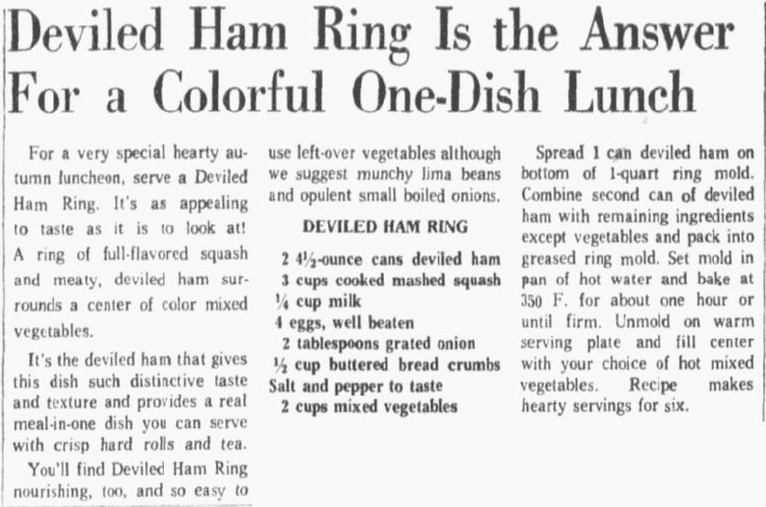 Of course you can use that canned meat spread for sandwiches and I'm always amazed at how creative some sandwiches were in generations before the submarine sandwich ruled. This 1915 newspaper article includes ideas such as deviled ham sandwiches that mix deviled ham with butter, chutney, and minced chives.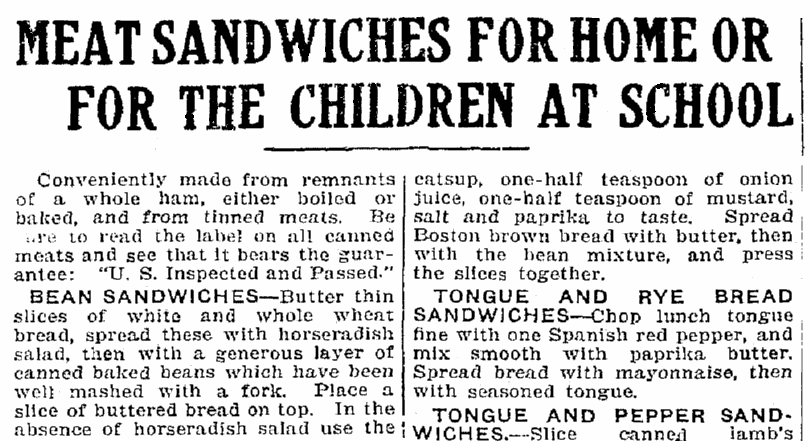 Here are some of those ham sandwich recipes: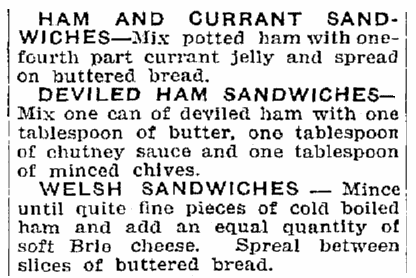 For those who lack sandwich creativity, you can heed the advice of this 1950 "weekly advertising column of things new and interesting" and add deviled ham to "egg salad, peanut butter, tuna fish and all kinds of cheeses." The deviled ham and peanut butter sandwich may be an acquired taste.

Devil Your Own Ham
You make your own deviled eggs at home, so why not try your hand at deviled ham? Making deviled ham is one way to use up those ham leftovers after the Easter and Christmas holidays. This 1961 recipe for Valentine Day treats includes one for deviled ham that uses mustard, Worcestershire sauce, and cayenne peppers to devil the ham. Basically, homemade deviled ham is a combination of finely minced ham and those deviling ingredients.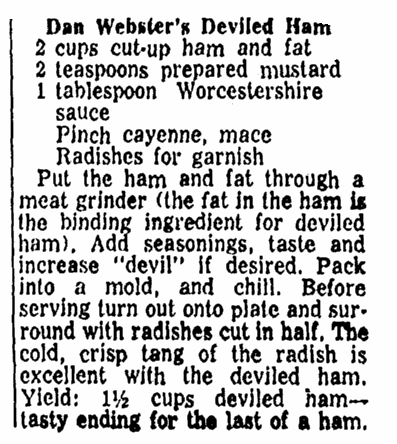 As promised, here are some more deviled food recipes.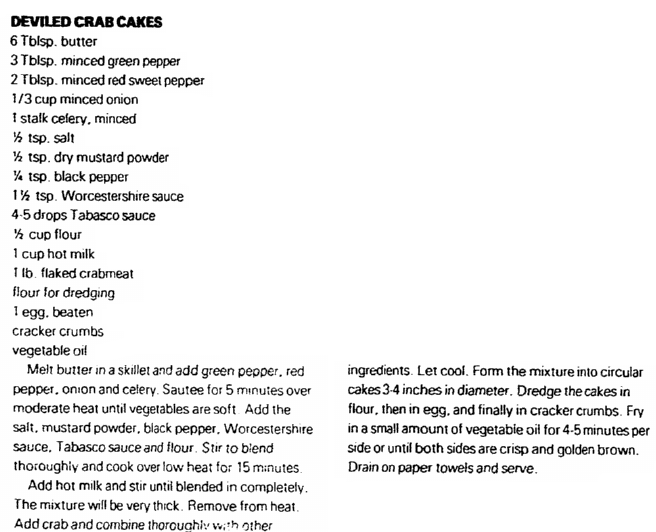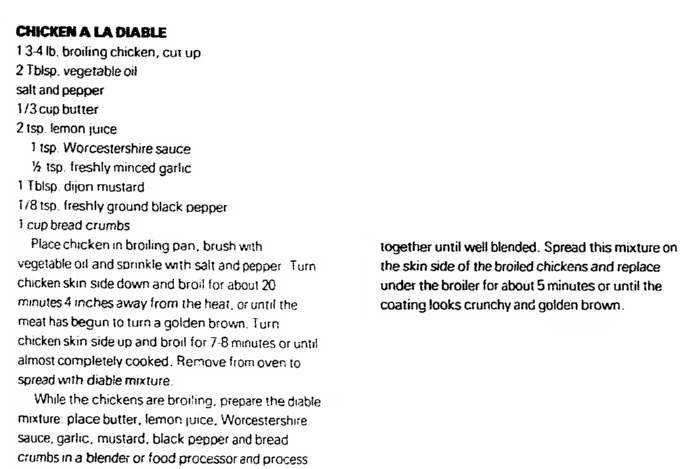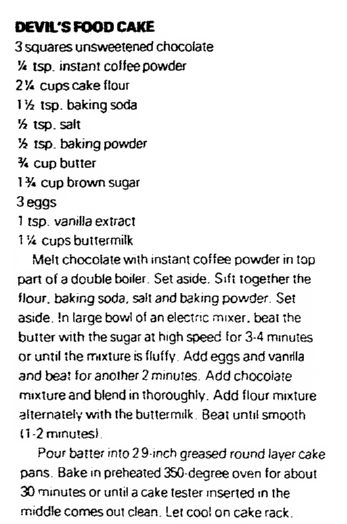 The Devil Is in the (Ham) Details
Do you have memories of eating deviled ham sandwiches? Do you still enjoy them today? Have you ever made your own deviled ham? Please share those food memories and recipes with us in the comments section below.
————————–
* Bramen, Lisa. Deviled Eggs and Other Foods from Hell. Smithsonian. http://www.smithsonianmag.com/arts-culture/deviled-eggs-and-other-foods-from-hell-123267449/?no-ist
** The Little Red Devil Recipes. Boston: Massachusetts: Wm. Underwood Co. [no date]. In the possession of Gena Philibert-Ortega.