Introduction: In this article – in honor of this Sunday being National Ice Cream Day – Gena Philibert-Ortega searches old newspapers to find stories and recipes about ice cream that our ancestors enjoyed. Gena is a genealogist and author of the book "From the Family Kitchen."
Ice cream has a history in the United States dating back to the 18th century! Who was eating ice cream back then? Early American ice cream eaters include our first president, George Washington. I don't know what flavor Washington preferred, but you can find our third president, Thomas Jefferson's, vanilla ice cream recipe online. (1)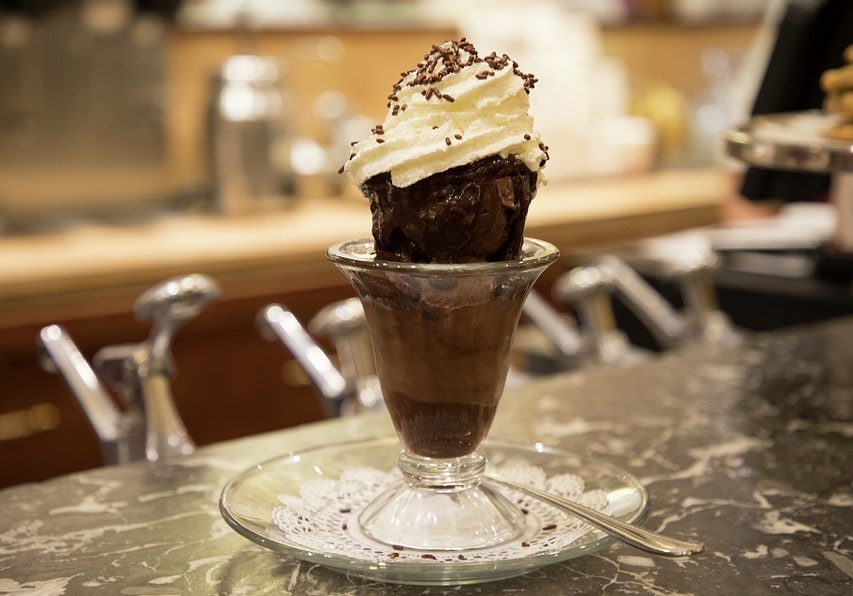 Most likely, if you are purchasing ice cream this summer you are grabbing your favorite flavor. What is your favorite ice cream flavor? Obviously, flavor preference changes over time (anyone still love bubble gum ice cream?) but certain ice cream flavors seem to be favorites over multiple generations.
Neapolitan Ice Cream
It's the best of three worlds: vanilla, strawberry, and chocolate. Neapolitan ice cream takes those three flavors and stacks them together to make one delicious treat. According to one online article, it's also the trend setting ice cream of the first decade in the 1900s. (2) Judging from the mentions in menus printed in historical newspapers from the early 20th century, I'm not surprised that Neapolitan was a favorite.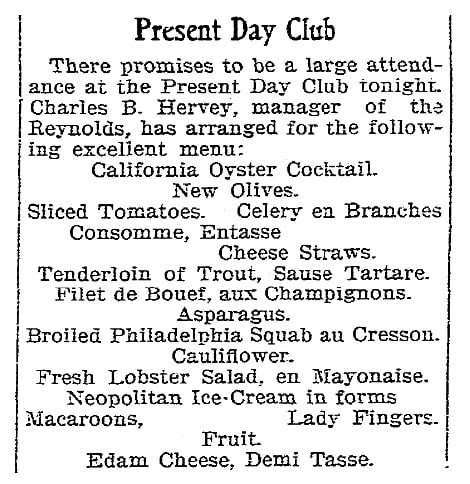 While not specifically about Neapolitan, this 1905 article explains how to make strawberry, vanilla, and chocolate ice cream. A recipe for cherry ice cream is also included and can be substituted for the strawberry if you're making Neapolitan.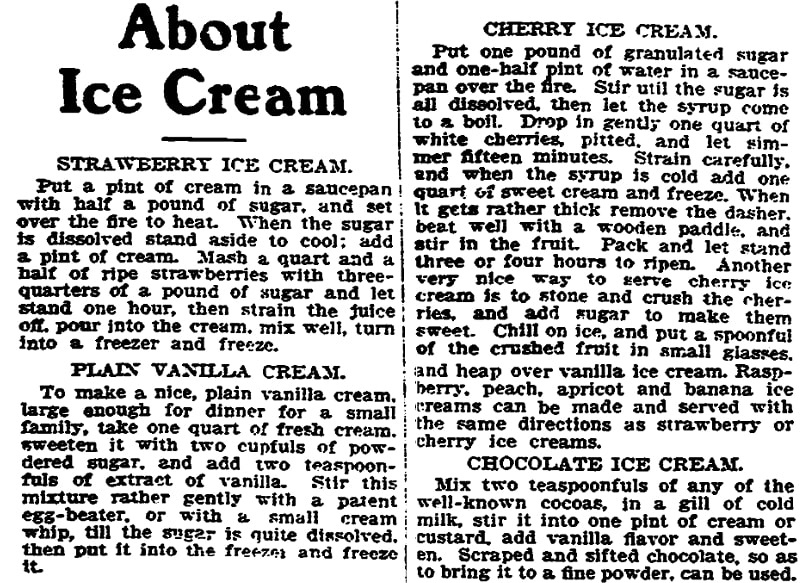 What sets Neapolitan ice cream apart from others is that you scoop most ice creams – but Neapolitan was originally sold in "bricks" so it could be sliced, showcasing the three flavors.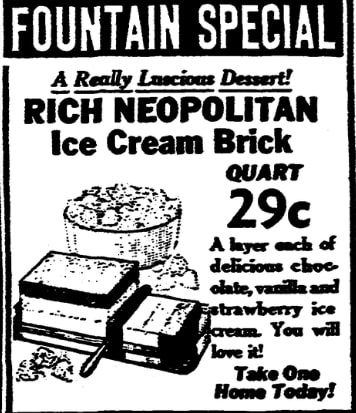 Rocky Road
What are the origins of that ice cream that blends chocolate with marshmallows and nuts? That's up for debate, but it's safe to say that it is an early 20th century invention. (3)
It appears from newspaper advertising that various types of Rocky Road existed decades ago, including black raspberry and strawberry. While I'm not clear if these flavors included marshmallows and nuts, they do appear to be a combination of two ice cream flavors.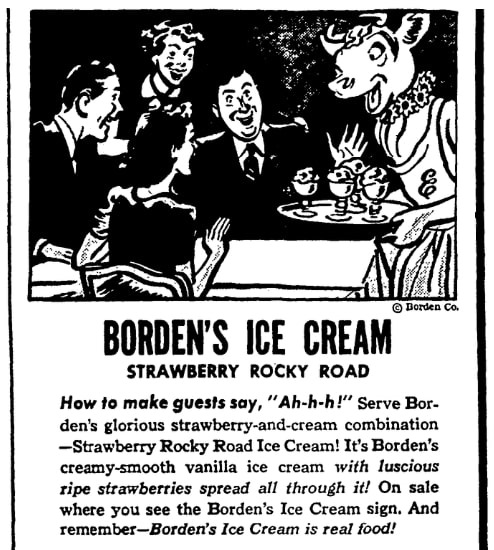 Want to try your hand at making some Rocky Road? Grab 24 marshmallows and follow this recipe.
19th Century Favorite Ice Creams
What type of ice cream recipes might have been an ancestral favorite? I found mentions of ice cream in 19th century newspapers, with recipes. What were some of those early recipes? Well, it's no surprise that vanilla was one of the earliest ice cream recipes I found. Vanilla ice cream continues to be a favorite of many Americans.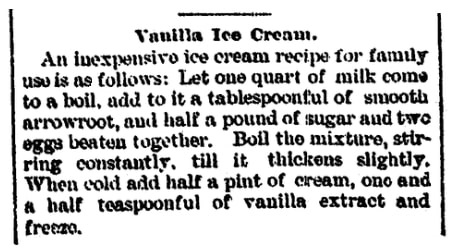 You could add some orange to the vanilla to make an orange ice cream. This recipe includes a presentation with coconuts and dried rose leaves.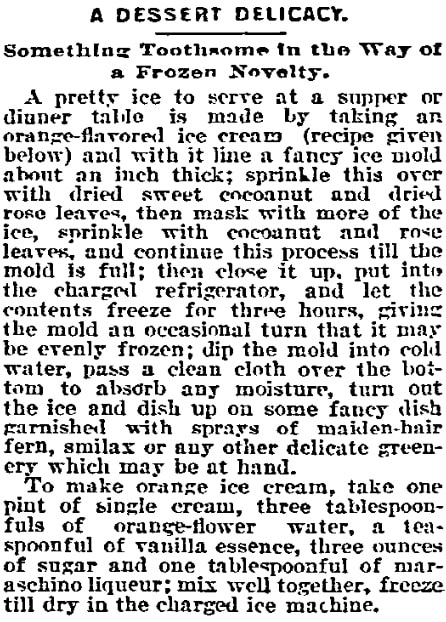 I found a recipe for caramel ice cream in an advertisement. The recipe calls for "new milk," brown sugar and vanilla.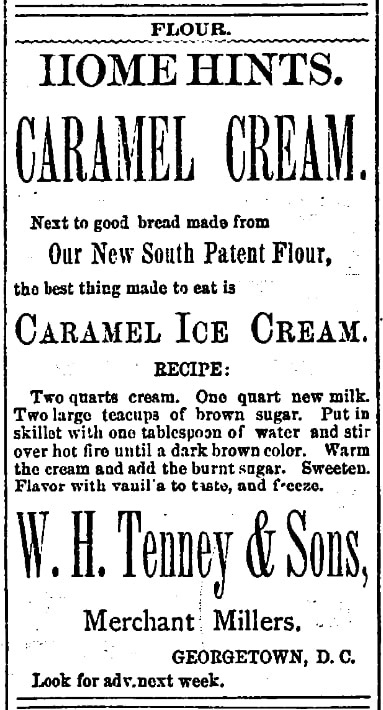 What's Your Favorite?
My favorite ice cream flavor has changed over time. I was a huge fan of Neapolitan growing up. I then enjoyed Rocky Road or anything chocolate in my teens. I think today I favor Pistachio or Salted Caramel. Whatever your favorite, treat yourself with some this Sunday for National Ice Cream Day.
_________________
(1) "The History of Ice Cream," IDFA (https://www.idfa.org/the-history-of-ice-cream: accessed 21 June 2021).
(2) "The Most Popular Ice Cream Flavor in Every Decade," Taste of Home (https://www.tasteofhome.com/collection/most-popular-ice-cream-flavor-in-every-decade/: accessed 3 June 2021).
(3) "The Conflicting Stories Behind the Invention of Rocky Road Ice Cream," Mental Floss (https://www.mentalfloss.com/article/82388/conflicting-stories-behind-invention-rocky-road-ice-cream: accessed 3 June 2021).