Edna Frances Kemp (1890-1951) graduated from the Yale University School of Music in 1911.
I had this old yellowed newspaper clipping about her career in music and wanted to know more. This piano recital was held on 19 April 1936.
Looking deeper into GenealogyBank's Historical Newspaper Archives, I found this article.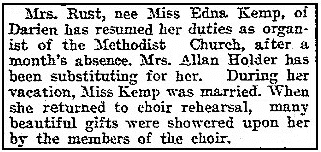 Nice article. Edna married Leonard Willis Rust (1874-1935) on 16 October 1913 in Great Valley, Cattaraugus, New York.
Edna was the organist for the Maple Avenue Methodist Church in Stamford, Connecticut, and later she was also the organist for the First Church of Christ Scientist (Christian Science) in Stamford for 32 years.
She taught piano lessons in Stamford and Darien, Connecticut, and routinely gave recitals for many years.
For example, here is another newspaper article about a recital her students gave at the Congregational Church in Darien.

I can see by the GenealogyBank search results that there are many more articles about my cousin and her lifelong career in music.
Get the details of your family history in GenealogyBank!