I found one of my ancestors in the 1881 Canadian census on http://www.familysearch.org/ – What do I do now?

FamilySearch.org is a terrific free site – with helpful indexes like the 1881 Canadian census index.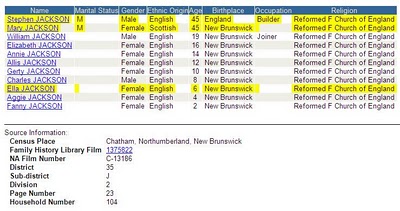 You may see the original census page at a website put up by the The Library & Archives of Canada. It has the 1881 (and other) census records online – free.


New Brunswick Vital Records are online – free.
I copied out the index citations for Ella's brother Charles and sisters: Agnes and Elizabeth.
But, now look carefully at these records. In the census – the mother's name is: Mary and in these vital records it is given as Annie Stewart.

So, you need to determine – if these records are for the same family or not.
Questions you might ask:
1. Are Annie & Mary the same person?
Perhaps one name is her first name and the other her middle name OR perhaps Annie died and Stephen remarried a person named Mary before the 1881 census was taken.
2. Are these two different families with similar names?
The oldest child listed in the census – William – was born in 1862. So you want to search the Church registers from 1850 on to check for the parent's marriage record and the records for each of the children.
Like the birth records from the New Brunswick Archives – the Church records should give the mother's maiden name.

Notice too – that Stephen Jackson was born in England – in 1881 he gave his age as 45 – that would make his birth year as approximately 1836. Let's hope that he rounded his age – since British birth, marriage and death records were started on July 1, 1837.
3. Your next critical question is: When did they leave Canada and emigrate to the United States? If they are in the US by 1900 – you will want to look for them in the 1900 Census.
If they are still in Canada in 1901 – then you want to search for them in the 1901 Census.

You may use the 1900 Census – free at FamilySearchLabs
You may search the 1901 Canadian Census at the Library & Archives of Canada.
.
(Visited 1 times, 1 visits today)