Genealogy Boot Camp
Here are a few tips that every genealogist should know.

Using an online index
Researchers using an online index sometimes try to tell the computer everything they know about their deceased ancestor.

Assuming that the computer will sort through all of the facts and narrow down the hits to just their ancestor – they will type in the person's full name, complete dates of birth/death, nicknames and any other facts that might be helpful.
Sometimes – less is more.
What you want to do is try multiple approaches as you interrogate the index.
1. Search on the full name: first name, middle name, surname.
Give it a try and see if it promptly gives you the results you want. This is particularly effective if the parts of the name are distinctive, uncommon words.
2. Not finding your guy? Then – try again. This time search on only the surname. Or – if the first name is distinctive – search on just the first name.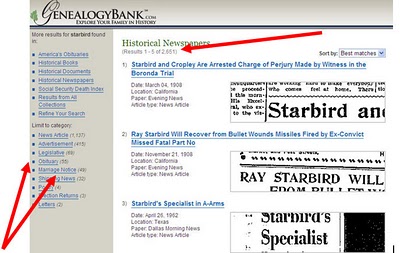 3. Notice that once you have made your initial search you may narrow down your search to only the obituaries, marriage notices or birth announcements.
Click on Obituaries and the computer will bring you only the 55 obituaries – instead of all 2,651 article results for "Starbird".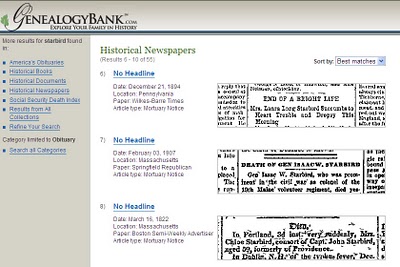 This is a handy tool for speeding up your search.
4. Be careful not to narrow your search too much.
It is common for new researchers to only search the "local" newspaper published in the town where their ancestor once lived. That is a common mistake.
Newspapers routinely published information about people living far from the town where the newspaper was published.
For example – Chloe Starbird – wife of John Starbird died in Portland, Maine – but her obituary appeared in the Boston Semi-Weekly Advertiser (16 March 1822) – published in another state.

Newspapers routinely published articles about people who lived in other counties; or other states. Their mandate was to fill the newspaper with news every day and to expand their circulation base. So – editors routinely added birth, marriage and death notices for individuals – providing their readers with the news they needed.
Notice that in this same example from the Boston Semi-Weekly Advertiser (16 March 1822) – that there are obituaries for individuals from Portland, Maine; Dublin, New Hampshire; Sturbridge; Shrewsbury; Bolton; New Braintree; Barre, Vermont; Zanesville, Ohio and Philadelphia, Pennsylvania.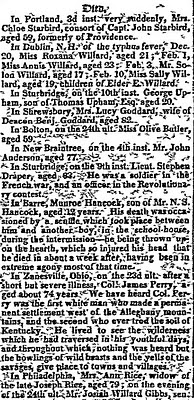 Think big – search all of GenealogyBank – then narrow your search by region, state or town.