You can see an outline of a person's life by looking up their obituary. With today's online collections of newspapers, such as GenealogyBank's Historical Newspaper Archives, family researchers have the resources they need at their fingertips to find an obituary for a specific person.
GenealogyBank features an obituary search page to find an obituary for a specific person in the USA. It has never been easier to figure out how to find an obituary for someone.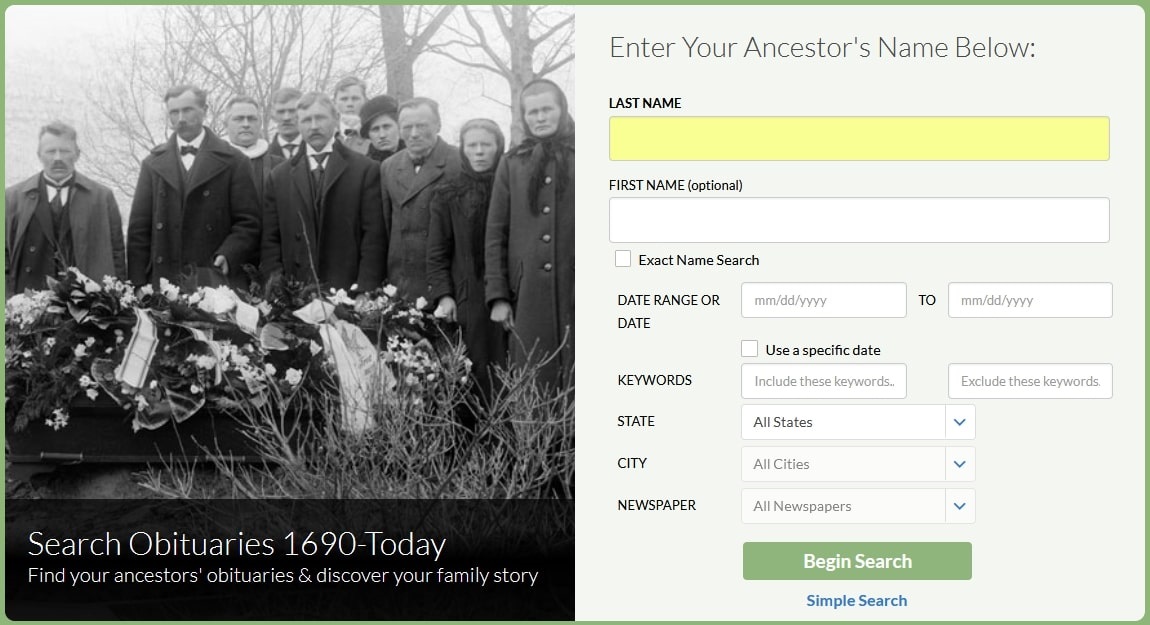 Here's what you need to know to get started.
Information You'll Need to Find an Obituary for a Specific Person
Uncovering the obituary of a deceased person can give you key insights into a person's life and serve as a launchpad for further family research.
To find an obituary, certain kinds of information will help track down your ancestor. (You may not know everything in the following list, but fill in what blanks you can.)
Full name
The state they lived in
The city they resided in
A rough idea of when they died
Family members
With the help of the GenealogyBank obituary search page, you only need a minimal amount of information to start your search. You can simply search on your ancestor's surname – but the search form has additional boxes to fill in with other information you may know about your ancestor, such as first name, date range, keywords, and/or specific state, city, or newspaper.
How to Find an Obituary
Figuring out how to find an old obituary is much more straightforward than it used to be. With the digitization of records that may be centuries old, from newspapers and various publications from across the nation, you can find an obituary for a specific person from the comfort of home.
Online Services
Google is a great starting point for how to find obituaries. The problem is you should expect to have to sort through hundreds of similar records to track down your lost ancestor.
Online services like GenealogyBank provide you with a more accurate way for how to find obituary records online. With records from more than three centuries of U.S. history, with 95% of its records being exclusive to the platform, GenealogyBank is one of the best options for family research.
Plus, if you visit the GenealogyBank obituary search page, you can explore all these records with a minimal amount of information on your ancestor.
Print Newspapers
Print newspapers have been the primary source for obituaries new and old since the 17th century. Even today, people commonly publish obituaries in the local newspaper.
Tips for Finding an Obituary for Someone
It's not always easy figuring out how to find old obituaries, particularly if you don't have enough information to find the obituary of a deceased person.
Here are some tips for helping you to find an obituary and unlock your family history.
Search on Variations of Your Ancestor's Name
You may know the accurate spelling of your ancestor's name, but perhaps the person who wrote the record or newspaper article you are searching did not. Search on all the variations you can think of for how your ancestor's name might have been spelled, and also try different abbreviations.
Know a Woman's Surname at the Time of Death
If searching for a female ancestor, you need to be careful that she didn't change her name. Like today, it was common in the past for women to alter their names when they got married.
For women who were married more than once, the name given on the obituary will usually be the surname of the man she was married to when she died.
Search for the Nearest Relative
For those ancestors who are particularly elusive, search for the nearest relative as an alternative.
If you can't find a female ancestor, for example, search for her husband instead. The chances are you'll find additional information that can be used to seek out her obituary.
Look for the Death Place
Do you already know that your ancestor was a member of a specific church? Are you aware of where they lived and have managed to track down their community place of worship?
The chances are their usual place of worship is where they're buried. Use this information to find out more about them and track down their obituary. Remember, retelling your family history is like putting together the pieces of a puzzle.
Conclusion
It's not always easy to figure out how to find an obituary. To make finding an obituary simpler, we have created our dedicated obituary search page. Enter the known information about your ancestor and see what comes up.
Start tracing your family history and preserve the information for future generations. It all begins with an obituary search. Check out our obituary search page now.