This weekend's Wall Street Journal (February 14-15, 2009 pp. R6) has a terrific article by
Kathleen A. Hughes
– "The Person over the Mantle".
Hughes tells the experiences of families in preserving and displaying their old family portraits and her own change of heart in displaying the image of her 3rd Great Grandmother, Mary Plumb Fairchild.
Early on she was offered Mary's portrait but decided that she didn't want that "stern" looking woman over the mantle of her fireplace. Thirty years later she had a change of heart and looked into her genealogy and remembered that old family heirloom. Turns out that Mary Plumb Fairchild was "one of the first women to attend Oberlin College, and an early abolitionist. She died at 29 after giving birth to her fourth child". Now not accepting the offer of the family portrait is one of her regrets – but the portrait is preserved and hangs in the home of a cousin across the country. (Portrait of Mary Plumb Fairchild is from the article).
We have a wall of old family portraits in our home along the landing at the top of the stairs – much like the walls at Hogwarts in a Harry Potter movie – they are hard to miss. The really oversize family portraits still hang at my uncle's home in New Hampshire.
If you have early family portraits – be sure to make a digital copy of each one – identify them and post them online. eMail copies to members of your family. You could post them for free at Facebook.com; on Scribd.com or similar sites …. and you can join online genealogy sites like Ancestry.com and post the digital images there.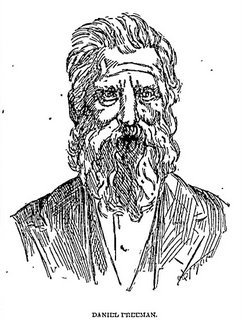 But – what do you do if you don't have a portrait of any of your ancestors?
You could scour the Internet looking to see if a historic image of your relative is already online. You could also search sites like GenealogyToday – a terrific site that regularly posts funeral cards, early printed items and photographs etc.
Another source is old newspapers. I have found thousands of images – photos, etchings of people in 19th & 20th Century newspapers. GenealogyBank is a great source for tracking down old family photos that the family lost track of decades ago.
(Visited 25 times, 1 visits today)