Like detectives, we approach family history by gathering all of the clues and making a case for who our relatives were: their names, when and where they were born, pushing through all of the activities of their lives until their deaths.
Pulling all of the facts and clues together helps us rediscover who each one of our relatives really were. What happened while they were alive—what do we really know about them?
U.S. census records are a terrific tool—basic for building an American family tree. It gives us a snapshot of our family at the time of recording. The census looks in on them one day of their lives, every ten years, over their lifetime. Couple this census information with old family letters, perhaps a journal, and birth, marriage & death certificates, and we begin to discover the basic facts about each person.
Add newspapers to our research and we can go beyond the basic genealogical facts: we get to learn their stories.
Newspapers were published every day. They tell us what happened each day in their town, their state, in the world. Old newspapers tell us what was happening in our relatives' lives every day of their lives.
Since a census record is a one-day look at the family, we complement those basic facts with newspaper articles to fill in the details and get the rest of their stories, as shown in the following two examples.
William T. Crow (1802 – )
Here is the listing for William T. Crow and his wife Elizabeth Crow (1806- ) in the 1880 census.
Digging deeper into GenealogyBank's Historical Newspaper Archives, I found this old 1800s newspaper article about William Crow.
This article fills in more of the details of their lives:
He was a judge
Her maiden name was Elizabeth Blackwell
They married on 26 February 1826
They were close to the 60th anniversary of their wedding day
They had 6 children and 47 grandchildren living in 1885
1 daughter died during childhood
2 sons "sleep in soldiers' graves"
They lived near Carnesville, Georgia, and all of the children lived within 1½ miles of the family home
That's a lot of family information packed into one short paragraph. Marriage records in newspapers are a fantastic resource to trace your family tree. In addition to newspaper archives, the 1800 census is another great place to fill gaps within your family history.
Hannah Lyman (1743-1832)
Hannah (Clark) Lyman lived in Northampton, Massachusetts.
Her census record gives us a start at her story.
Here she is in the 1830 census, living in Northampton, Massachusetts.
She is there—and the check marks tell us that there were others, unnamed, living in the house with her at that time.
Once again I turned to GenealogyBank's historical newspapers to get more of her story, and found this 1800s news article published just two years after the census was taken.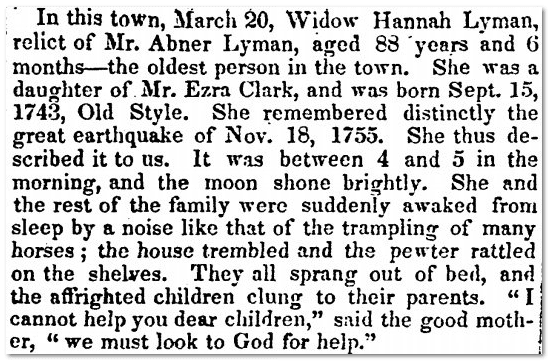 Like the trendy saying "it takes a village," it takes multiple genealogical resources to fill in the details of the lives of our ancestors.
And wow—do newspapers deliver!
This newspaper article from GenealogyBank's deep backfile of historical newspapers builds on her brief mention in the census, and tells us the core facts of her life along with a terrific family story of her memories of the "great earthquake of Nov. 18, 1755."
Details—stories.
Newspapers tell us so much about our family history.