Introduction: Scott Phillips is a genealogical historian and owner of Onward To Our Past® genealogy services. In this guest blog post, Scott shows how some old newspaper articles led to a breakthrough in his genealogy work—and to a fruitful collaboration with the Jewish Genealogy Society of Cleveland.
Genealogy and collaboration go together just about as well as peanut butter and jelly! If you have been working on your genealogy for any time at all, you have made some wonderful family discoveries that were possible due to collaboration—as have I.
American Antiquarian Society
It is my belief that collaboration is one of the best additional benefits of using the newspapers of GenealogyBank in your genealogy research. When I first began to subscribe to GenealogyBank, I noticed right away that its newspaper collection has benefited from a collaborative effort with the highly esteemed American Antiquarian Society (AAS).
By the way, if you have never checked out the AAS I'd suggest a visit to its website at http://www.americanantiquarian.org. As you will see on its homepage, "The American Antiquarian Society (AAS) library houses the largest and most accessible collection of printed materials from first contact through 1876 in what is now the United States, the West Indies and parts of Canada." Located in Worcester, Massachusetts, the AAS is high on my "Genealogy Must-Visit List."
Tracing Czech American Ancestry with Newspapers
On a more personal note, a recent GenealogyBank discovery I made while working on another genealogy project has put me smack-dab in the center of a very valuable collaboration.
I have been working on documenting the earliest Czech immigrants of Cleveland, Ohio. One of these early immigrants was a man by the name of Leopold Levi (sometimes spelled Levy), and I was making pitiful progress on discovering any valuable leads on him until GenealogyBank's newspapers came to my rescue.
My first discovery was in an 1892 Ohio newspaper.
This article reported that Stella, the daughter of Leopold and Esther Levi, died on 26 February 1892 at 831 St. Clair St. While an interesting find, with some very nice details and from the appropriate timeframe, it did not provide me with any indication that this was "the" Leopold Levi I was seeking. So I continued reviewing the results from my newspaper search.
It wasn't long before I discovered a second interesting article, this one in an 1899 Ohio newspaper.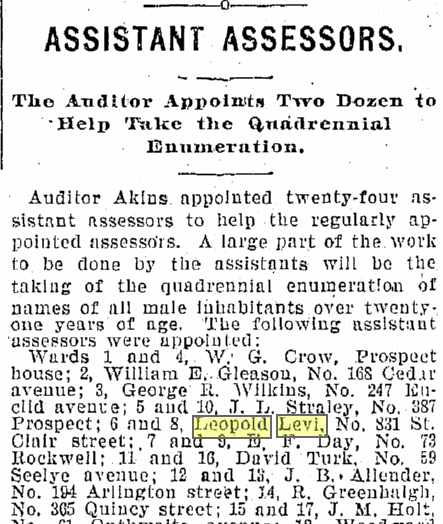 Here was a Leopold Levi from the same address as in the 1892 article, and he had been appointed to be an enumerator for the upcoming 1890 Federal Census.
Next I found a much more recent article, from a 1951 Ohio newspaper.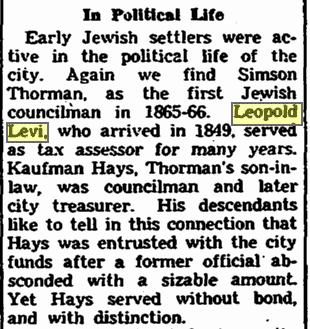 This substantial article was titled "Early Jewish Life in Cleveland" and included the following sentence: "Leopold Levi, who arrived in 1849, served as tax assessor for many years." BINGO! This article provided me with a nice link to the previous article of 1899 and from there back to the 1892 article. Additionally, I had discovered the important fact that Leopold Levi was Jewish.
Jewish Genealogy Society of Cleveland
A quick Google search ensued to see if there happened to be an active Jewish genealogy group in the Cleveland, Ohio, area. Sure enough I located the Jewish Genealogy Society of Cleveland. After taking a look at their website at http://www.clevelandjgs.org, I filled out their online research request form and submitted it via email. I realized I may have stumbled upon something good when, within 24 hours, I had a magnificent response back from their researchers complete with a terrific set of materials.
They provided me with an obituary for Leopold Levi, his burial location, details regarding his civic works, and the fact that he died intestate. They even gave me the link to an "Application for Letters of Administration" that lists all his heirs-at-law. Additionally they sent me obituaries for his wife, one daughter, and his son. As an added bonus, included with these items was the married name of a second daughter as well as the married names of several granddaughters.
My collaboration with the Jewish Genealogy Society of Cleveland is continuing and I will be sharing my work with them once it is completed. This is especially worthwhile because they have no indications that anyone else has undertaken previous work on Leopold Levi and his family.
Now I am well on my way to a more complete understanding of Leopold Levi, his life, and his impact as one of the very earliest Czech immigrants to Cleveland, Ohio.
Best of all, this continuing genealogy success story started as a result of leads I discovered in the newspapers of GenealogyBank, and then led me to a fruitful collaboration—one of the real delights of genealogy research.
I'd enjoy hearing what your best collaborative efforts have been in your genealogy work.