Digging through Mom's old papers, I found this poem she wrote for old family friends Forrest and Betty Perkins when they moved from our area in the late 1950s.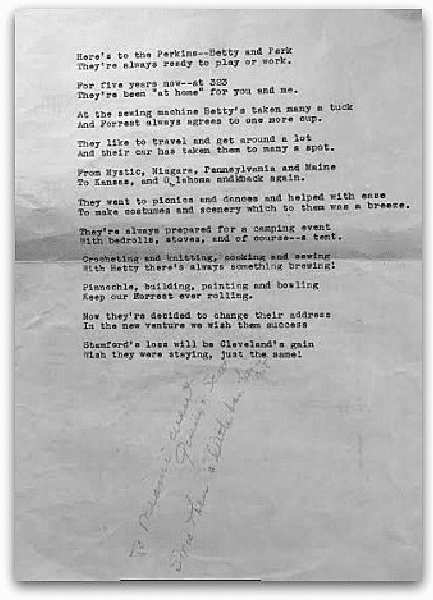 I scanned it and added it to my mother's page in the family tree as an example of her friendly, fun life-of-the-party approach to life. But I wanted to know more about exactly who Forrest and Betty Perkins were.
It turns out that Forrest Perkins and Betty Perkins are fairly common names. Clues in the poem told me that they were moving to the Cincinnati, Ohio, area.
But it was another clue in Mom's papers that gave me the answer I needed.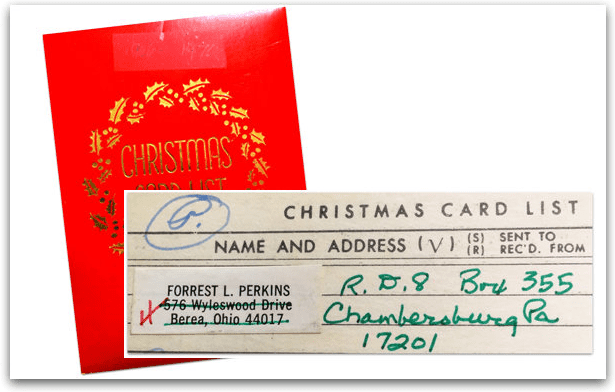 Looking at her Christmas Card Book from the 1960s, I found "Forrest L." & Betty Perkins listed – with their address in Ohio and then a newer address in Chambersburg, Pennsylvania. Those were the clues I needed.
Searching online I found one of those people-finder sites. It listed a Forrest Perkins at that address in Pennsylvania – and importantly, it gave his date of birth as 1 July 1918.
That was the key fact I needed.
I was then able to pull his Social Security Death Index record in GenealogyBank.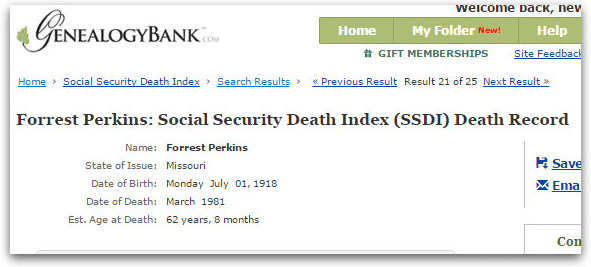 Within minutes I had tracked down both Forrest Lee Perkins (1918-1981) and his wife Betty Frances (Grubbs) Perkins (1918-1979).
Genealogy Tip: Home sources, such as old family papers, can contain the clues and old stories that round out the lives of our ancestors. Be sure to search them for the clues you need to document your family history.