Introduction: In this article, to help celebrate Women's History Month, Gena Philibert-Ortega searches old newspapers to learn more about the National Council of Jewish Women. Gena is a genealogist and author of the book "From the Family Kitchen."
In 1893 Hannah G. Solomon was asked to organize Jewish women to participate in the Chicago World's Fair. "When Hannah and her recruits discovered that participation was not substantive, but would consist of pouring coffee and other hostess duties, they walked out."* Hannah would go on to found the National Council of Jewish Women (NCJW), which continues to conduct grassroots activism today, 124 years later.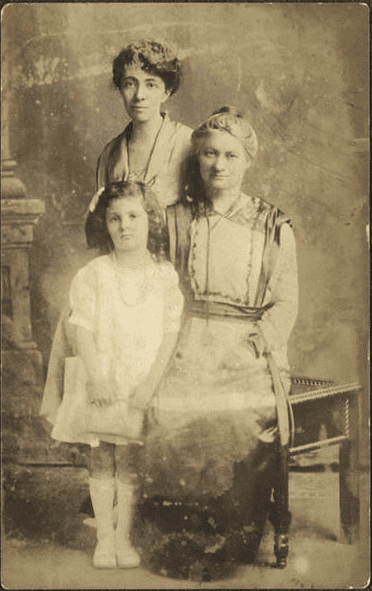 The National Council's Beginnings
This 15 September 1893 newspaper article documents the beginnings of the newly formed National Council of Jewish Women. In the closing session of the Jewish Women's Congress:
Miss Julia Richman introduced a resolution that this congress become a permanent organization to teach all Jewish women their obligations to the Jewish religion, and that a committee, composed of three delegates and one delegate from each State in the Union, be appointed, with the power to draft a constitution and make all arrangements for the organizing of our body.

It was decided that the congress resolve itself into a permanent organization, to be known as the National Council of Jewish Women. Mrs. H. Solomon was elected president; Mrs. E. Mandel, vice-president; Miss American, corresponding secretary; Miss L. Wolf, recording secretary; and Mrs. H. Selz, treasurer.
The Council lost no time in organizing women across the United States. This 6 November 1894 newspaper article announces that the local Jewish women "organize a Cleveland Council for the purpose of charitable work." It goes on to report that:
This movement is in harmony with the plans for the formation of a national council of Jewish women. There seems to be little doubt that the organization will be the most influential of its kind.
The Council's Good Works
The Council has a history of good works that benefit the world. One of the programs they worked on during World War II was the German Jewish Children's Aid Society which helped to rescue German Jewish children from Nazi-controlled Germany and place them with American families. This 30 September 1937 newspaper article reports that 250 children had been placed thus far with Jewish families in 15 states and the District of Columbia.
Throughout their history, the National Council of Jewish Women has participated in a wide variety of programs, including Meals-on-Wheels and other initiatives, that assist women and children. One of their political initiatives, called the Freedom Campaign, was focused on protecting civil liberties during the age of McCarthyism.
This 19 February 1952 newspaper article explains that the campaign "is designed to counteract the tendency of average citizens to withdraw from public life." It goes on to remark that:
The Freedom Campaign, which will have as its slogan, "Speak up! Freedom Needs Exercise!," will emphasize an appeal to all people, whatever their views, to speak their minds freely on community and national affairs.
NCJW continues their important work today as outlined in their mission statement:
"The National Council of Jewish Women (NCJW) is a grassroots organization of volunteers and advocates who turn progressive ideals into action. Inspired by Jewish values, NCJW strives for social justice by improving the quality of life for women, children, and families and by safeguarding individual rights and freedoms."**
You can learn more about the National Council of Jewish Women, their history, and their current work, at their website: http://www.ncjw.org.
Learn More in Old Newspapers
Learn more about the contributions of members of the National Council of Jewish Women by searching GenealogyBank's Historical Newspaper Archives. Of particular relevance are GenealogyBank's Jewish American Newspaper Archives. Was your ancestor a member of the NCJW? Learn more about her life as a member by first, searching on your ancestor's name, and then searching on just her local chapter's name to document what they were doing during the time your ancestor was a member.
————————-
* "History," National Council of Jewish Women, (http://www.ncjw.org/content_85.cfm?navID=27: accessed 10 March 2017).
** "Missions & Resolutions," National Council of Jewish Women (http://www.ncjw.org/content_76.cfm?navID=26: accessed 16 March 2017).