Introduction: Mary Harrell-Sesniak is a genealogist, author and editor with a strong technology background. In this guest blog post, Mary provides another fun quiz to test your knowledge of terms used in old newspapers to describe our ancestors' occupations—and then provides illustrated definitions of those terms.
An earlier blog article of mine entitled "Job Names in Historical Newspapers: Researching Old Occupations" illustrated the origins and meanings of old occupational terms found in historical newspapers. Since then, I've found more of these historical job terms that you may stumble across in your family history research. Many of these old career terms are confusing, such as curriers—a term we might mistake for messengers, but actually meant one who cured hides.
Note that some of these old occupation terms are common last names, such as Smith or Wright. This can be a valuable clue to ancestral research. As populations grew, it became necessary to require surnames to distinguish residents for tax and other purposes, so many adopted their hometown or occupation as their surnames.
Test your knowledge with this handy "Early Genealogical Occupations" quiz by matching the occupational terms in the first column with the definitions in the second. If you missed any of the old job definitions, read on to see their definitions illustrated with historical newspaper articles.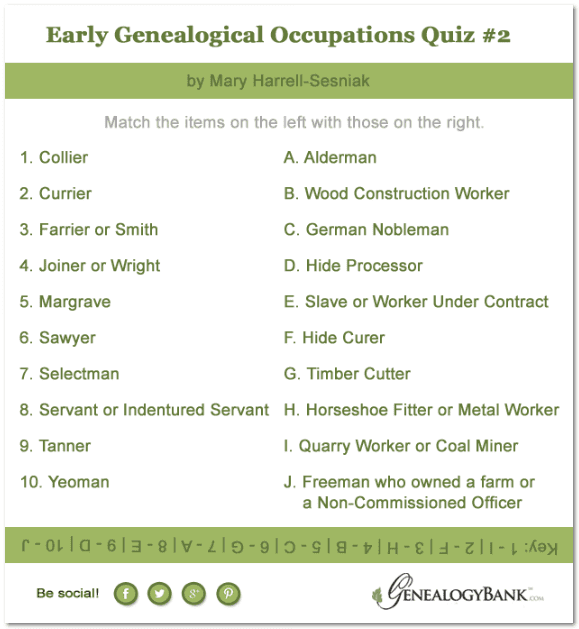 Collier: Derived from the Middle English word "col" meaning coal, a collier was a quarry worker, coal miner, or a crewman on a ship that transported coal. In this 1770 newspaper article, John Bishop—who ran away from his bail—is described as a collier by trade.

Currier: Today we think of curriers as messengers or deliverymen, but originally the term designated a skill in hide curing. Curriers were often tanners (hide tanners) as well, as seen in this 1849 obituary for James Fleming who "was a tanner and currier by trade."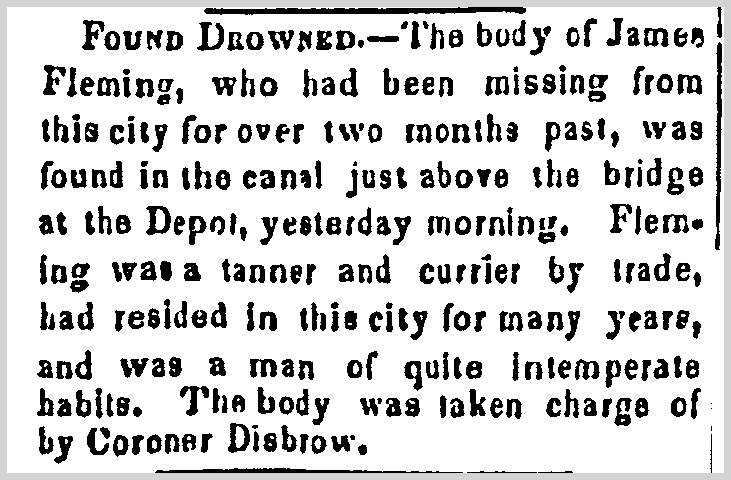 Farrier: A farrier was a craftsman or metal worker, who often fitted and trimmed horseshoes. The term is still common today, and was derived from the French word "ferrier," indicating a blacksmith. (See the definition of Smith below.) In this 1729 notice, the deceased Adam Tuck was a farrier "late of Boston."

Furrier: A furrier was someone who prepared or traded furs, also known as a skinner. In this 1773 newspaper ad, John Siemon, a furrier, advertised his wares—including muffs and tippets, gloves, and robes and riding dresses trimmed in fur.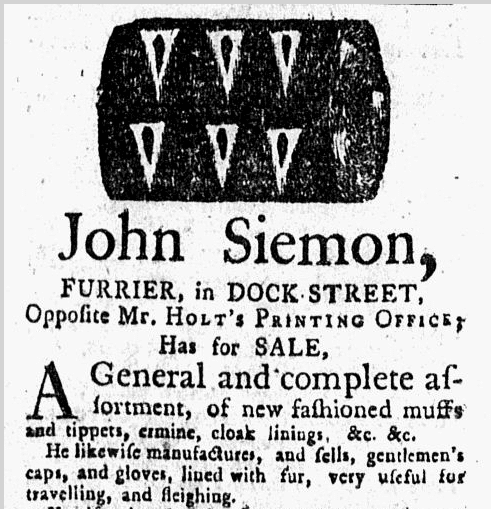 Indentured Servant: Indentured servants were obliged by work contracts to repay their debt (typically for travel costs) over a number of years. Most did not receive wages, but learned a skill and were provided room, board, clothing and other basic needs. Many families signed agreements with ship captains, who—upon arrival in America—sold the indentures to persons looking for workers. This 1716 advertisement reports that Capt. Nicholas Oursell had transported a variety of persons of varying occupations, such as coopers (barrel makers), joiners, smiths and washer women.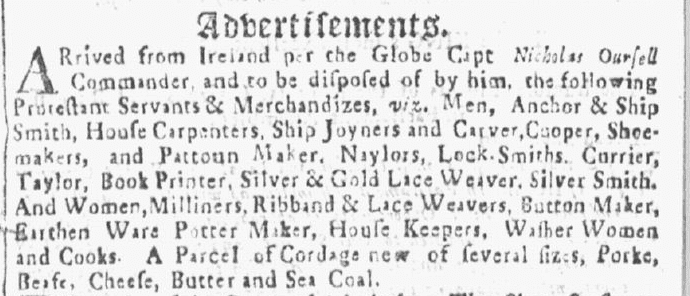 The life of an indentured servant was not easy and advertisements looking for run-aways were common, such as this 1776 reward offer for run-away Richard Trusted, who had learned the trade of gun-stocker (a weapon maker).

Joiner or Joyner: A joiner worked in construction, particularly attaching wooden components to buildings such as doors, window frames and staircases. In this 1770 run-away notice, apprentice David Cox ran away from his employer. The old newspaper notice warns that Cox worked as a carpenter and joiner, but was likely to pass himself off as a mill-wright—one who built or maintained machinery at a mill.

Marquis or Margrave: Based upon the term "mark," which designated a British county or earldom, a marquis (or count of the mark or mark-count) was more of a title than an occupation, although they typically oversaw workers of lower rank. The term was later shortened to marquis, and came to indicate a nobleman with a rank above a duke. The German equivalent was "margrave" or "margravine" (male and female equivalents). This 1772 death notice was printed for Margrave Augustus George of Baden-Baden.

Sawyer: A sawyer earned his living by cutting (sawing) timber, as seen in this 1770 notice about John Wilmington, a sawyer by trade, running away from bail.

Selectman: Chosen by townsmen, a selectman (similar to an alderman) was a member of a three- or five-member governing board of a New England town. In this 1810 news article about a ballot challenge, Nathan Prentiss of Petersham was accused of casting two votes for his choice of selectman.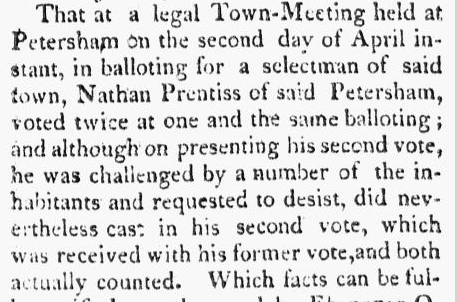 Smith: A smith was a metal forger or iron worker. One of the more common smith occupations is a blacksmith, who created and fit horseshoes. Some synonyms for smith are farrier, hammersmith and smithy. This 1786 obituary mentions that James Hays, by trade a cooper (barrel or cask maker/repairer) was the son of Thomas Hays, by trade a smith.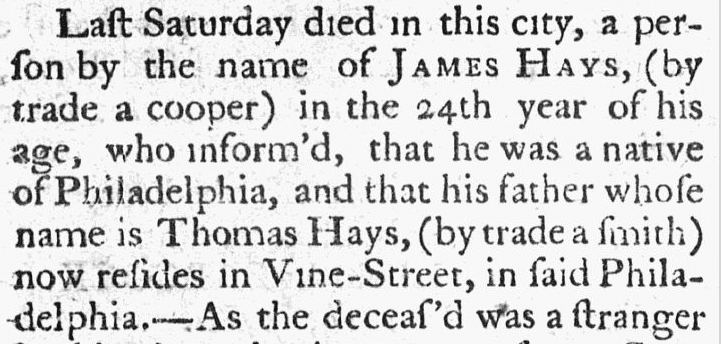 Tanner: A tanner tanned or processed animal hides, and is similar to a currier or one who cured hides. The following anecdote occurred in 1826, when James Brown, a tanner by trade, disappeared and was assumed to be drowned. He turned out to be a prankster wishing to gain publicity.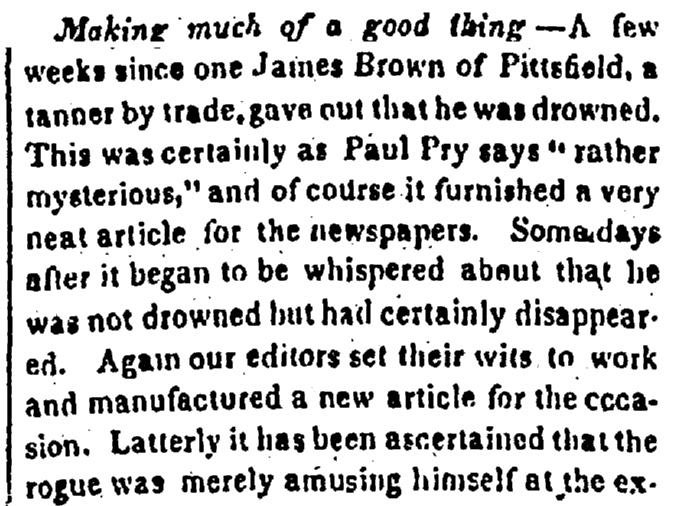 Wright: A wright was a skilled worker, and a repairer or manufacturer of wooden objects. (See also Joiner.) This 1872 obituary reports that Mr. Frederick Friend learned the trade of wheelwright beginning at the age of twelve.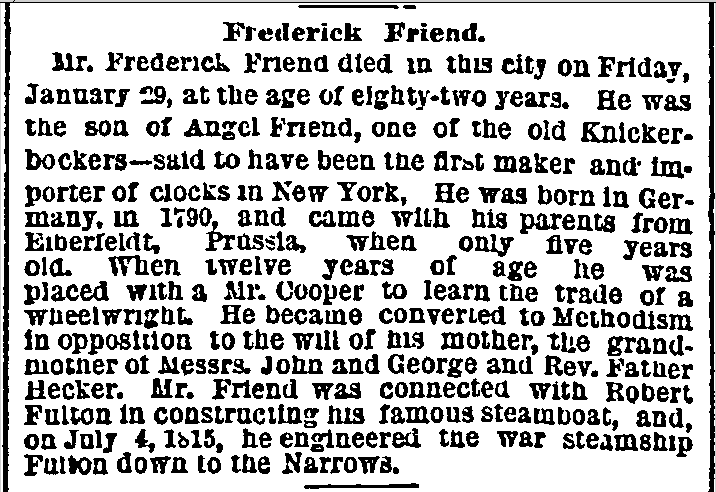 Yeoman (yeman, yoman, yoeman, yonge man or young man): Over time, the title yeoman had varying connotations, from a non-commissioned military officer or soldier who rendered specific duties to the crown, to a freeman who owned his own farm, or one who farmed but also provided military protection. As an adjective, it indicates a duty requiring great effort, as in this 1915 news photo of firemen rendering "yeoman service."