A 1918 Oregon newspaper has an interesting article about an effort in Portland, Oregon, to enlist farm worker volunteers to help save that year's crops, due to the labor shortage caused by WWI.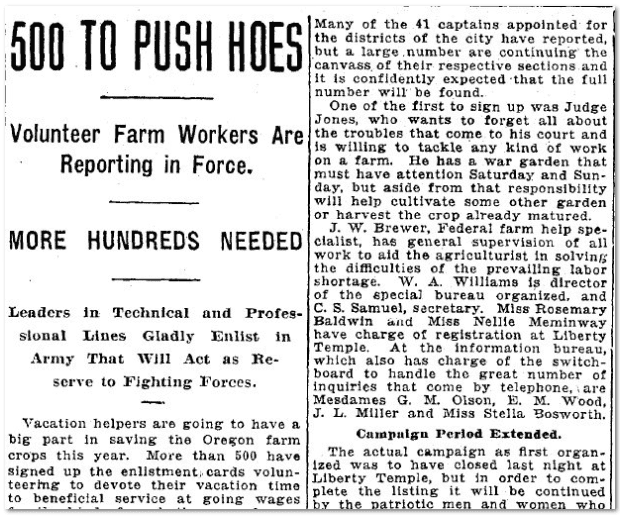 The old newspaper article reads: "Vacation helpers are going to have a big part in saving the Oregon farm crops this year." People from all walks of life volunteered in this area-wide effort to assist local farmers in saving that year's crops.
As the historical newspaper article reports: "More than 500 have signed up the enlistment cards volunteering to devote their vacation time to beneficial service at going wages for the kind of work they may be assigned to do."
Hmm…those enlistment for farm work cards would be a handy genealogical resource for family historians researching ancestors from the World War I era.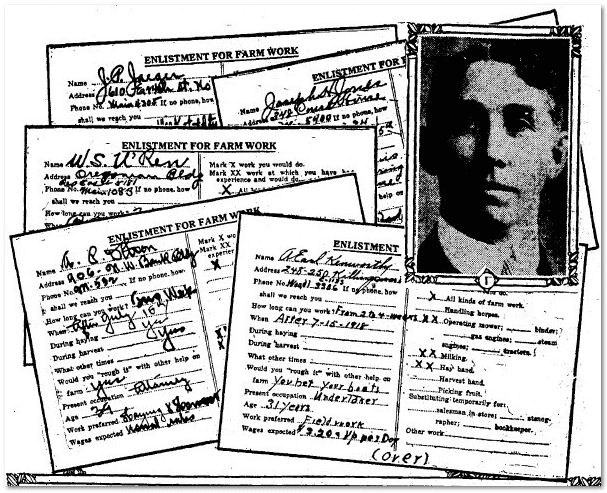 The Oregonian's article showed the above illustration with the caption: "Facsimile of enlistment cards actually signed by well-known citizens."
One question on the "Enlistment for Farm Work" form was: "Would you 'rough it' with other help on [the] farm?"
A volunteer named A. Earl Kenworthy, a 31-year-old undertaker, answered: "You bet your boots." He was all-in to help.
Did these Portland farm work records survive? Has anyone used them for genealogy research? Where are these old farm work records now?