On 13 December 1747 a "most terrible Fire" broke out in Boston, MA.
It was just after six o'clock in the morning when the "Watch" spotted the flames at the Court House. The building was a total loss: the "spacious and beautiful Building, except the bare Walls, was entirely destroyed."
It was an intense fire that lit up the skies of Beantown that cold winter night. "The Vehemence of the Flames occasioned such a great Heat, as to set the Roofs of some of the opposite Houses on Fire, notwithstanding they had been covered with Snow, and were extinguished with much Difficulty."
All was not a total loss, however.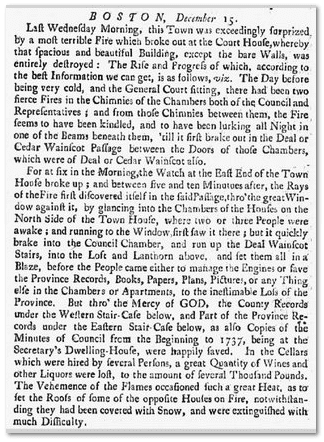 "But thro' the Mercy of GOD, the County Records…and part of the Province Records…as also Copies of the Minutes of Council from the Beginning to 1737…were happily saved."
The survival of these important genealogy records is good news to genealogists today who are researching their Colonial ancestry, and no doubt was a relief to government officials at the time.
There was one loss from the historical Boston fire, however, that likely was particularly painful to more than a few:
"In the Cellars which were hired by several Persons, a great Quantity of Wines and other Liquors were lost, to the amount of several Thousand Pounds."