Harold B. Shaw (1911-1975) was born in Sydney, Nova Scotia, Canada – but he was my cousin many times over because of our mutual descent from multiple Mayflower passengers.
Since his family had moved to Canada several generations back on his line, I might not have found him.
But, thanks to his obituary published in GenealogyBank's Historical Newspaper Archives – I found him very easily.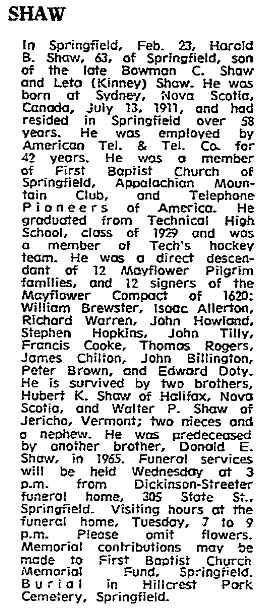 His obituary states that:
He was a direct descendant of 12 Mayflower Pilgrim families, and 12 signers of the Mayflower Compact of 1620: William Brewster, Isaac Allerton, Richard Warren, John Howland, Stephen Hopkins, John Tilly, Francis Cooke, Thomas Rogers, James Chilton, John Billington, Peter Brown, and Edward Doty.
That's great. I am also descended from each of those Mayflower passengers.
Armed with this obituary I can then retrace and document Shaw's lines, re-confirming them and ensuring that our family tree is accurate, permanently recorded online and easily findable by future generations.
Find and document your family lines in GenealogyBank's deep newspaper archives.
Related Mayflower Articles:
(Visited 120 times, 1 visits today)