Introduction: In this blog article, Gena Philibert-Ortega searches old newspapers to learn more about Utah's special state holiday, "Pioneer Day." Gena is a genealogist and author of the book "From the Family Kitchen."
Federal holidays are well-known to all of us. For example, we celebrate Presidents' Day, Fourth of July, and Thanksgiving as a nation. But some holidays are more local and observe a region's history. Utah is celebrating such a day this Sunday: Pioneer Day, observed on July 24th, is a uniquely Mormon holiday.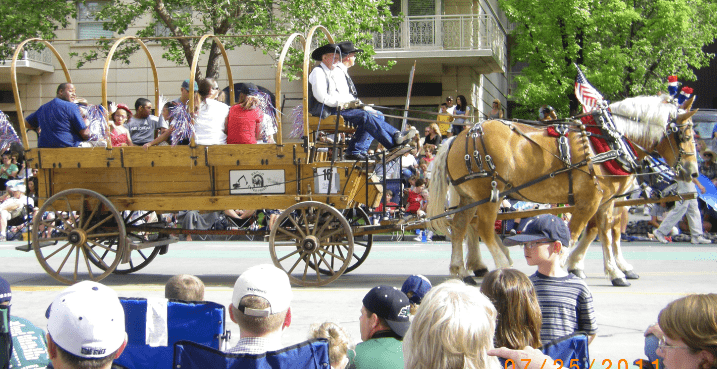 Commemorating the arrival of the Mormons into the Salt Lake Valley on 24 July 1847, Pioneer Day is an official state holiday in Utah. Part patriotic celebration with a family history component, it's a day set aside to honor pioneer heritage. First observed in 1849, two years after the Mormons arrived in the Salt Lake Valley, Pioneer Day is celebrated in Utah as well as other predominately Mormon towns and individual Mormon congregations throughout the United States.*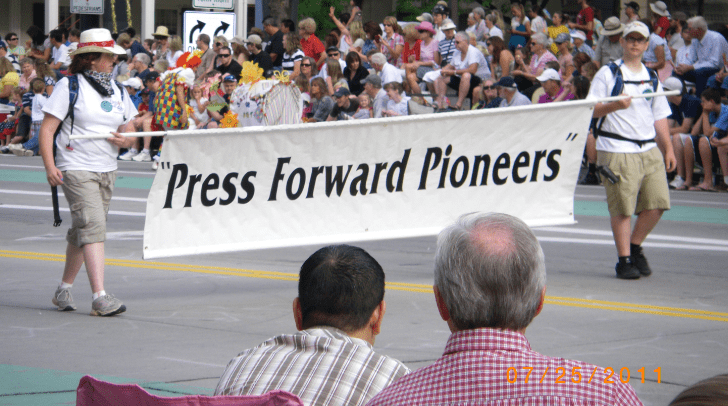 Pioneers of 1847
The Pioneers of 1847 are honored during each year's Pioneer Day parade. This 1922 newspaper article documents an automobile tour involving 80 automobiles (no mention of how many pioneers participated). They toured historical Utah sites such as Emigration Canyon, Fort Douglas, and the state capitol. The old-timers were also the guests of honor for entertainment and lunch.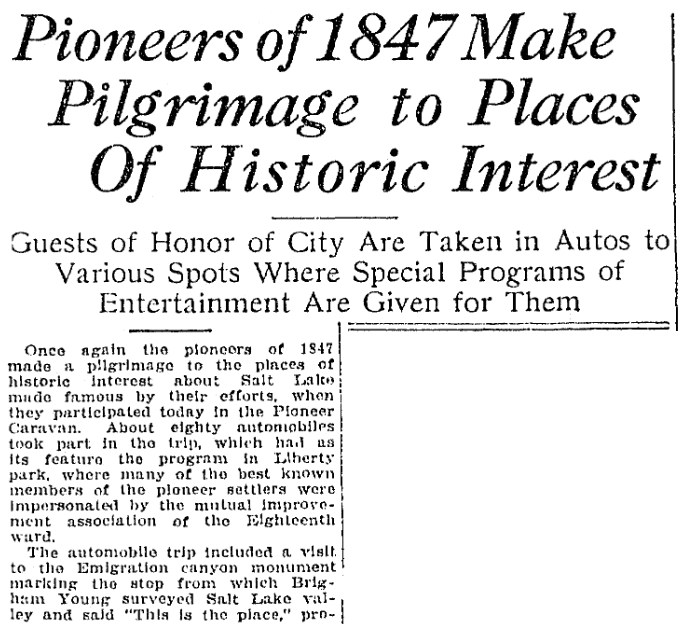 You might be like me and wonder how many Pioneers of 1847 could still be around some 75 years after they migrated to Utah? Well according to this 1922 newspaper article there were more than I would have guessed. When planning began for the 1922 Pioneer Day celebration, there were known to be 40 Pioneers of 1847 still alive. Newspaper publicity about the 75th anniversary celebration uncovered an additional 27 Pioneers of 1847 in Utah and surrounding states.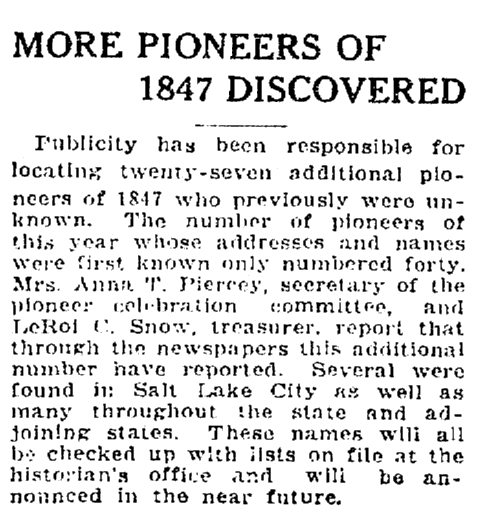 Genealogy Tip: Not all newspaper articles that report on activities your ancestors engaged in document their names. Make sure to search on events they might have taken part in as well as searching on their individual names.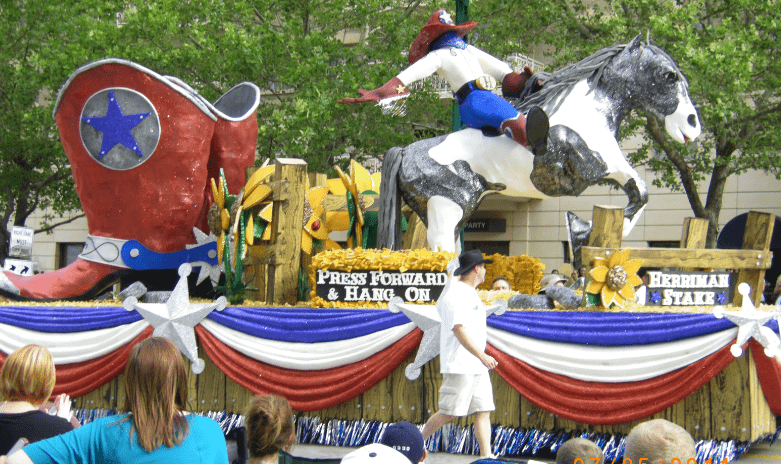 Celebrations Galore!
Typically, Pioneer Day is marked with a parade. So what were those early Pioneer Day celebrations like? This 1907 newspaper article reports on Pioneer Day activities in the cities of Heber, Lewiston, Lehi, Tooele, Price and Payson. Activities included floats, performances by bands and orchestras, presentations, dances, sports, and the firing of cannons.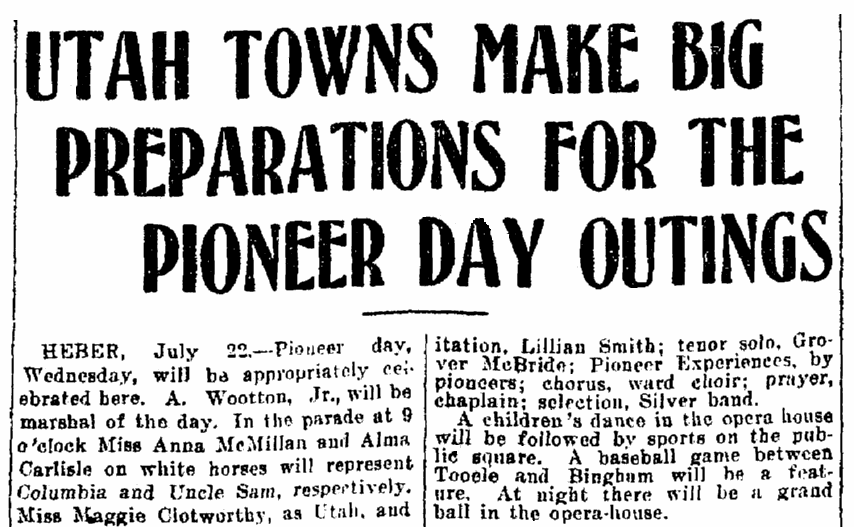 Now in case you think previous generations celebrated Pioneer Day just by honoring pioneer ancestors or watching patriotic parades, it's important to remember that people have always wanted to spend their holiday doing lots of things for fun. This 1918 newspaper advertisement enticed Salt Lake area citizens with a day at the lake – the Great Salt Lake, that is. Saltair, a resort built on the banks of the Great Salt Lake, advertised spending Pioneer Day bathing, boating, dancing, picnicking and watching movies. It probably didn't hurt to remind the younger crowd that "myriads of pretty girls" would also be there.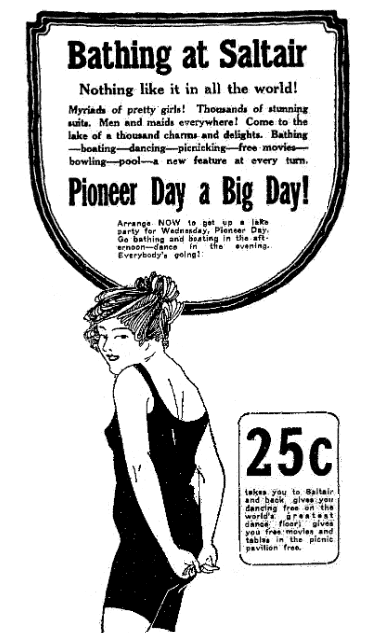 Your Pioneer Day
Although I have focused on Pioneer Day as celebrated in Utah by members of The Church of Jesus Christ of Latter-day Saints, other cities hold their own pioneer day celebrations to honor their local history and pioneers.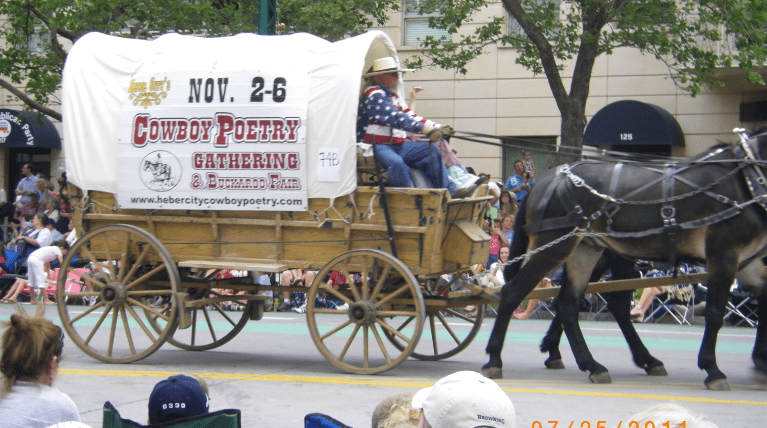 Sure the parades and entertainment provide for a great celebration, but I like the idea of really honoring and remembering pioneers of a community. So it's probably no surprise that I personally love this Pioneer Day celebration in 1904 Montana that included a medal to the student who presented the "best essay on the pioneer history of the state, having regard to historical research and literary merit." This day's celebrations included presentations on the history of Montana schools, Lewis and Clark, and the hardships faced by the pioneers.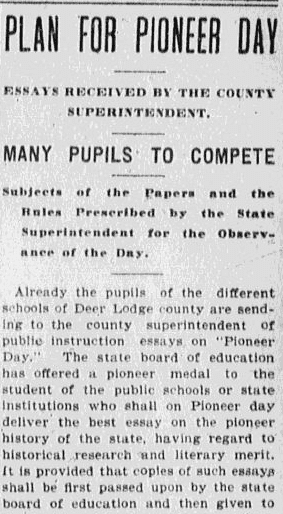 Does your town have a day to celebrate its history? How do you honor the pioneers in your family? There are many ways we can use our family history research to commemorate our ancestors – from blogging their stories, to sharing their photos on Facebook, to creating memorials with our family. This July 24th celebrate Pioneer Day and honor the pioneers in your family tree.
—————————
* Pioneer Day. Utah History Encyclopedia. http://www.uen.org/utah_history_encyclopedia/p/PIONEER_DAY.html
Other Mormon Articles: