Newspapers around the country mourned the passing of Hannah Dexter in 1821 – both because she was the last of the Natick tribe of Native Americans, and in reaction to the brutal assault that caused her death.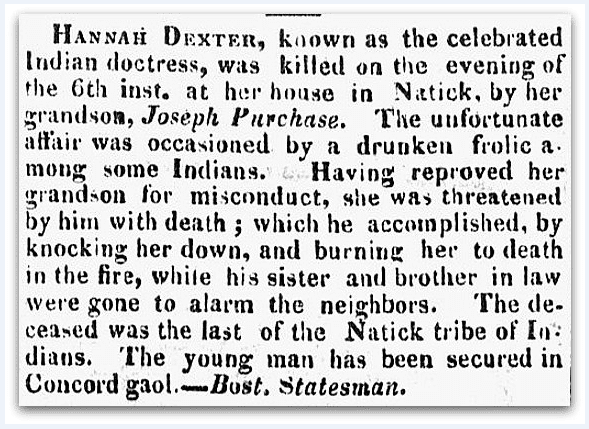 She was killed by her grandson, Joseph Purchase.
So – wouldn't her grandson also be of Natick heritage?
Well – yes and no.
Part of the problem answering this question is that there was not a distinct Natick tribe.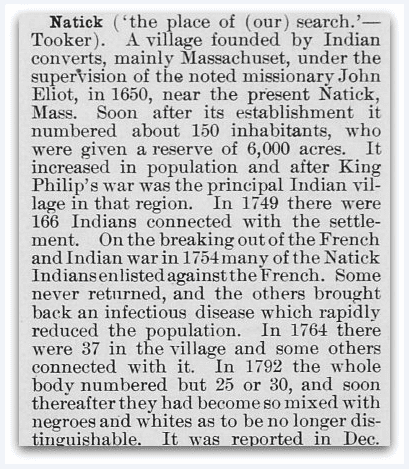 The group of Native Americans called the "Natick Indians" grew out of an early Colonial effort to convert the Indians in Massachusetts to Christianity. The Natick Indians referred to in the New Hampshire Sentinel article shown above – and other early American newspapers – were Indian converts who were brought together to live in Natick, Massachusetts.
The term "Praying Indians" referred to these early converts and "Praying Towns" referred to the new towns created to bring these converts together in new communities. Natick, Massachusetts, was the first of these new communities.
The Praying Indians and Praying Towns were routinely discussed in the local newspapers.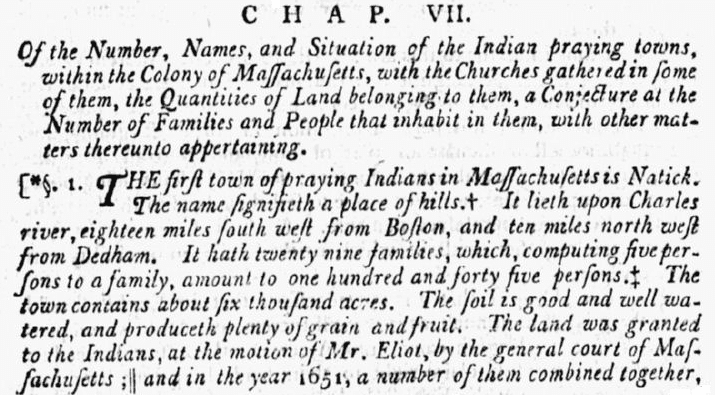 The ethnic heritage of the Praying Indians was diverse, and likely they came from the Nipmuc, Wampanoag, Narraganset and Massacuset tribes in the area.
As noted in the above Handbook of American Indians report:
In 1792 the whole body numbered but 25 or 30, and soon thereafter they had become so mixed with negroes and whites as to be no longer distinguishable.
So Hannah Dexter was the last of the Natick Indians – a social, religious group – but not the last of her genealogical family lineage.
Related Articles: