Introduction: In this article, Gena Philibert-Ortega searches old newspapers to find ads and stories about vintage swimsuits, giving us another glimpse into our ancestors' lives. Gena is a genealogist and author of the book "From the Family Kitchen."
It's HOT outside and it's the perfect time to enjoy a day at the beach. One day as I was trying to stay cool at home with the air conditioning, I was scanning family photos and came across a 1920s-era photo of my great-grandfather and his sister-in-law at the beach. Looking at the old family photo reminded me of what I love about family history research: discovering the stories of ordinary people's lives. Our ancestors' lives were much more than a birth, marriage, and death date. They took part in all sorts of activities, including recreations like visiting the beach during the summer.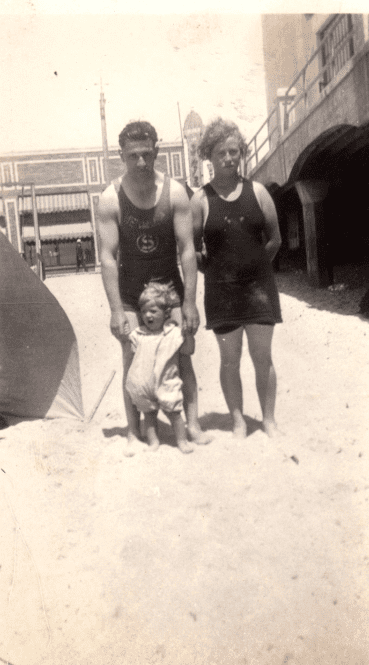 So what type of swimsuits did your ancestors wear? Swimsuits, like all types of fashion, have evolved through the years to reflect the morals, laws, form, and textiles of the times. According to the article "Swim Wear History" by the Vintage Fashion Guild, the bathing suits of ancient Greece resembled the bikinis of today! As time progressed, modesty and segregation between the sexes called for swim attire that lacked function. As swimming and beach visits became more popular in the 19th century, beach wear evolved to the swimsuit fashions seen today. That article goes on to say that those early Victorian suits made of wool covered everything on the human form but they also adhered to wet bodies, defeating their original purpose: modesty. This lack of function for swimsuits can be seen in photos from the early 20th century as well.
[search_box]
Controversy has always followed the wearing of swimsuits. Older generations voiced their disapproval of the younger generation showing too much skin—and in some cases the law has stepped in to make sure the public is well-covered. One example of someone who tried to push the envelope in what bathing beauties wore was the Australian professional swimmer and actress Annette Kellerman (1886-1975), who was an advocate of women wearing one-piece swimsuits instead of the impractical dress and pantaloons ensembles of the time. She was even arrested for wearing one of her one-piece suits on a U.S. beach.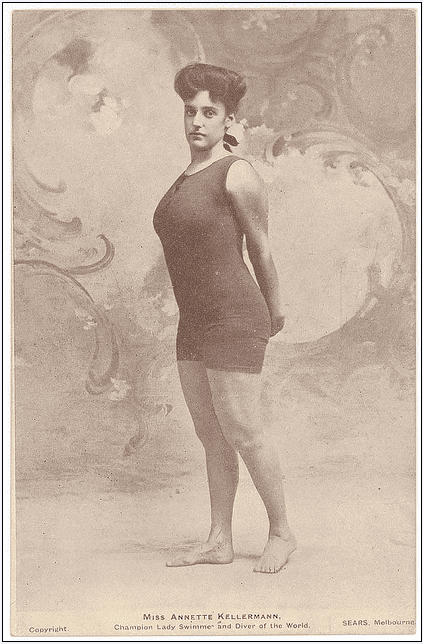 Swimsuit Fashions through the 20th Century
This 1916 newspaper ad offers a swimsuit that pretty much covers every part of the body except the arms and neck. In describing this more "modern" suit, the writer states "that the suit is not the same as a half dozen years ago—a simple thing good enough to swim in." As we read more about this ensemble and all of its pieces and design, it's funny to see how language and descriptions have changed. I'm not sure how many women today would want to wear a swimsuit described as "…striped as a porch awning." Modern-day women may take offense at someone commenting on their fashion choice looking like something that should be hanging off someone's porch.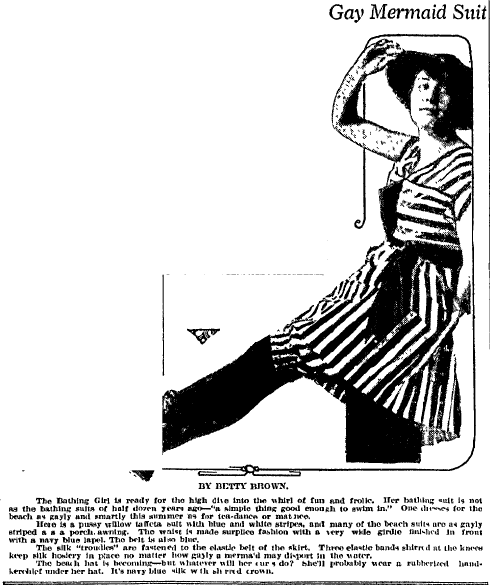 It's easy to see the style differences from the 1916 suit featured above and this "scantier" 1923 swimsuit. Scantier certainly describes this vintage swimsuit, with its "shorter trunks, narrower shoulder hands, and no sleeves." It's easy to understand how this suit style would be much easier to swim in as the model, Miss Martin of the Ziegfeld Follies, is quoted as saying.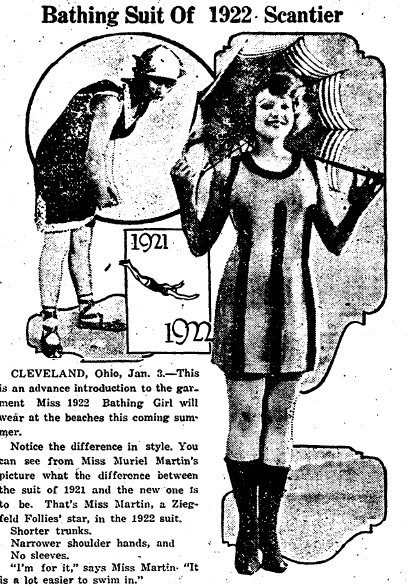 While we most associate today's bikinis as revealing swimsuits, women did wear two-piece swimsuits decades before the bikini, like this ad from 1937 describing how "an overskirt of white jersey dotted in red matches the 'bra' top of the suit, and is worn over red jersey shorts."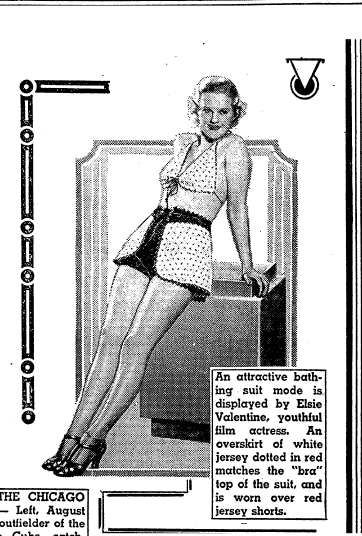 As younger generations look at the vintage swimsuit fashions from yesterday, they probably find amusement at past efforts to cover up on the beach, and wonder why our ancestors wore so much material. It would seem that each generation disapproves of the younger generations and their fashions—and vice versa. That's as true for 1922 as for the bikini-wearing women of 1960, as shown in this article reporting comments from newspaper readers about the wearing of bikinis. Notice that listed with each name is also the commentators' street address—a potentially valuable genealogy clue.
[search_box]
My favorite quote is from Mrs. Nemitz who says of bikinis:
"Don't think I'm old fashioned, because I'm not. I just don't care for bikinis, and the men that I have talked to don't care for them either."
Good thing she didn't know about what happened when the modest bathing costumes of her mother's generation became wet—talk about revealing!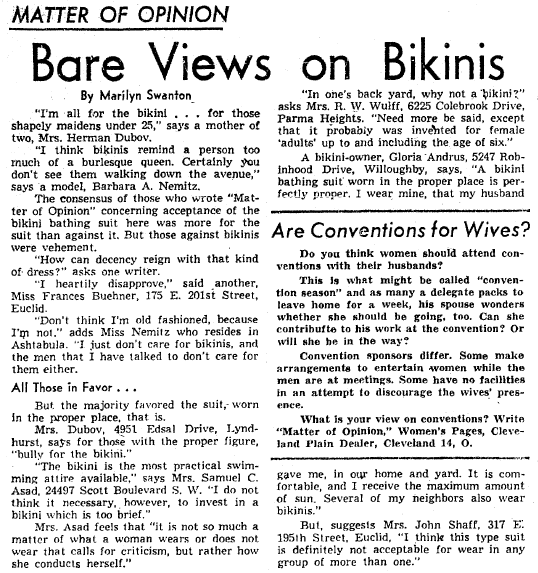 So what did your female ancestors wear for a swimsuit? Were they daring and tried to show more than was allowed, or did they keep all covered up? Did they enjoy just dipping their toes into the ocean or did they need swimwear that allowed them freedom as they swam? Fashion history can provide an interesting look at our ancestors' lives, and looking at swimwear reminds us of how similar some of our attitudes are to our ancestors' opinions.
Related Vintage Fashion Articles:
(Visited 338 times, 1 visits today)