Census and other government records can give us dates and facts about our ancestors, but where do you turn to find their personal stories, an account of something fantastic, exciting or odd that they experienced? If you are lucky, you may possess your ancestors' journals or family letters. Even if you don't have these, however, you still have a great source for stories about your ancestors: an archive of historical newspapers, such as the 6,500 titles in GenealogyBank's online Historical Newspaper Archives.
For example, if James Edward Van Voorhes is one of your ancestors, you won't find in his census, marriage or death records an account of a truly bizarre experience he had one rainy day—but you will learn about it in the newspaper, because he wrote the following letter to the editor telling of a very bizarre happening.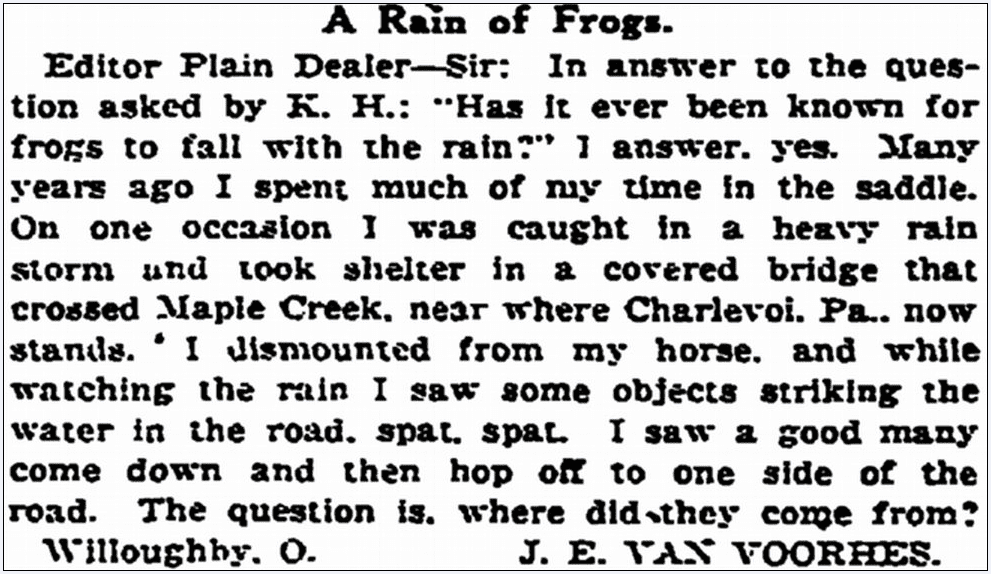 Can you imagine witnessing something as astonishing as raining frogs happening? What a great family story! In thinking of James getting down from his horse, huddling under the protection of a covered bridge during a heavy rainstorm, and staring in disbelief as the clouds suddenly rained frogs onto the road before him, you've shared an extraordinary sight your ancestor once experienced, seen the world in one vivid moment through his eyes—and in that way brought him a little closer to you.
Here is another account of this bizarre phenomenon of raining frogs.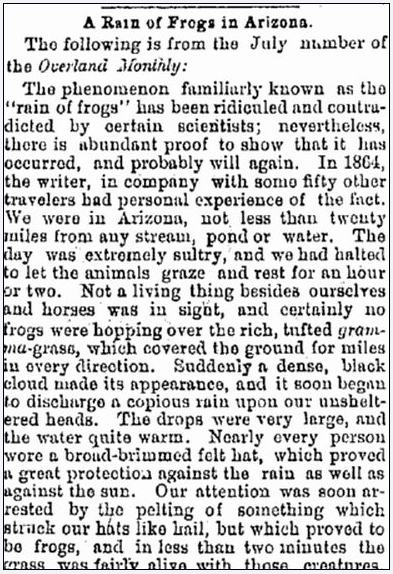 The writer goes on to say:
Several of the party took some [frogs] from their hat-rims. Our unexpected visitors were all of one size, about a quarter of an inch long from nose to rump, very lively, and apparently in the best condition. Their fall had been broken by the springy, resilient nature of the grass. It is not probable that several hundred thousand, perhaps millions, of frogs had suddenly been hatched into life in the ground by the rain, or, if they had, that in their infantile glee they jumped five feet eleven inches from the earth to the top of our heads merely to show how the game of leap-frog should be played. Nor had they any such caudal appendages as are generally attached to juvenile rana. They came from above, in company with the rain; and this fact was made clear by holding out the hand and seeing them fall upon it, as well as finding them on our hat-rims.
Stories, wonderful stories, that "smack of the incredible." Newspapers are filled with them—the unusual, the odd, the bizarre, the humorous.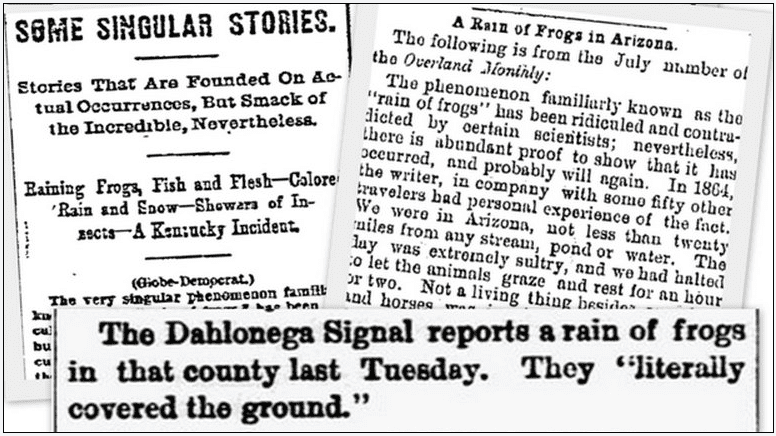 Even if the weird or humorous stories you find are not about one of your ancestors, they make interesting reading and may give you a chuckle, adding to the fun of browsing through an archive of historical newspapers while doing your family history research. Keep an eye out for such odd stories—you never know what you'll find!
[bottom_post_ad]
(Visited 117 times, 1 visits today)