Introduction: In this article, Mary Harrell-Sesniak explains how to use an important tool GenealogyBank provides: the "My Folder" feature, which lets you save articles and entire searches – and can help when a "senior moment" strikes you. Mary is a genealogist, author and editor with a strong technology background.
Years ago, I wrote this quote which was published in the GenealogyBank blog (see Genealogy Humor: 101 Funny Quotes & Sayings for Genealogists):
Although humorous, this quote certainly hits home for family historians. As any GenealogyBank user knows, that's what we do every time we visit the site. We search and search and search like busy little bees until we hopefully find what we are looking for.
When we come up short, we're prone to repeat searches – and we've been known to get excited by finding info that we already found in a previous search! Ha ha – that's my kind of senior moment, as it's happened more times than I would care to admit!
Resolving Senior Moments
Lucky for all of us, GenealogyBank's website designers came up with a solution to help us figure out what we've been doing. They created a series of features under the "My Folder" option where we can see:
Saved Articles
Saved Clippings
Saved Searches, and
Search History (i.e., review what our previous searches have been)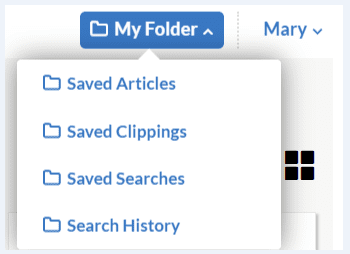 Search History
This last feature is my favorite, so let's start with it!
By clicking on Search History, observe that you can "Search Again" or "Remove the Search History" from My Folder. Here's what the Search History feature shows about my search for the term "senior moment" – it reminds me that I searched for the term in the newspapers collection, and that the search returned 562 hits.
Note: For the record, I wanted to find out the first reference to "senior moment" and learned it's a fairly recent expression. One article from a college noted a senior moment is when robed graduates move their tassels from one side of their caps to the other. Around 1997, we begin to see the more common usage of "forgetful moments due to aging" when it crept into the common vernacular.
Saved Articles vs. Saved Clippings
These two features are similar, with one main difference: Saved Articles will reproduce the entire newspaper page as you would see from a normal query, whereas Saved Clippings produces only the newspaper articles (or parts of articles) that you have previously clipped.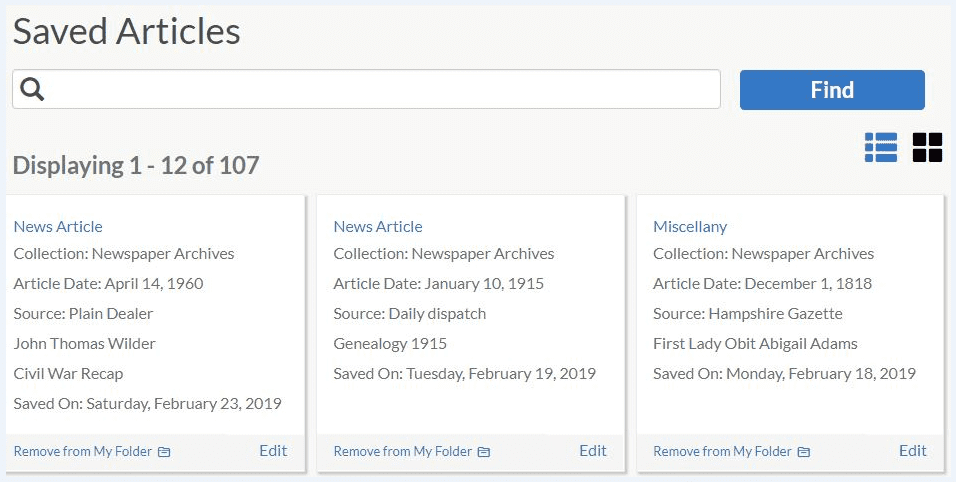 How to Clip
So how does clipping work?
If you want to clip a portion of a page, select the scissors tool at the top right of the screen. Then position the resulting box around the desired area. Pull on the border boxes or grab and drag the middle to reposition the selection.
When you've selected the exact clipping you want, choose one of the three options at the bottom:
Download to Your Computer
Print
Save to My Folder
Selecting by Icons
Notice that the scissor tool is not the only tool available to you. Here are all the icons available at the top right of the screen:
From left to right they indicate:
Add to My Folder
Clip
Print
Download
Share
Attach (to your FamilySearch tree or paste the link to the Clipboard)
Sharing
If you choose the Share tool, a screen will appear displaying your name and email address. You can send the clipping to as many as 10 recipients and customize the default message (shown below) for a better explanation.
Attaching
The two options for the Attach tool are:
to attach to your FamilySearch tree; or
to copy link to the Clipboard
The first Attach option will try to sign you into your FamilySearch account, or to a web page where you can set one up.
The other Attach option pastes the clipping's link to your computer's Clipboard, making it available for pasting into your word processor, a text-based program, and some social media programs.
Summary
Have you ever searched your "My Folder" menu to see what's there?
Here you can save articles, clippings and even your searches – and if you're having a senior moment and can't remember what you searched for last week, yesterday or even a few minutes ago, check your search history!
Please let me know if these tips have helped by sharing this article or by leaving a comment.
A Final Quote
Here is another of my original research quotes from my genealogy humor article:
Related Article: