Obituaries were printed throughout the newspaper. Yes, they predominantly appeared grouped in one section – but they could appear anywhere in the newspaper.
For example, this obituary was published in the "Locals" section (the Noroton section) of the Stamford Advocate. It was published as a news items about neighboring towns.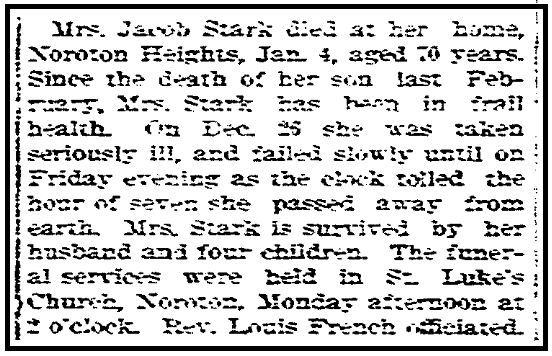 It mentions that "since the death of her son last February, Mrs. Stark has been in frail health." That's sobering – very special to know that.
If I hadn't looked up this obituary I wouldn't have known the impact of her son's death on her. She was only 70 when she died.
I had a list of her children – but was missing the death date for two of her sons.
So, I looked back to the newspapers around February 1900 and found his obituary – which also appeared as a news item.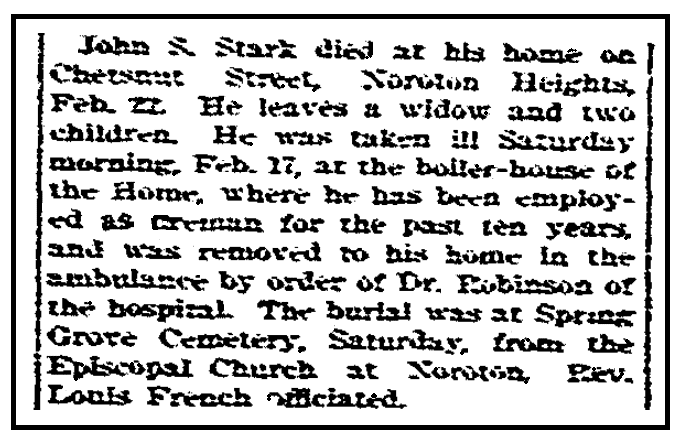 Wow, he was only 38 when he died.
And I see the Rev. Louis French officiated at both funerals.
Searching again in GenealogyBank's Historical Newspaper Archives, I found out more about the Reverend.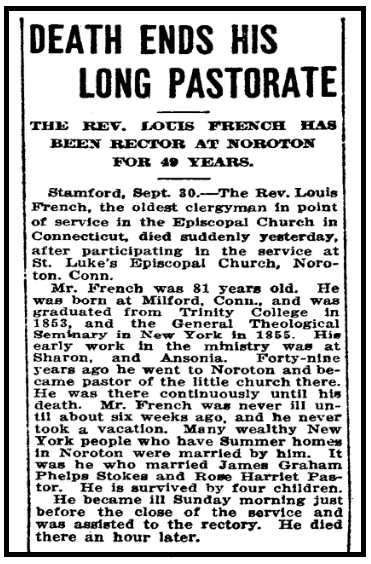 He had been the Rector at "St. Luke's Episcopal Church" in Noroton, Connecticut, for 49 years.
Mary (Strickland) Stark died in January and her son John Strickland Stark died the previous February. Perhaps the Church looked like this the day of their funerals.
Genealogy Tip: Obituaries were printed on all pages of the newspaper, from the front page to the last page. Don't assume that they were only published on the "Obituary" pages of the newspaper. When searching obituaries, be sure to look up and read every obituary – make sure you learn and document every story about your family. Some of them will be poignant – you'll be glad to know their special stories.