Introduction: In this article, Gena Philibert-Ortega shows how to search only on content you haven't seen in previous searches. Gena is a genealogist and author of the book "From the Family Kitchen."
GenealogyBank adds more content to our newspaper archives every day – both more issues to our existing newspapers, plus papers new to our collection. What that means for you is the possibility of new newspaper results each time you search.
If you just want to see articles added since your last search – content that is new to you – GenealogyBank lets you do this.
How do you sort your newspaper article results to show the latest additions in GenealogyBank's Historical Newspaper Archives? We discussed in a previous blog article how to use the "Sort by" feature with your newspaper search results. This time let's discuss another way to view the latest results in the newspaper collection: the "Articles Added" feature.
Articles Added
Conduct a search on GenealogyBank. Whether you do a Basic search or an Advanced search from the homepage makes no difference in terms of demonstrating the "Articles Added" feature.
For this example, I have only searched on an ancestral name (Lars Peterson) and no other keywords. Click on the Search button. Now you have your results. They will look something like this.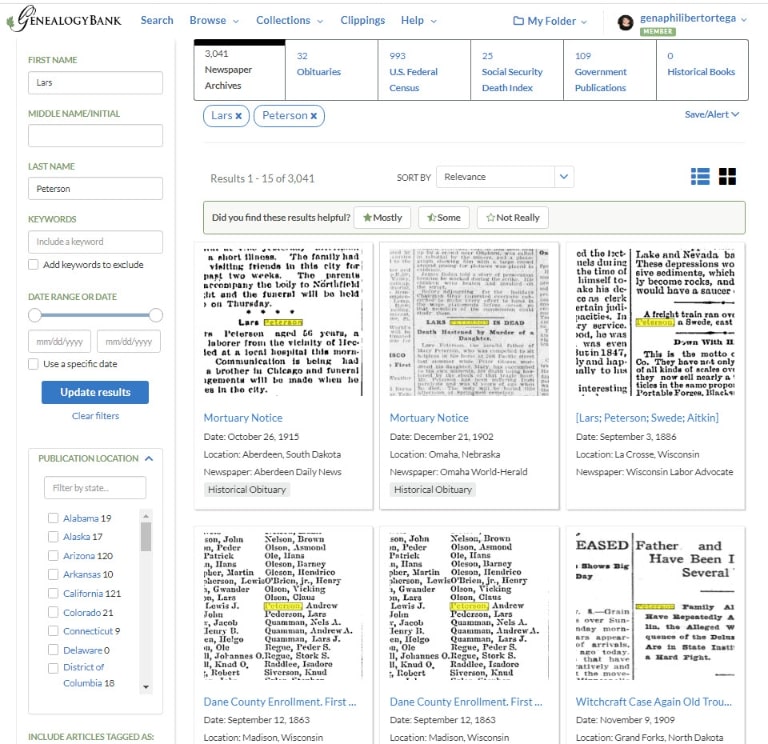 Scroll down the page and pay attention to the last box on the left-hand side.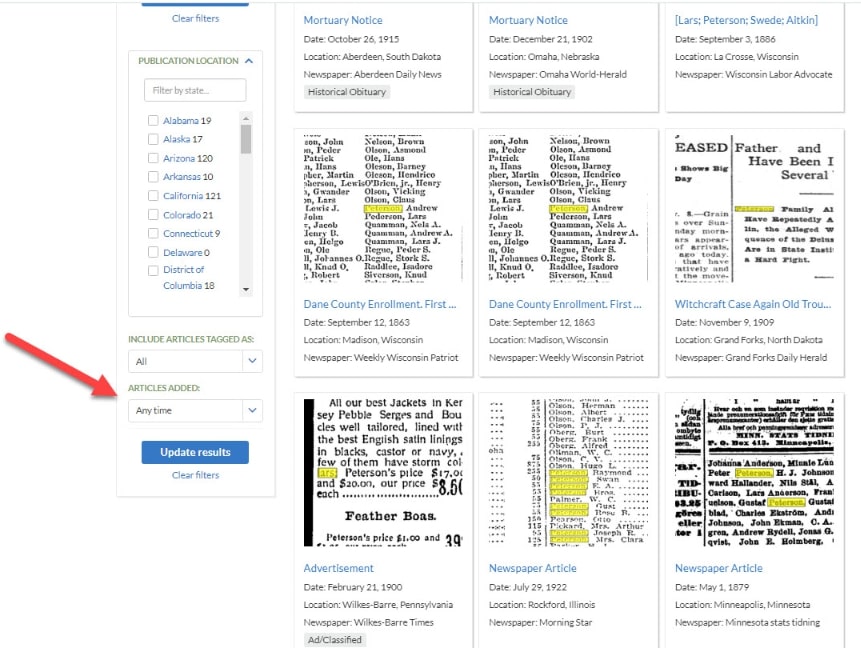 This box is labeled "Articles Added." Click on that box to reveal the drop-down menu.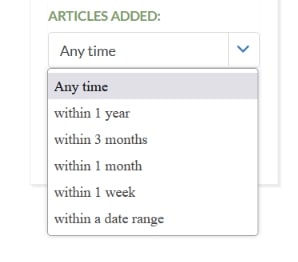 This drop-down menu gives you the choice of viewing articles that have been added:
Any time
Within 1 year
Within 3 months
Within 1 month
Within 1 week
Within a date range
The default is Any time. This is great for a general search – but what if this is a search you've conducted before, maybe within the last year? You may not want to see all the same results. After all, you've already viewed them and saved what you needed. You might want to see only the results from the latest newspapers added to the collection.
The "Articles Added" tool provides you the option to only see articles that meet the criteria you choose. So, for example, if you choose Within 1 year you will only see historical newspapers added to GenealogyBank in the last year. In my example search on Lars Peterson with no additional filters, keeping the default Any time leaves me with over 3,000 results.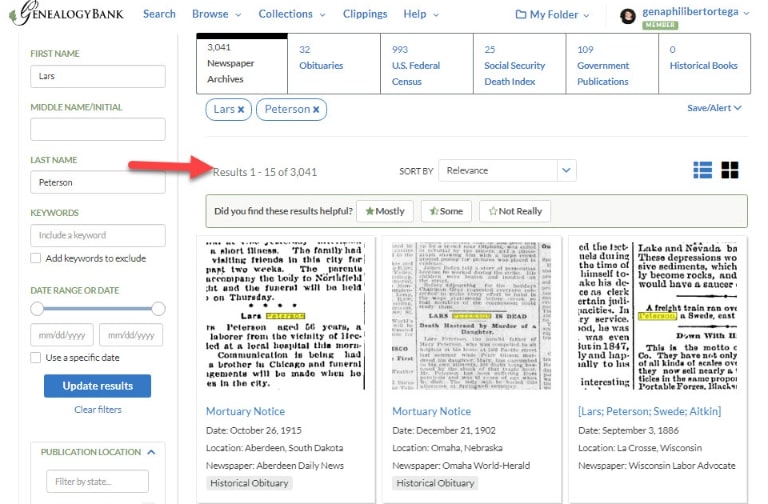 If I change the time frame to Within 3 months, I now have only 5 results. If I have searched GenealogyBank for Lars Peterson four or more months ago, the Within 3 months allows me to examine more recent additions that I haven't seen yet. I'm not duplicating my search efforts.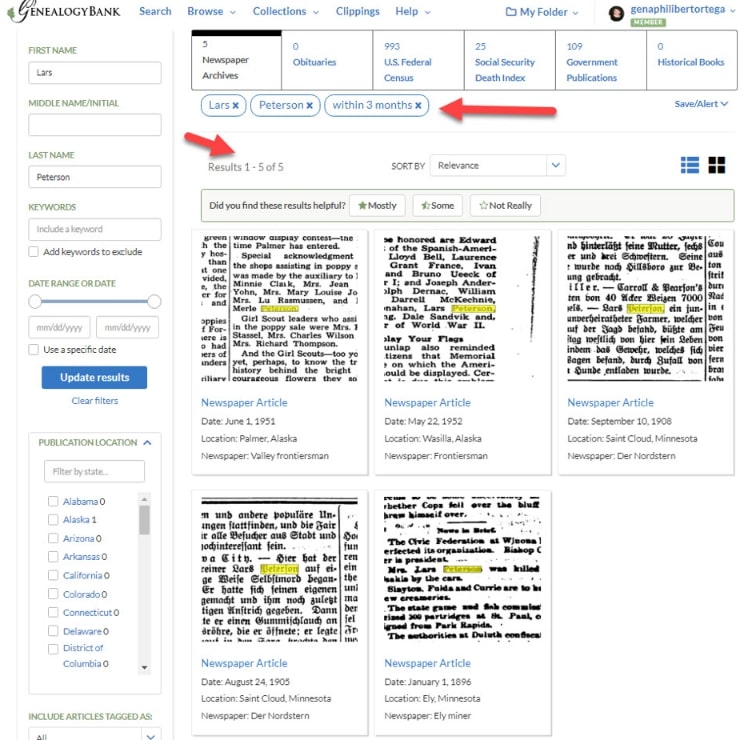 The "Articles Added" feature is just one way you can filter your results on GenealogyBank to find what you need. With "Articles Added" you can narrow your results down to the latest results you haven't yet seen. This is a really helpful tool, especially if you are searching a common name or an ancestor that was frequently featured in the newspaper.
What about "Sort by"?
You may be wondering how the "Articles Added" feature is different from the "Sort by" feature at the top of your results list.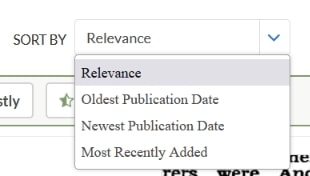 The "Sort by" tool can be used to sort your results in a particular order, such as Relevance. It takes your total results and sorts them so that they can be viewed in the order you choose. Choosing the Most Recently Added option shows the search results with the most recently added newspapers first. But it will show all the results, whereas the "Articles Added" feature only shows newspaper articles within the time period you choose. It does not show you all results.
What's New? Look at Your Search Results!
Want to narrow your search results to only the latest additions to GenealogyBank? Use the "Articles Added" feature to specify a time period when the articles were added to GenealogyBank's Historical Newspaper Archives. Since GenealogyBank is adding new content all the time, it's vital to check back often to find relevant newspaper articles. The "Articles Added" feature gives you an easy way to do that.
Explore over 330 years of newspapers and historical records in GenealogyBank. Discover your family story! Start a 7-Day Free Trial
Related Article: