Introduction: In this article, Gena Philibert-Ortega searches old newspapers to learn more about an important genealogy resource: city directories. Gena is a genealogist and author of the book "From the Family Kitchen."
City directory information in the newspaper? Yes! Newspapers reported on all types of community happenings – including the publishing of a new city directory. City directories have been published in the United States since 1785 and have enumerated nearly the city's entire population – unlike the more modern telephone book, which only includes residents with home telephones.*
City directories provide information on ancestors in the years missed by other, more common, family history sources like the census. Knowing more about a source can help you make better use of it, and there's no better place to learn about city directories than an online collection of old newspapers like GenealogyBank's Historical Newspaper Archives.
The Enumerators Are Coming!
Publishing a city directory was no easy task. Enumerators went out and gathered the information, which was time consuming. According to directory publisher R. L. Polk, the city directory was more accurate than the federal census because those who enumerate for the census do so:
…hurriedly and by persons not trained for the task. It [federal census] cannot be thorough when done under the stress of the short time limit and without the incentive of adequate compensation to keep the enumerators at it until their work is complete.
In this 1920 newspaper article, he makes the point that those who enumerate for directories become experts in the area they work.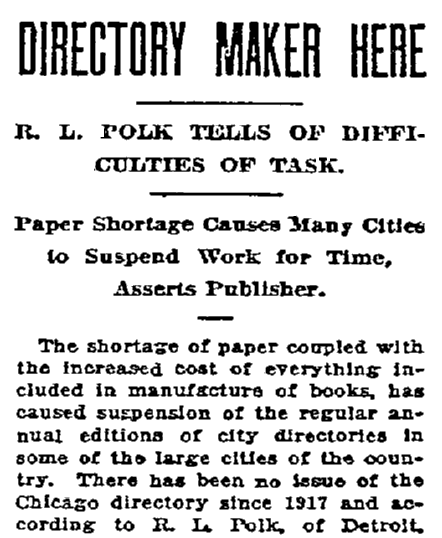 Newspaper articles that heralded the newest edition of a city directory sometimes announced the latest population figures. The following example explains why those population numbers do not match the number of people included in the directory. Like a census, not everyone got recorded in the directory – and there are various reasons for that omission, including not being home, not cooperating, etc. In addition, children and those housed in institutions would not be included.
This 1907 newspaper article about the latest directory is interesting because it explains how the directory publisher comes up with the population totals. The article states that although the total population of Springfield is numbered at 68,970 persons, the city directory only features 27,588 names:
To obtain the total population, the number of names in the directory is multiplied by the usual multiple of 2 1/2 persons to one directory name. This is a conservative multiple in use by all directory compilers throughout the country, and its accuracy has been tested on many occasions.
A good reminder for researchers that just because your ancestor doesn't show up in a city directory, it doesn't mean they weren't in the area at that time.
What's in a Directory?
It may seem like a stupid question to ask about a city directory. After all, it's like a telephone book with an alphabetical listing of residents' names and addresses, as well as occupations, and sometimes familial relations. And just like the now vintage telephone Yellow Pages, there are advertisements for local businesses in a city directory.
Well, city directories were all of that and more. They are a great local history reference for researchers with statistics and information about an area. This 1893 newspaper article about the Philadelphia City Directory mentions that:
…besides locating exactly every citizen and householder, they furnish a vast amount of valuable information covering every department of the State and city governments, together with the name and occupation of every Federal official in the city and heads of departments at Washington.
City directories can also contain maps of the city and "…a large column of information about city affairs, churches, schools and societies…" One of my personal favorite directories included information about the local schools and the teachers' salaries. Great occupational information just waiting for a family historian to discover!
Giving Away the Directory
According to this 1914 newspaper article, "Uncle Sam" asked municipalities for city directories to be used in compiling the census of manufacturers. The Census Bureau asked cities to lend it copies of their directories since Congress had not budgeted for the buying of city directories.
In some cases, directory collections were established not just by a local library but also the city chamber of commerce, allowing citizens who needed information about towns around the nation to conduct lookups. This article about the Macon (Georgia) Chamber of Commerce thanks the R. L. Polk & Company for providing directories for 100 United States cities.
You probably remember throwing away your old telephone book when the new one arrived each year. So what did our previous generations do with their old city directories? Well in some cases they donated them to the local public library, which would then use them to trade with other libraries – which in turn helped build up their directory collection.
Are You Using City Directories in Your Family History Research?
Publisher R. L. Polk said of city directories:
There is no other work that so clearly portrays the people and their institutions, business, civic, political and religious.**
That is precisely why city directories should be an important source in your family history research. And there's no better way to learn more about them than researching historical newspapers.
Related Article:
———————————–
* Sutton, Philip. "Direct Me NYC 1786: A History of City Directories in the United States and New York City." New York Public Library. https://www.nypl.org/blog/2012/06/08/direct-me-1786-history-city-directories-US-NYC: accessed 9 August 2016.
** Directory Maker Here. R. L. Polk Tells of Difficulties of Task. Oregonian. 20 May 1920. GenealogyBank
(Visited 902 times, 1 visits today)