Introduction: In this article, Gena Philibert-Ortega searches old newspapers to learn more about various directories that have been published over the years, which are a great resource for genealogists researching their female ancestors. Gena is a genealogist and author of the book "From the Family Kitchen."
Family historians know that finding information about our female ancestors is often one of our biggest genealogy challenges. Wouldn't it be nice if finding your female ancestor was as easy as looking her up in a telephone book?
Well, here's a helpful genealogy tip: many kinds of directories exist – in a sense, the equivalent of a phone book – that can provide information about your hard-to-find female ancestor. Researching your 19th or early 20th century female ancestor should involve consulting directories of all kinds. If you think that city directories are the only directories available for confirming the place where an ancestor lived or other information about her, it's time to take a second look.
What types of directories exist? Some examples to consider include:
City Directories
Farm Directories
Social Registers
Church Directories
Alumni Directories
Club Directories
Professional Directories
Telephone Books
Business Directories
Who's Who of American Women
Community Cookbooks
As you get to the end of that list, you might be thinking, "Cookbooks? How is a cookbook a directory?" Community cookbooks are typically done for a small group like a club, church or school, and they include women's names as well as – in some cases – advertisements for that community. So in a sense, they act as a community directory of women.
Let's take a look at a few examples of directories that you should be consulting in your research.
City Directories
A favorite resource for genealogists, the city directory is the first thing that we think of when we hear the word "directory." Most people think of the city directory as our ancestor's version of the telephone book – and in some ways that's true. The first two directories in the United States both appeared in 1785 in Philadelphia. Early city directories are not a great source for finding women's names, but eventually the wife of the head of the household, and single women, were included. Later directories published her occupation and, in the case of widows, some indicated her marital status and the name of her deceased spouse.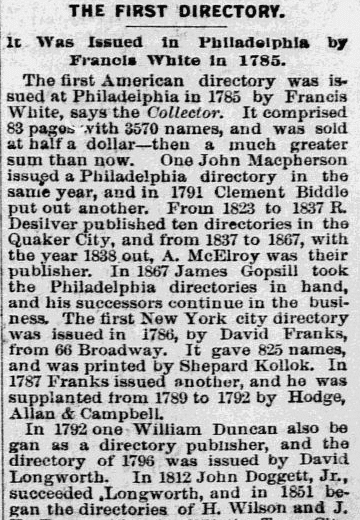 Over time the city directory evolved, as is evident in this 1916 newspaper article about the Toledo, Ohio, directory. That directory was going to start listing wives' names alongside their husbands' listings. The motivation behind this change doesn't seem to be a more comprehensive and accurate directory – but rather to decrease the number of divorces! Confused? This newspaper explains: "Having the wife's name in the directory with her husband's makes it bad for the married man that tells a chance acquaintance he is single."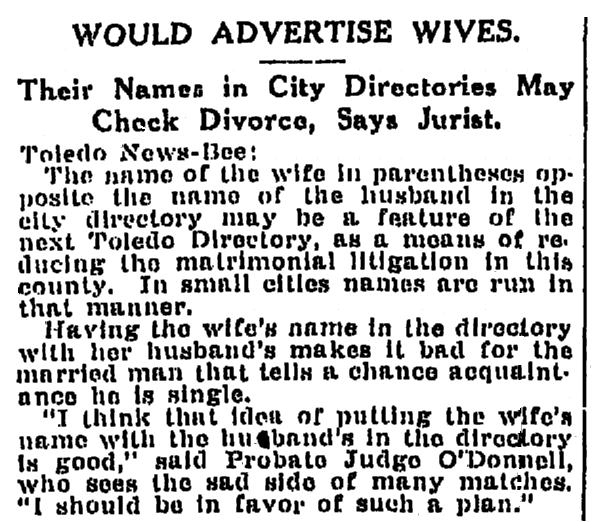 Women's Business Directories
We make a lot of assumptions about women's lives. Probably the biggest is that women were housewives and didn't work outside of the home in the "good old days." The truth is, women have had to work outside of the home throughout history for all kinds of reasons including life circumstances (single mother, widow, single woman, husband disabled) or even due to world events (women replacing male workers during war time). So it comes as no surprise to find that women's business directories were published in the early 20th century.
In 1903 a women's business directory for Boston was announced in newspapers nationwide. This newspaper article reports:
Business women of Boston have had a new honor thrust upon them, namely, that of having a directory of their very own, not a man's name appearing in any light. But it does show women engaged in occupations which many believe to be controlled exclusively by men. In fact, the book reveals that women can do just about everything that is worth doing at all.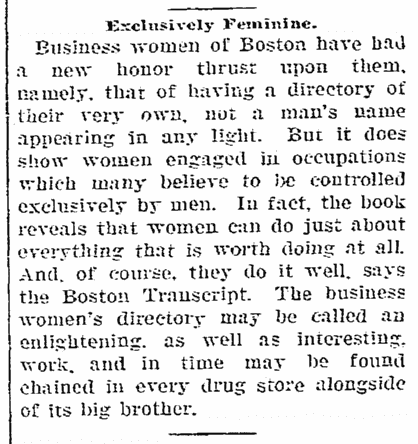 Business women in Washington, D.C., were represented in their own business directory in 1931. This newspaper article about the 3,000 women listed reports some of their occupations:
…doctors, lawyers, sewing machine mechanics, transfer storage service operators, antique dealers, architects, brokers, chiropractors, dairy owners, beauty parlor operators, delicatessen store owners and stenographers.
What Was She Involved In?
Consider what activities your female ancestor was involved in when searching for records and directories that might have information about her. Some examples of directories listing women are academic and alumni directories. This 1920 newspaper article asks "All college women in the city, either graduates or those who have had one full year's academic work in an accredited college, are requested to telephone their names, addresses and name of school attended…" to be added to a state directory of college women.
What other activities could she have been involved in? She may have been a member of a women's club, volunteer organization, or benevolent group. These groups would have published directories so that members could easily contact each other. In some cases the directory would be for a local level, but it could have included all members in a region or state. This 1928 directory for women's clubs of Dallas, Texas, compiled by the League of Women voters, included information about 124 clubs as well as the names and contact information for 5,000 club women.
Social Registers
Many different types of directory-like books exist that document the names, addresses, and affiliations of women. Social registers (sometimes referred to as "blue books") provide information about people who are considered the prominent or "elite" members of society.
This 1904 New Orleans social register includes:
…selected and prominent names, with residence numbers and reception days; full roster of social and literary clubs; out-of-town addresses; resident sugar planters, with post office addresses.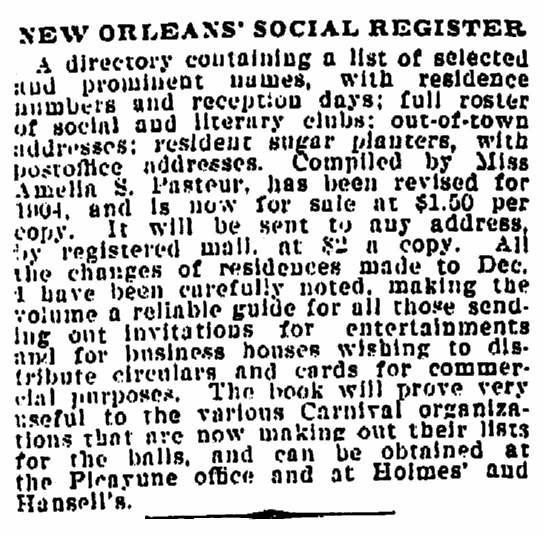 One benefit of social registers is that they can also include maiden names for women.
Probably even more newsworthy than the announcement of a new edition of the social register is the naming of those who were previously included but for some reason were omitted from the latest edition, like this brief newspaper article about Helen Woodrow Bowes, cousin to President Woodrow Wilson.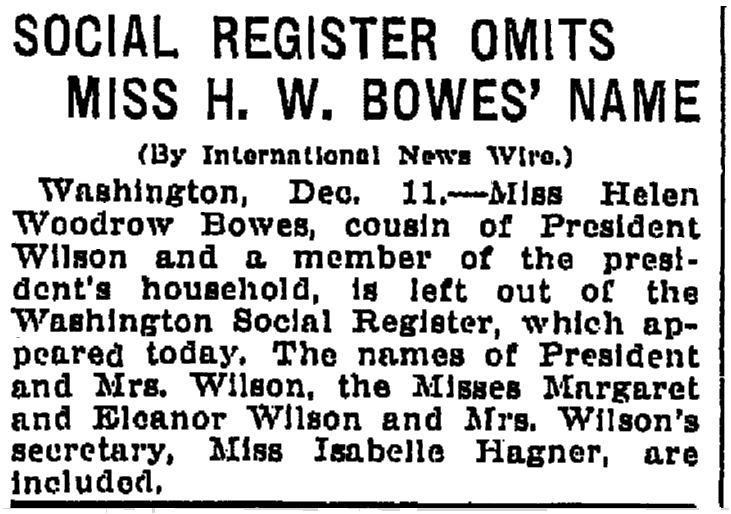 Who's Who
Unlike other directories where you are automatically listed because of where you live or your group affiliation, Who's Who solicits information from a select group who then choose to be included.
The Who's Who of American Women includes the name, residence, and biographical information of participants. While Marquis Who's Who has been published since 1899, the Who's Who of American Women has a more recent history, with the first edition printed in 1958. According to this newspaper article about that first edition, over 40,000 women were sent questionnaires and, while famous women graced those first pages, the article explains that in order to be included, a woman "…need not rate nationally. All she needs is a record of achievement which distinguishes her among women." The women listed were quite accomplished and, as this article points out, not "just a housewife."
Great! Now What?
As you can see there are plenty of choices when it comes to finding women in directories. So you're probably asking: "Where do I find the directory where my female ancestor is listed?" Good question! Start with your favorite genealogy websites and conduct a search on records for the state she lived in to look for directories for that place. Then move on to digitized book websites and see what they have. Lastly, library or archival collections may include various types of directories for the place and organizations that your ancestor was a part of.
For me, one of the most surprising finds was how much information about directories was published in the newspaper. Facts about newly published directories, and information to be found in future directories, were just some of what I found. Don't forget to search a collection of newspapers, such as GenealogyBank's Historical Newspaper Archives, to learn more about the record set you are researching and its history.