Introduction: In this article, Gena Philibert-Ortega writes about a genealogy discovery she recently made about one of her own ancestors. Gena is a genealogist and author of the book "From the Family Kitchen."
Genealogy research is more than just conducting a search for your ancestor's name on a favorite website and then recording the information. It's an ongoing process, especially when we consider digitized newspapers. Digitized newspaper websites are a game changer for family historians. For example, GenealogyBank is adding more historical newspaper content monthly, so what you found during your last search may be enhanced by what you can find today.
Case in point: I have been researching Moses Henry Chatham (1841-1879) and his wife Jane Lewis Chatham (1839-1902) for over 18 years. I wrote about Moses' 1879 murder in a GenealogyBank blog article earlier this year (see: A Family History Story: The Killing of Moses Chatham).
More than a decade prior to his murder, Moses had been a soldier in the Civil War who was captured and spent time in a military prison at Alton, Illinois, before walking back to Texas. I knew this. I knew this because I had researched his Civil War service early on in my quest to learn more about him. I had heard family lore that during the war, his wife had no idea what happened to him and had assumed he was dead because she hadn't heard from him.
But last week I did a new search in GenealogyBank and found some additional information that had been added since my last search, and this contributed to the family lore.
Revisiting Moses Henry Chatham
There are two lessons that this recent GenealogyBank search reinforced for me. I knew these lessons and even teach them, but this search helped to strengthen my belief.
First, the reasonably exhaustive search we strive for in genealogy is ongoing. This is true in our modern age in which new records are being digitized and made available online constantly.
Second, good research requires searching on multiple versions of an ancestor's name, and also searching their FAN Club (friends, associates and neighbors). Our ancestor's names aren't just mentioned in newspaper articles by themselves – other people's names appear with theirs. Search on those names, too.
I spent a recent weekend researching Moses and Jane. I knew that Moses appears in newspapers and records as M. H. Chatham, Henry Chatham, and H. Chatham. (He seems to have used "Henry" as an adult.) In addition to those variations, I also searched on just his surname, Chatham.* His murder resulted in many newspaper articles, but I wanted to find articles that might provide clues to his life and not just his death.
Once I had exhausted those searches and found newspaper articles, I went on to research Jane. Then, I decided to search using Jane's mother and step-father's name. They lived in Texas and it appears Jane may have lived with them when Moses was gone (he enlisted a few months after marrying Jane). That's when I hit genealogical gold.
I searched on M. G. Wilson. Moses Greer Wilson was Jane's step-father. Moses Henry Chatham had lived with the family as a border prior to marrying Jane. It was by searching on M. G. Wilson that I found out more about Jane.
This article from the Houston Tri-Weekly Telegraph from 9 June 1865 gives a clue to the family's concern.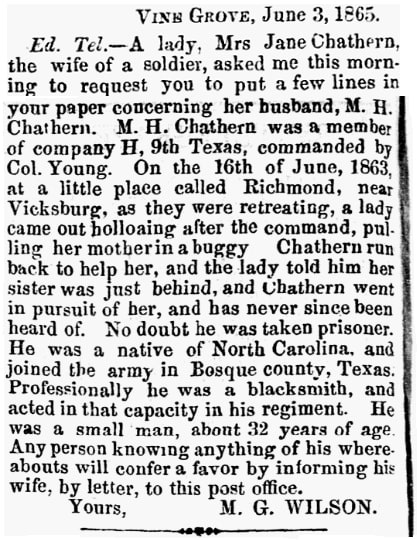 Here is a transcription of this article:
"A lady, Mrs. Jane Chathern [Chatham], the wife of a soldier, asked me this morning to request you to put a few lines in your paper concerning her husband, M. H. Chathern. M. H. Chathern was a member of Company H, 9th Texas, commanded by Col. Young. On the 16th of June, 1863, at a little place called Richmond, near Vicksburg, as they were retreating, a lady came out holloaing [sic] after the command, pulling her mother in a buggy. Chathern run back to help her, and the lady told him her sister was just behind, and Chathern went in pursuit of her, and has never since been heard of. No doubt he was taken prisoner. He was a native of North Carolina, and joined the army in Bosque county, Texas. Professionally he was a blacksmith, and acted in that capacity in his regiment. He was a small man, about 32 years of age. Any person knowing anything of his whereabouts will confer a favor by informing his wife by letter, to this post office.

Yours, M. G. Wilson."
Searching on Jane's step-father's name was crucial to making this discovery. Moses and Jane's surname is misspelled as "Chathern" instead of "Chatham." Luckily M. G. Wilson's name is not.
According to M. H. Chatham's military records, he was captured on 15 June 1863 at Richmond, Louisiana. By July 7, he was transported to the Military Prison at Alton, Illinois, and released on oath a month later. If he indeed walked home from Illinois, it would have been a trek of more than 800 miles to his home in Texas. Current map estimates suggest such a journey today would take 273 hours.
There's no doubt that some of the information in the article is incorrect, besides the misspelled surname. I am unsure where the story of his helping a woman came from, or who would have told them. I need to verify the information in the newspaper article.
As mentioned previously, I've been researching this family for over 18 years. When I began, I benefitted from the previous research of a cousin, and then my own on-site research in Texas where the only newspapers available were at a university library that involved hours of scrolling through microfilm. Today, digitized newspapers have added and keeps adding to the story of the Chatham family because of my revisiting the search due to the addition of new newspapers to GenealogyBank.
Research Is an Ongoing Process
One of the best things you can do for your research is to go back and revisit it. Try name variations, search different keywords, and explore the new newspapers added to GenealogyBank since your last search. It might not happen right away, but more than likely at some point you will be rewarded with more details of your ancestor's life found in historical newspapers.
* Special thanks to WikiTree volunteer Donna Baumann who found some newspaper articles about Moses' murder using name variations. Her work inspired me to go look for more.