Introduction: In this article, Gena Philibert-Ortega writes about tracking down the truth of family stories about one of her ancestors. Gena is a genealogist and author of the book "From the Family Kitchen."
I began one of my first big genealogy projects over 15 years ago, and if I wasn't already passionate about family history, this research confirmed my status as a hopelessly addicted family historian. It was then that I blindly, without much thought, decided to research a paternal ancestor, Moses Henry Chatham. (1) I already knew he had served in the American Civil War, and decided that his life would make for some interesting research.
When I started that research, it was in the days before digitized newspapers or really very little genealogy records available online. My research plan included searching what I could via the internet, ordering microfilm from the Family History Center, and posting to online message boards seeking others who might help.
After posting to a message board, it wasn't too long before a cousin found me. Lucky for me she had been researching the Chatham family for a long time. When she emailed me, what she said in that initial communication hooked me on a mystery that still continues today. When we first connected, I knew very little about Moses and had no idea when he died or where he was buried. But there was one sentence in her email that provided a clue. She wrote: "You know he was murdered, right?"
No, I didn't know that. And that short comment sent me on a research trail that would eventually take me to Texas.
Moses Henry Chatham
Moses Henry Chatham was born to Martin and Mary Elizabeth (Cass) Chatham on 28 July 1841 in Wilkes County, North Carolina. At some point as a young man, Moses moved to Washington County, Texas, and was enumerated in the 1860 U.S. census, boarding with a family that he later married into. That family's daughter, Jane Sarah Lewis, married Moses on 23 February 1862 in Greenvine, Washington County, Texas. Life as a newlywed was short-lived because Moses enlisted in the Confederate Infantry two months later.
After Moses' return from the war, he and Jane ended up living outside of Bellville, Austin County, Texas. Bellville is a small town in Texas that was settled in 1822 by Thomas and James Bell, part of Stephen Austin's original settlers. Once Moses returned from the war, he and Jane added to their family and Moses took up work as a farmer.
Murder
As you can imagine, there is more than one version of the story involving the murder of Moses Chatham and the resulting criminal trial. What isn't disputed is that a neighbor accused him of stealing cattle and shot Moses.
The Southern Banner in Texas reported the following details about the murder of Moses Henry Chatham.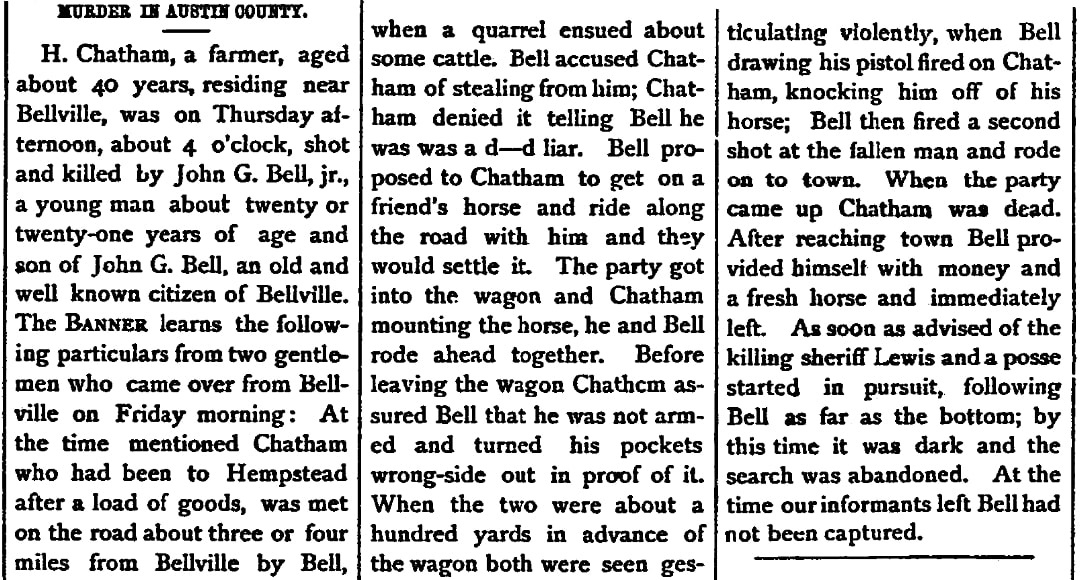 Although family lore suggests much more to this story, what we know for sure is from extant newspapers and court records.
Eventually the accused, John G. Bell Jr., turned himself in, in January 1880, and was released on bail.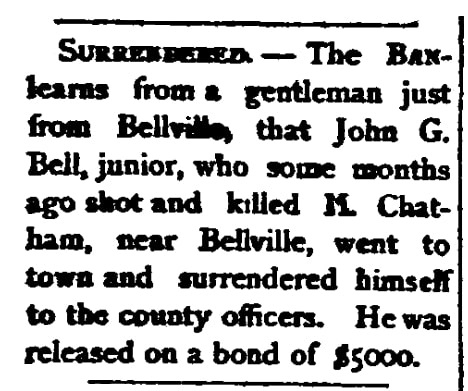 The sheriff responsible for apprehending him was Sheriff John Bell Lewis. While not related to John G. Bell Jr., he was related to the victim. Sheriff Lewis was the brother of Moses' wife Jane Lewis Chatham.
The eventual criminal trial against John G. Bell Jr. was moved to a neighboring county because of concern about the accused not getting a fair trial. But it seems possible that the opposite was also true. John G. Bell Jr.'s kin were judges and attorneys and the founding fathers of Bellville. Available court records reveal that two witnesses "disappeared" and had to be forced to testify against Mr. Bell. Could they have been concerned about repercussions for testifying against someone from a prominent family?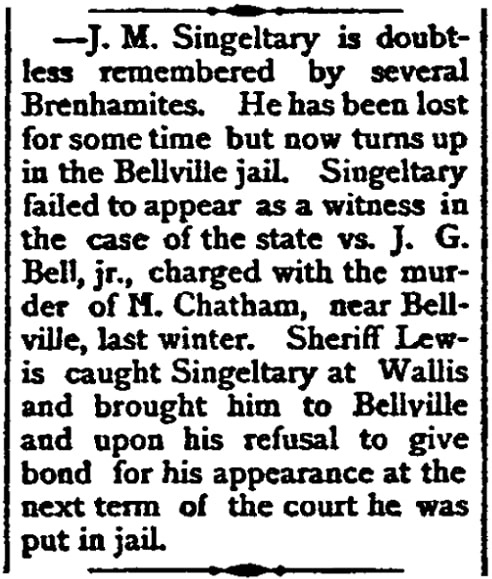 The trial of John G. Bell Jr. was short, lasting just seven days in December 1881, before Bell was found not guilty.
A family version of the story includes Moses' oldest son Henry riding off to find and avenge his father's death, only to be shot by his father's killer in a bar.
Stories get altered over time and although Henry did die by assault in October 1881, it was after the arrest of his father's killer. Henry's killer is someone that I, at this point, am uncertain was involved with his father's murder. More research for the future!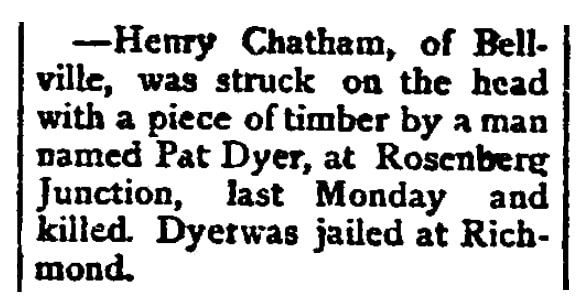 I haven't had the chance to continue my research into what happened to John G. Bell Jr., but a newspaper article reported on a John G. Bell Jr. of Bellville who is accused of shooting a man in 1884. Could this be the same man committing a similar crime to the one that killed Moses?
Road Trip
The murder of Moses was a mystery I couldn't resist when I first learned about it, and a few years later, I and a cousin traveled to Bellville, Texas, and the surrounding cities where we interviewed new-to-us cousins, visited courthouses and cemeteries, talked to historical society volunteers, and researched at libraries and archives.
That research provided us with a lot of information, but it also left us with many unanswered questions. I still wonder what evidence was brought forth in the criminal trial (the actual notes were not available when we visited the courthouse). Was there more written about the case in other newspapers or local histories than what we found?
And of course, I'm curious about the life of Jane and her children after the murder and the trial. She was a 39-year-old pregnant mother when Moses was killed, with eight children ranging in age from 16 to 1-years-old, including my 3-year-old great-great-grandfather. Moses' death would not be the only one she would have to endure. She lost her oldest son Henry to an assault, as mentioned above, and four other children to unknown (to me) causes. (2)
Research Is Ongoing
One of the most important lessons I learned from my research into Moses Henry Chatham's murder is that research changes over time. New documents, and especially newspapers, are digitized all the time, allowing more of the story to come to light. My most recent searches in GenealogyBank's Historical Newspaper Archives helped me find more pieces to the puzzle thanks to the newspaper articles shown above.
For example, even though I had conducted exhaustive research in Texas over 15 years ago, I could not find any documentation about what happened to the Chatham's oldest son, Henry. It was that newspaper article I found in GenealogyBank that provided the answer.
____________
(1) Moses is sometimes found in records as Henry, but to avoid confusion (since his older son was named Henry), I'll refer to him as Moses. For our purposes here, I'm simplifying Moses' life quite a bit to make the story easier to follow.
(2) I wrote about Jane in the Genealogy Blog article The Agricultural Census