Introduction: In this article – part of an ongoing "Introduction to Genealogy" series – Gena Philibert-Ortega shows how an additional census conducted by the government every ten years, the Agricultural Census, can help you with your family history research. Gena is a genealogist and author of the book "From the Family Kitchen."
In family history research, one of our go-to resources is the population schedules of the U.S. federal census. These decennial schedules, which we are most familiar with, provide important information about our ancestors such as name, age, residence – and, in later years, familial relationships, occupations, and state where born.
It's helpful to know that, while the population schedules are an important genealogy resource, there is other information that the Census Bureau collected that can be equally valuable to family historians. One such source is the Agricultural Schedule (sometimes called the Agricultural Census).
What Are the Agricultural Schedules?
The Agricultural Census is an enumeration of farmers and their farms. Though the Agricultural Schedule has been a part of census enumerations since 1850, the years available to us are 1850, 1860, 1870, and 1880.
These schedules provide the following information: name of owner or manager, number of improved and unimproved acres, and the cash value of the farm, farming machinery, livestock, animals slaughtered during the past year, and "homemade manufactures." The schedules also indicate the number of horses, mules, "milch cows," working oxen, other cattle, sheep, and swine owned by the farmer. The amount of oats, rice, tobacco, cotton, wool, peas and beans, Irish potatoes, sweet potatoes, barley, buckwheat, orchard products, wine, butter, cheese, hay, clover seed, other grass seeds, hops, hemp, flax, flaxseed, silk cocoons, maple sugar, cane sugar, molasses, and beeswax and honey produced during the preceding year is also noted. The 1880 schedules provide additional details, such as the amount of acreage used for each kind of crop, the number of poultry, and the number of eggs produced.*
Not every farm was included in the Agricultural Schedule. The 1850 schedule did not include farms that produced less than $100. The 1870 enumeration did not include farms less than three acres or ones that produced less than $500 worth of products.**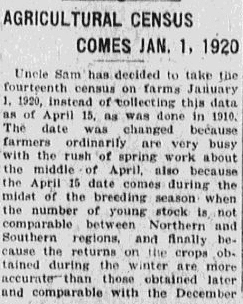 Why Is the Agricultural Census Important to My Genealogy?
Do you have farming ancestors? Are you working on a farmhouse history? Want to write more about your great-grandfather who owned a farm? The Agricultural Schedule can help.
My ancestor Moses Henry Chatham was murdered in November 1879 in Austin County, Texas, at the young age of 38 years. He left behind a wife and eight children, including a newly born son. I wondered what life was like during those early years of widowhood with small children for Jane Chatham. Surprisingly, the Agricultural Schedule was one of the places that helped me learn that answer. The 1880 Agricultural Schedule for Austin County, Texas, was taken in June 1880, about seven months after her husband's death.
In this enumeration, Jane is listed as the person who "conducts this farm" and it's her name that appears next to the checkmark in the owner column. For the improved land category she is listed as having 24 acres of tilled land, 10 acres of permanent meadow/permanent pasture/orchards or vineyards. She also had 10 acres of unimproved land that was considered "woodland and forest." The value of her farm, including land, fences and buildings, was $1,000. She also had machinery worth $20 and live stock worth $150. The worth of all farm productions (sold, consumed, or on hand for 1879) is listed at $300. Animals on her farm included 4 horses, 6 working oxen, 4 milk cows, 6 "other," 8 swine, and 20 poultry. Her only crops were 8 acres of Indian Corn and 12 acres of cotton.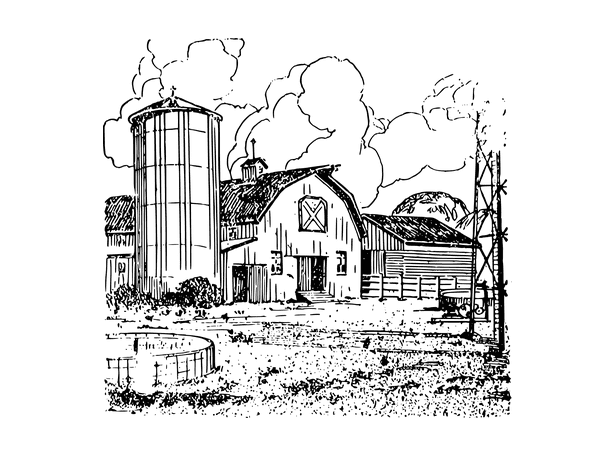 The 1880 Agricultural Census provides me a look at Jane's life after the death of her husband. I find this enumeration an important addition to the population schedule, since the 1880 population schedule lists no occupation for Jane, and refers to her 17-year-old son's occupation as "farmer" which downplays her role as the farm owner. This additional Agricultural Schedule helps me better understand how she provided for her family and is one more source about her life.
Now It's Your Turn
The Agricultural Schedule can be found online through subscription websites. You may also want to consult the catalog for the state library or archive, and/or state historical society, where your ancestor lived. FamilySearch has some non-population schedules that can be found by conducting a Catalog search on the keywords "non-population" or "agriculture."
To learn more about the census and the enumerator's instructions consult the U.S. Census Bureau website. Download blank census forms from the National Archives website.
—————————–
* "Nonpopulation Census Records," National Archives (https://www.archives.gov/research/census/nonpopulation: accessed 1 June 2017).
** Ibid.
Related Articles: