Introduction: In this article, Melissa Davenport Berry presents stories of three more found graves – and how they were located. Melissa is a genealogist who has a blog, AnceStory Archives, and a Facebook group, New England Family Genealogy and History.
Today I continue with more stories from the grave found in GenealogyBank's Historical Newspaper Archives.
Civil War Veteran Finally Finds Brother's Grave
In 1901 a Cleveland, Ohio, man, William P. Chard, finally discovered the burial location of his brother James John Chard, who died in 1863 while serving in a California Regiment during the Civil War. Both brothers were born to James and Anne (Parry) Chard.
According to the Plain Dealer, William had been searching for over 30 years for his brother's grave. The family received news of James' death in 1863 while he was still with his regiment, but his grave could not be located. William promised his mother he would do everything possible to find James' grave and bring back his remains to Cleveland for interment in the family lot.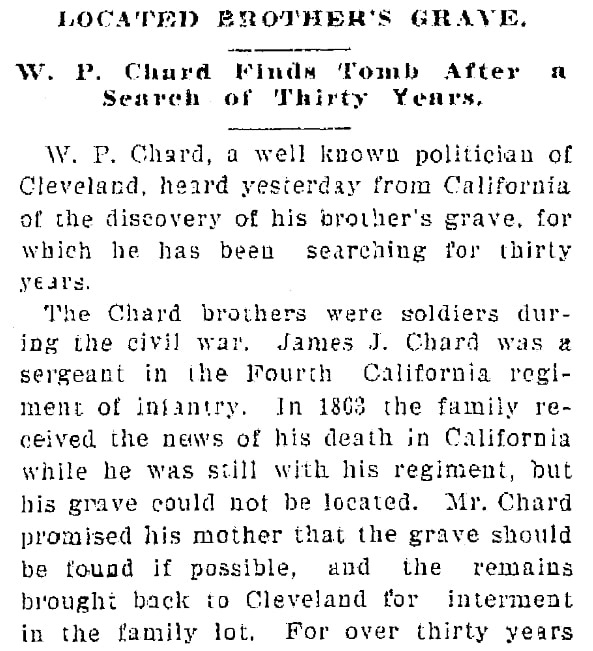 Captain C. C. Shanklin of Cleveland went to California to personally conduct the search on behalf of William Chard. Thanks to the publicity that newspapers generated in his search, Shanklin discovered a Mrs. Sherman who knew James Chard at the time of his death. It seems that Sergeant Chard had drowned, but his body was recovered and interred in the Oldtown Cemetery at San Diego, from which it was transferred to the government center of Point Loma.
At the grave was the following inscription:
"To the memory of First Sergeant James J. Chard of the Co. G, Fourth Infantry, California Volunteers. Died January 25, 1863, age twenty-eight years; native of Cleveland, O."
Pioneer Texas Woman's Grave Found
In 1937 the Dallas Morning News reported that a group of local historians preparing for Centennial visitors stumbled upon a lone grave in the brush.
The stone marker was broken, but when pieced together a pioneer Texas mother and daughter of a family that served valiantly in the American Revolution was identified. Her gravestone read:
Francis F. Lenoir McCulloch,
Born 1779, Died 1866
Wife of Major Alexander McCulloch,
Mother of 12 Children
A Devoted Wife, Affectionate Mother,
Consecrated Christian, Member of
the Methodist Church for
47 Years
Francis was born to Fisher Lenoir and May Peterson Harper and married Alexander McCulloch, a major in the War of 1812. When Francis died in 1866 it was a period of chaos, and she was laid to rest and forgotten. Upon finding her grave the state removed her body and buried it next to her son, Gen. Ben McCulloch.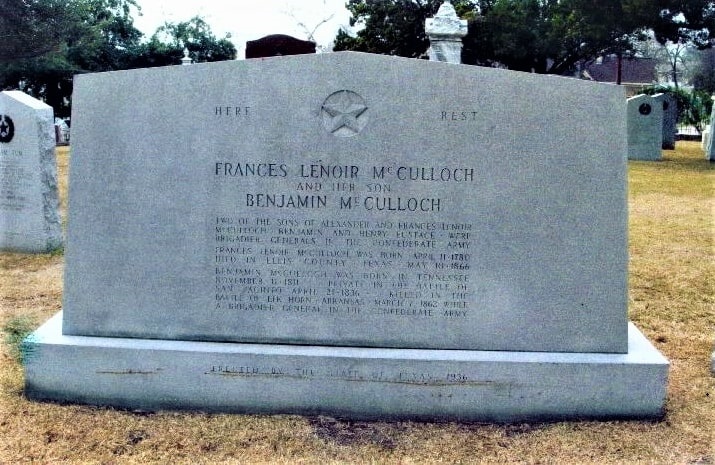 This article reported:
"Two of her children, Gen. Benjamin and Gen. Henry Eustace McCulloch, are famed in history as leaders in many activities. Ben was an officer in the Texas Revolution and manned one of the Twin Sister cannons at the Battle of San Jacinto; both were officers of high rank in the Mexican War, both were Captains of the Texas Rangers; both were United States Marshals; Ben served in the Congress of the Texas Republic; both were members of the Texas Legislature… At the outbreak of the Civil War both entered as ranking officers, both soon became Brigadier Generals.

"Mrs. McCulloch is believed to be the only mother in American history of two officers of this rank."
The article featured a tintype photograph of Mrs. McCulloch, furnished by her great-granddaughter Mrs. J. Y. McDaniel, "believed to be the only picture ever taken of her."
On 25 May 1938 a memorial was held; Lieutenant Governor Walter F. Woodul gave her eulogy.
Grave of Miles Standish Rediscovered
In 1889, newspapers reported the story of the burial place of a prominent Pilgrim leader. According to one account in the St. Louis Republic, Harvard historians, led by Mr. Frederick B. Knapp, believed they had found the bones and grave site of famed warrior and Mayflower passenger Capt, Myles Standish.
It seems the hunt was aided by a memorandum from Benjamin Pryor, whose family lived for many generations across the street from where Myles was laid to rest, that claimed one of his ancestors had attended the funeral of Miles Standish and the story was passed down through the years. The grave was marked by three-cornered stones, and when the site was dug up and investigated the bodies of an aged man and woman were found.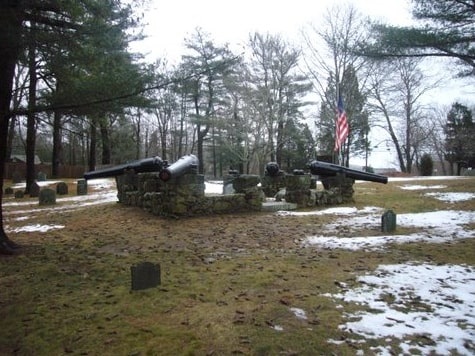 More on this story to be covered when I continue my "Mayflower Descendants: Who's Who" series, coming soon.
Related Article: