Introduction: In this article – part of an ongoing "Introduction to Genealogy" series – Gena Philibert-Ortega gives tips on how to use voter registration records to fill in details on your family tree. Gena is a genealogist and author of the book "From the Family Kitchen."
Getting ready to vote today? Your ancestor may also have voted and left behind information that can help you in your family tree quest. As we trace our family history, we seek out records that not only link children to parents but also put our ancestors in a specific time and place. Decennial census records do this by providing information about our ancestors at 10-year intervals. Other resources like city directories document our ancestors' locations more frequently.
Voter registrations are another type of "names list" that, like the census or city directory, provide researchers with their ancestor's location at a specific time. These records are valuable to family historians because they provide a date, name, and residence for our ancestors. Voter registrations don't record every ancestor, but when appropriate these records should be used in our research.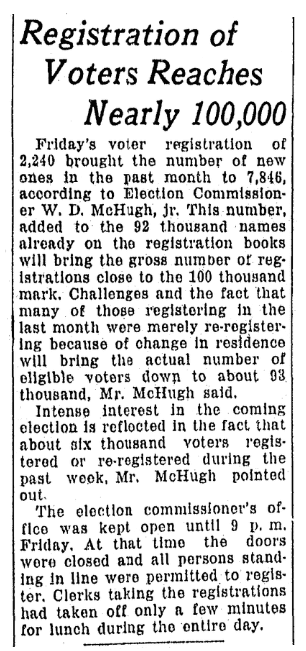 The first voter registration law was enacted in 1800 in Massachusetts. As you can imagine, voter registration laws – like vital record registration – took some time to be enacted throughout the country. It wasn't until 1900 that the last of the western and southern states had voter registration laws. (1) That's not to say that Americans weren't voting prior to 1900, it just means that official voting register lists may not exist before then. (2)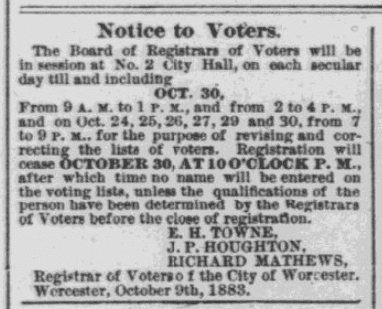 Not Everyone Could Vote
There are many reasons why people either did not vote or were disenfranchised throughout history – but suffice it to say that in the early years of America, most rules stipulated that only white land-owning men could vote. For example, property qualifications for voting continued in "Virginia until 1851; Louisiana and Connecticut until 1845; North Carolina 1857." (3) These types of voting restrictions ensured that only white men of some wealth, at least wealthy in land, could vote.
So, just as in any research, make sure to read about voting in the place your ancestors lived for their time period. That history might help you better understand why an ancestor is not appearing in available voting records.
Information Found on Voter Registrations
Depending on the time period and the location, voting registers can range from having just a name and address to more detailed information that provides rich genealogical facts. One example can be found in the Adams County, Washington, voting registers for 1880-1910 found on FamilySearch. (4) These registers include the voter's name, age, occupation, place of birth, time of residence, place and date of naturalization, date of declaration of intention, and signature.
Where to Find Voter Records
Start your search for voting records with FamilySearch. In the FamilySearch Catalog, search by Place and Keyword to find voting records for the place your ancestors lived. A Catalog Place search for the county and/or state of interest can also be done. In the results list, look for the subject category "voting registers."
A search on the worldwide library catalog WorldCat for the name of the place you're researching and the words "voting register" can also help you find transcriptions of voting records. Other places to search include state or county historical societies, or a state archive. In some cases, early voting registers may not be extant and the information lost forever.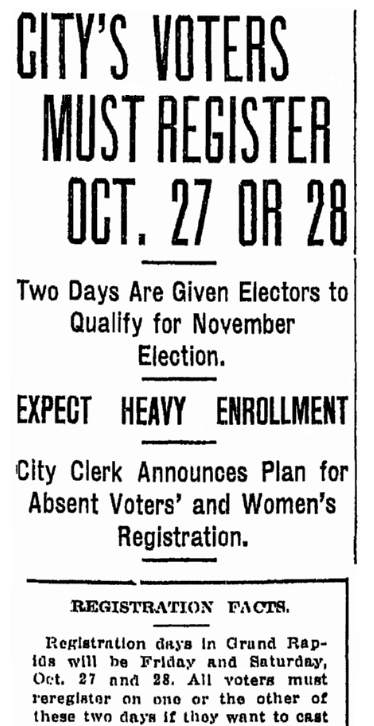 Lastly, don't forget to search GenealogyBank's Historical Newspaper Archives for clues about when elections were held, when voters were registering, and who could register to vote.
__________________
(1) "For National Voter Registration Day, Here's How Registering to Vote Became a Thing," Time (http://time.com/4502154/voter-registration-history/).
(2) You can learn more about the history of voter registration by reading the report "Registration of Voters in the United States" by Joseph P. Harris at https://hdl.handle.net/2027/uc1.$b22360.
(3) Nancy Isenberg, "White Trash. The 400-Year Untold History of Class in America" (New York: Penguin Books, 2016) p. 130.
(4) "Washington, County Records, 1803-2010," images, FamilySearch (https://familysearch.org/ark:/61903/3:1:3QS7-L9CT-XJWM?cc=1910364&wc=7G3H-N1C%3A180934701%2C182749001), Adams > Voter registrations 1880-1910 > image 4 of 33; State Archives, Puget Sound Regional Branch, Bellevue.