Introduction: In this article – part of an ongoing "Introduction to Genealogy" series – Gena Philibert-Ortega explains how to prepare for a research trip to an archive to learn more about your family history. Gena is a genealogist and author of the book "From the Family Kitchen."
An archive is probably someplace that genealogists are less familiar with, even though archives house some of the most important materials for family historians. Archival research – in additional to library research (see: Genealogy 101: #11 Planning a Trip to the Library) –  should be part of your genealogy plan as you seek answers to your research questions.
What's an Archive?
First, let's address how an archive is different from a library – since most people are familiar with libraries. While libraries are known to house books, periodicals, and audio recordings (largely derivative items), archives hold original items created at the time of an event by people involved in that event. Now that doesn't mean there isn't some overlap, but in general that is the difference.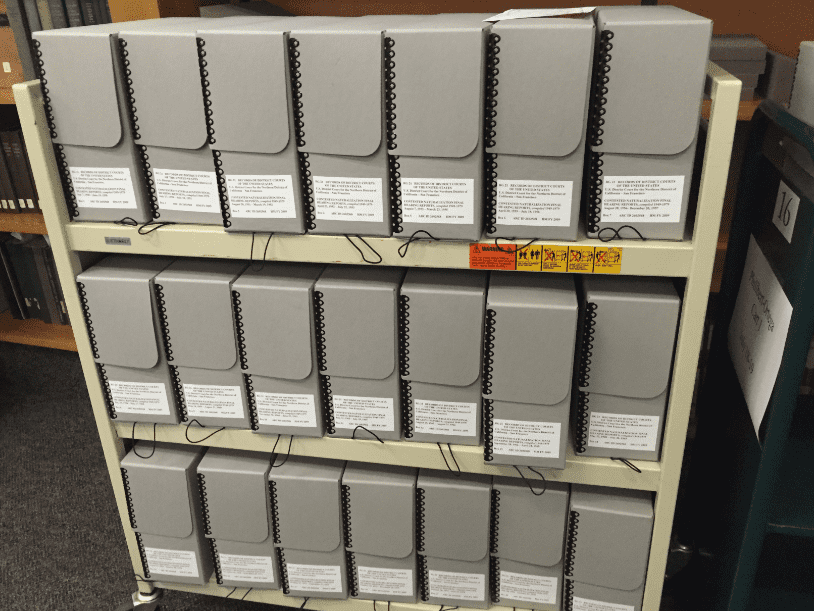 A library will have open bookshelves that you can peruse, browse, and take materials from. Archives hold their materials in archival safe boxes that are stored behind the scenes and are retrieved by staff. More often than not, archival materials are not "browsable."
Archive materials are cataloged differently. Libraries catalog books by title, author, subject and keywords. Subject headings allow users to find books easily across various libraries. Archives catalog by some of these same terms, but may also use other identifiers. One example is the National Archives' use of "Record Groups." I always suggest searching for archival resources by a place or keyword as well as asking an archivist for assistance.
Just like libraries, there are different types of archives and each one has a different collection focus. The United States National Archives has a specific mandate to house records created by the federal government, while a state archive may collect a variety of records in addition to records created by the state government. Archives exist for government entities, private organizations, religious groups, and more.
Archives hold great materials. It's here you can find items like: correspondence; records created by groups, organizations, and even churches; deeds; maps; photographs – basically a wide range of items.
Planning Your Visit
Much of what needs to be planned for your archive visit is similar to the planning of your library visit. First, you need to become familiar with the archive's online catalog to identify items that might mention your ancestor or answer your specific research question. Most archives have their catalogs online, but there is also an archival catalog that includes the catalogs of archives from all over the world, making it easier to conduct some of your research. Search ArchiveGrid for keywords including the place your ancestor was from, their religion, or other membership affiliations.
As you recall from my previous article (see: Genealogy 101: #11 Planning a Trip to the Library), I recommend studying the repository's website and making sure you list what you need to look for. Also, take note of any rules for using the archive. Archives can be very different from libraries and may have rules about who can research there, what you can request, and how you can make copies.
Take notice of their hours of operation, restrictions on materials, or specific material pull times. Are some items stored offsite and require a few days' notice prior to being viewed? Are there restrictions on who can research at the facility? What do they recommend you bring for your visit? In some cases, you might need a form of ID so that you can be issued a "reader's card." Some archives may require you to spend some time with an archivist going over rules and signing a document stating you will abide by those rules. They may also require that you handle the materials in a specific way (gloves, cradles for fragile items, etc.). Lastly, they may restrict what and how items may be copied. Plan your trip so that you leave extra time for this kind of registration and archival instruction as well as time to pull items.
Not all archives are the same and some have few rules, but it's important to know what to expect before you walk through the front door.
As with the libraries, I strongly recommend that you email the archive a week or two prior to your visit. Let them know what materials you want to view. This allows them time to pull those items and have them ready for your visit. They also might identify additional materials that might be of interest to you.
At the Archive
Archival research is time consuming. It often means slowly going through folders page by page. Original documents can mean illegible handwriting or damaged pages. Plan on spending more time than you think is necessary, especially if the materials prove difficult to read. Remember also that, depending on the archive, you might be limited in what you can bring to use as you research. So be prepared to use a computer or be limited to a pencil and paper. If copies are allowed, make sure to consider the time it will take to make those copies.
In the case of researching at a National Archives facility, you may need to have the materials gone through by an archivist prior to copying in order to safely remove staples and to determine any privacy issues. If you are one of many researchers waiting to make copies, this can result in a delay. Finally, archives may restrict what can be retrieved in the final hour or half-hour prior to closing.
Use Archives!
Yes, archives take more preparation and the research can be more time consuming, but the rewards can be enormous. Many of us are already familiar with some archives and their holdings such as the National Archives; agreements with genealogy websites have made some of their records available online. But don't stop with what's online; step out of your comfort zone and identify the archives that house collections in the areas where your ancestor lived, and make some plans to research your ancestors by physically going to those archives.
Related Articles:
(Visited 193 times, 1 visits today)