Introduction: In this article – part of an ongoing "Introduction to Genealogy" series – Gena Philibert-Ortega explains how to prepare for a research trip to the library to learn more about your family history. Gena is a genealogist and author of the book "From the Family Kitchen."
Upon reading the title of this article you might be thinking: "planning a trip to the library?" What's there to plan? You get in the car, you go to the library, you look for books to check out, and then you go home. While that's true when you are looking for the latest bestseller to read, that's not how you visit a library when you are conducting family history research.
Libraries Are All the Same?
Libraries are not all the same. The stereotype of a building with books and librarians shushing everyone is just that, a stereotype. For researchers, libraries have books, rare book collections, periodicals, local history collections, and access to online databases, as well as other resources that are unique to that collection or place.
Another consideration when conducting research in libraries is that there are many different types of libraries that exist, and they have different collections and policies. Your job as a researcher is to identify the various libraries that might have the information you need for your genealogy research.
Consider the following types of libraries for your research:
Your Local Public Library: Use your local library to access online subscription websites available via your library card, and consult the reference librarian for books or articles you need via interlibrary loan. Local libraries near me also feature consultations with law librarians and help with passports.
The Public Library Where Your Ancestor Lived: Ask about local history and genealogy collections as well as area historical newspapers on microfilm.
Academic Libraries: Academic libraries are great for subscription databases (think history and periodicals) not available to individuals or at other smaller libraries. Also, look for local history collections and social history books.
State Libraries: Not every state has a state library (sometimes it's combined with a state archive and/or state historical society), but these libraries have items pertaining to the history of the state as well as genealogy collections.
Private Libraries: Some private libraries are open to the public, while others are only open to members or specific researchers. Private libraries may include rare books, manuscript collections, and topical collections.
Genealogy Libraries: Genealogy libraries exist all over the United States. Most people are familiar with the Family History Library in Salt Lake City, Utah, but others include: the Clayton Library in Texas; the Allen County Public Library in Indiana; the Midwest Genealogy Center in Missouri; and the Godfrey Memorial Library in Connecticut.
Be Prepared
The Boy Scout motto "be prepared" is especially important when getting ready to conduct library research. It goes without saying that you should study the library catalog to identify what you want to look at prior to your visit, but there are some other considerations to also keep in mind.
While most of us are familiar with visiting a local public library, other types of libraries can have restrictions. Prepare for your trip by studying their website for hours/days of operations, restrictions on materials, and research rules. Some things to consider: Are there limitations on materials? Are some items stored offsite and require a few days' notice prior to viewing? Are there restrictions on who can research at the facility?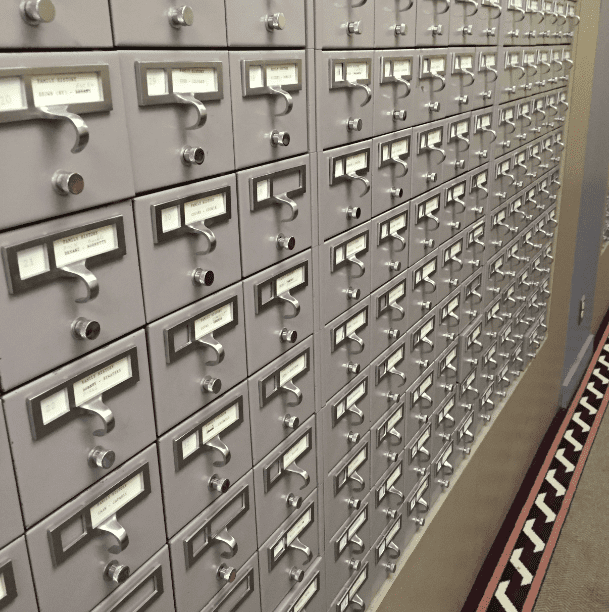 It's always a great idea to involve the younger generation in learning their family history, but for some repositories you may not be able to bring children or younger teenagers (an academic library I researched at required researchers to be over 18 years of age). In some cases, you might need a form of ID to be allowed to research manuscript materials or rare books (that same library required two forms of ID). That's why learning more about a repository before you visit is a must.
Aside from reading the website, I recommend sending an email to the reference librarian a week or two before your visit. It's a good opportunity to ask them questions about resources that can assist you in your research. I know from experience that sometimes there are items that aren't listed in the card catalog. In the case of my local public library, they have a series of newspaper microfilm that are not in the catalog.
An email to the reference desk might provide you with some ideas to start your research. And one last word about that email. When you send it, make it short, simple and to the point. Instead of telling a long story about your ancestors, be brief. Librarians have a lot of patrons to serve –  help them help you by quickly stating your question. Consider something like: "I'm visiting your library on the 22nd and will be researching a family that lived there from 1890-1940. What resources would you suggest?" You might also want to add a sentence listing what resources you have looked at or what specific research question you have.
At the Library
When I'm at the library I always make sure I prioritize my research "to-do" list. There are all kinds of reasons why this is important. Sometimes things don't go as you would hope. At one public library with only one microfilm reader I waited an hour to look at a newspaper page that took me two minutes to find. Sometimes the books you need to look at are being used by someone else. Time flies when you're having fun, or working on family history, and you may not get to everything on your list – so what's the most important?
I prioritize my list according to what I can't find anywhere else, and what's specific to that library. So, at the Family History Library I look at specific books that are not easily available to me, or microfiche that doesn't circulate to Family History Centers. Your prioritized list allows you to easily go from one priority to the next, especially when things aren't going the way you planned. I always create a research "to-do" list that is bigger than I could ever accomplish in one day. Why? Because I want to make sure that if things don't go as planned I have enough objectives to make the most of my time.
Finally, consider how you will document and capture what you find. Will you bring a laptop or mobile device? Will you use a spreadsheet, research log, or an online note-taking app to document where you looked and what you did or did not find? How will you make copies? Will you use a photocopy machine (bring money to buy a copy card or coins to use if applicable), or will you use your smartphone or mobile scanner (ask about any restrictions)?
Home Again
Remember what I wrote about in my last article, Genealogy 101: #10 Planning a Research Trip. I want to reiterate again that you should take some time when you return home to analyze your findings. Every time you research, spend some time citing your sources, documenting what you found in your genealogy software, and updating your research plan. Don't lose what you just found! Make sure it's where you can find it again so that you can build upon those findings for your next library trip.