Introduction: In this article, Mary Harrell-Sesniak explains that in earlier times funeral sermons were published and sold—and these documents often provide a wealth of family history information. Mary  is a genealogist, author and editor with a strong technology background.

You're probably wondering what's so exciting about funeral sermons, a rather sobering subject. Until recently I agreed, but then I did some genealogy research using funeral sermons and discovered that there are exciting ancestral details to be culled from them.
In fact, I urge all family historians to find and examine funeral sermons about their ancestors whenever they can.
Funeral Sermons: a Long and Honored Tradition
In earlier days, funeral sermons were often published. Authors (especially ministers) delivered inspirational and memorable sermons, often including personal family details about the deceased. Afterward, friends and bereaved family members requested copies for keepsakes; the funeral sermons were printed and sold to them.
Although published sermons are rare nowadays, the practice is a long and honored tradition.
Newspaper Advertisements for Funeral Sermons
Early newspapers ran ads announcing the availability of funereal sermons for purchase. In order to entice sales, most of these ads include pertinent genealogical details that we as genealogists can use as proof documents for lineage society applications.
This newspaper advertisement for Hezekiah Huntington's funeral sermon is typical. Notice that it includes his date of death, where he died, the burial date and the minister's name.
By comparison, this obituary for Hezekiah Huntington is a disappointment with its dearth of details—the entire obituary is one simple line:
At New-London, the hon. Hezekiah Huntington, Esq; of Norwich.
Just think: the old newspaper ad for the funeral sermon—let alone the actual funeral sermon itself—provides more details than the obituary!
Where to Find Funeral Sermons
GenealogyBank's newspaper archives are a good place to find old ads for funeral sermons. Also, the site's Historical Books collection contains digitized funeral sermons and eulogies.
To find genealogical information in early funeral sermons, try searching both the newspaper archives for historical advertisements about the funeral, as well as the Historical Books collection.
My Own Family History Discovery in a Funeral Sermon
When I decided to look at the funeral sermons in GenealogyBank's Historical Books collection, I really wasn't expecting to find anything about my own family. How wrong I was! While browsing the titles on the search results page, one heading jumped out at me: it named my 6th great grandfather, Joseph Starr, husband of Mary Benedict.
In all my years of genealogy research, I've never been able to find an obituary for Joseph Starr—so this 23-page funeral sermon was an exciting find. I already knew several things about my ancestor's life, such as his occupation as a shoemaker, tanner and farmer, and military service with the 20th Regiment of Cap. Nehemiah Waterman's Company during the American Revolutionary War.
New Details about My Ancestor Joseph Starr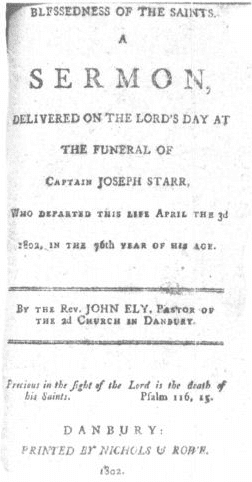 This old funeral sermon confirmed some facts I already knew, but also added new details about Joseph Starr's life. Some of these new research findings include:
Various vital record dates, including the year of his birth in 1726, his marriage in 1745, and his death on 3 April 1802.
Family details (11 children, 39 grandchildren and 24 great grandchildren—74 in all, 66 of whom were alive at the time of his death).
The name of the minister, as well as his church (Rev. John Ely, pastor of the 2nd Church of Danbury).
Joseph Starr was healthy and attended church. ("As he enjoyed a good state of health he was seldom absent from public worship.")
I also learned about his personality. ("He was affable, benevolent and hospitable; being a man of but few words he was not disposed to meddle with other men's matters, and consequently he had perhaps as many friends, and as few enemies as most men; He lived beloved, and died greatly lamented.")
The publication had been requested by surviving friends.
There were also kind words directed to the widow, her family and attending friends.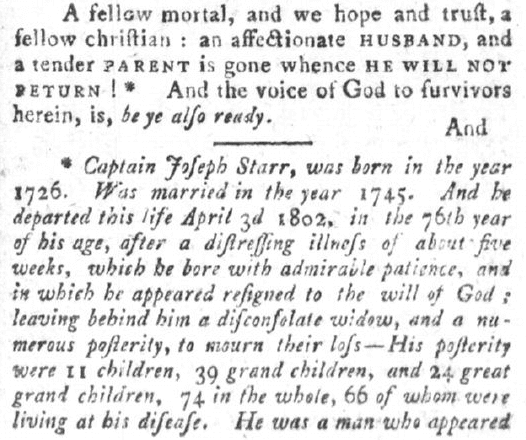 All in all, it was an exciting genealogy research find—and for me, a funeral sermon with so many personal life details trumps an obituary any day.
(For more information about Joseph Starr, see: the History of Danbury; a lengthy genealogy book on the Starr family; and Find A Grave memorials 21148746 and 21148747.)
Genealogy Tips for Researching Published Sermons
The date associated with the sermon will be the publication date, not the date of death.
The sermon publication day and month may not be exact, but the year is correct. Many funeral sermons are recorded in the database as January 1, because the exact date of publication is not known. (For example, Joseph Starr died on 3 April 1802, yet his funeral sermon is indexed in the database as 1 January 1802 because the indexers had no way of knowing the actual date of publication.)
Look for other items in the publication. In the funeral sermon examples below, a copy of a will, letters, and a transcription of a tombstone were found.
Don't forget to search for the newspaper advertisements that accompanied the sermons.
Prominent ancestors are more likely to have had published sermons than lesser known persons.
Others who died around the same time may be named in the body of the document, even if not included in the title. (In one of the examples below, Capt. Whittlesey passed away as the result of a hurricane, and the crew members of his ship were also named. In other instances, people who died the same week or month were also mentioned in passing.)
Funeral Sermon Examples
The following examples demonstrate the variety of genealogical and personal family information that can be found when researching published funeral sermons.
John Cushing: This 15-page sermon includes information about the widow and orphaned children.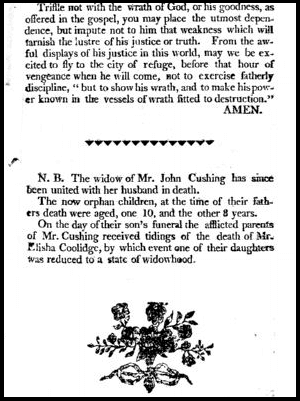 Lydia Fisk: The title reveals that Mrs. Lydia Fisk was the consort of the Rev. Elisha Fisk and shows the Bible passages cited.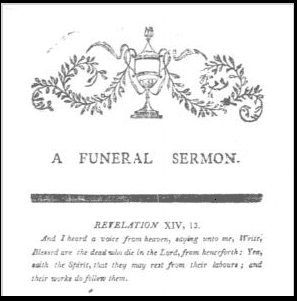 Alexander Hamilton: This funeral discourse includes a copy of his will, one of his papers and several letters.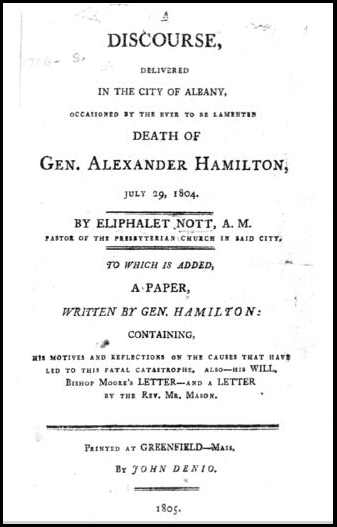 Mrs. Harris: On page 20, this document includes information about a family member's gravestone.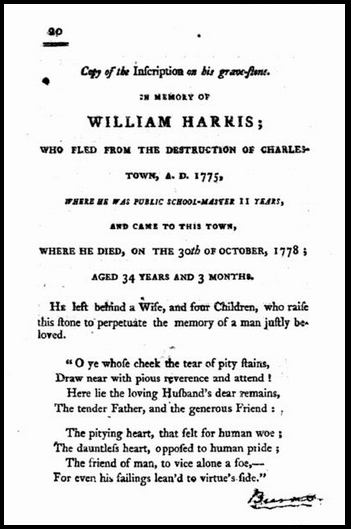 Capt. William Whittlesey: The appendix mentions the tragic details of his death, along with the crew members who accompanied him.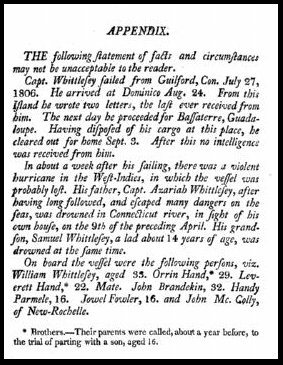 Funeral sermons are an often-overlooked genealogical treasure, providing details about our ancestors' lives perhaps not found anywhere else. Be sure to include them in your family history searches to discover more about the stories of your ancestors' lives.
(Visited 423 times, 1 visits today)