Introduction: In this article, Melissa Davenport Berry tells the remarkable story of Albert Cashier, a woman who fought 40 battles in the Civil War disguised as a man. Melissa is a genealogist who has a blog, AnceStory Archives, and a Facebook group, New England Family Genealogy and History.
In 1913 W. H. Alburn, a reporter for the Illinois State Journal newspaper, visited Albert D. J. Cashier (1843-1915), a soldier of the Civil War, at the Illinois Soldier's Home in Quincy. Cashier had served in the Union Army in Company G, 95th Illinois Volunteer Infantry.
In his article, Alburn noted that in all the soldiers' stories in the country, "there is not one so strange and so full of heroism as the tale of this veteran."
Newspapers all over the country ran the story Alburn uncovered. It was one that shocked, yet inspired readers. It was one of the best kept secrets in the Civil War annals: Albert D. J. Cashier was a woman, born Jennie Irene Hodgers.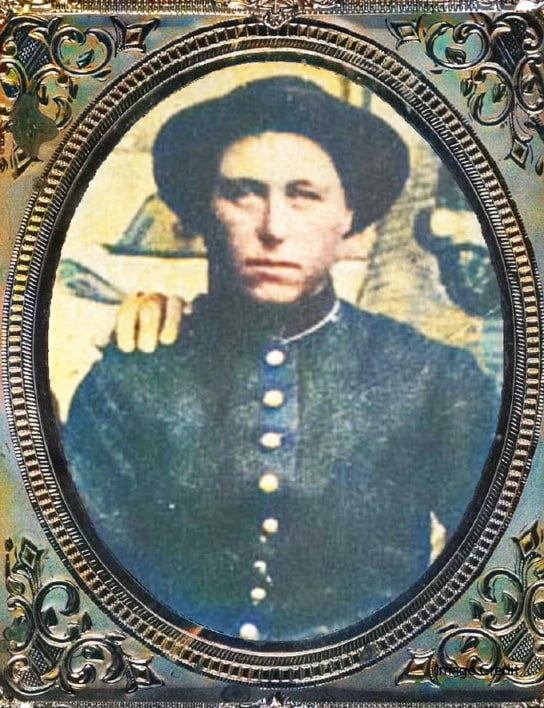 Cashier had fought in some of the hardest years of the war, and by the time her real identity was exposed she gave the appearance of a "sweet-faced grandmother."
Alburn had been expecting to meet an amazon she-warrior but found a fragile woman with whitened hair. Despite her appearance, Alburn made it clear this was no ordinary lass as he detailed her military history.
This article reported:
And this frail, little women had lived, dared, and done a man's work in the world. Her tiny feet had tramped, in the line of march, nearly 10,000 miles. Her delicate shoulders had been burdened with half her weight of equipment. Her little hands had dug trenches, laid rails, and wielded guns. She had shared the soldiers' lot in camp, on sentry duty, in bivouac, and line of battle.

She had built and guarded a railroad in the advance on Memphis. She had been through the battle of Guntown when her company was nearly annihilated. She had helped pursue Hood's defeated army to Tennessee. She had toiled in the swamps against General Johnson's Confederates, and triumphed with Grant amid the thunders of Vicksburg. She had taken part in the siege of Natchez, the battles of Kenesaw Mountain, Chattahoochee River, Jonesboro, and Lovejoy Station. She had been in the battering campaigns against Price in Arkansas and Mississippi, and Hood in Alabama, and with Sherman in his Atlanta campaign, where one soldier out of three was killed, and had followed him in his devasting march to the sea.
Jennie was born in Clogherhead, Ireland, and came into this country as a stowaway young girl. When she enlisted in the Union Army on 6 August 1862, she did so under the name of Albert J. D. Cashier.
Her life is a mystery, but several researchers, as well as historians of the Civil War Round Tables, have tried to piece together her life.
Some say she was following her man into service, while others say she wanted to fight the rebels.
According to the Register-Republic, Cashier's story gained more interest in 1958 after a publication from historian Gerhard P. Clausius in the journal of the Illinois State Historical Society.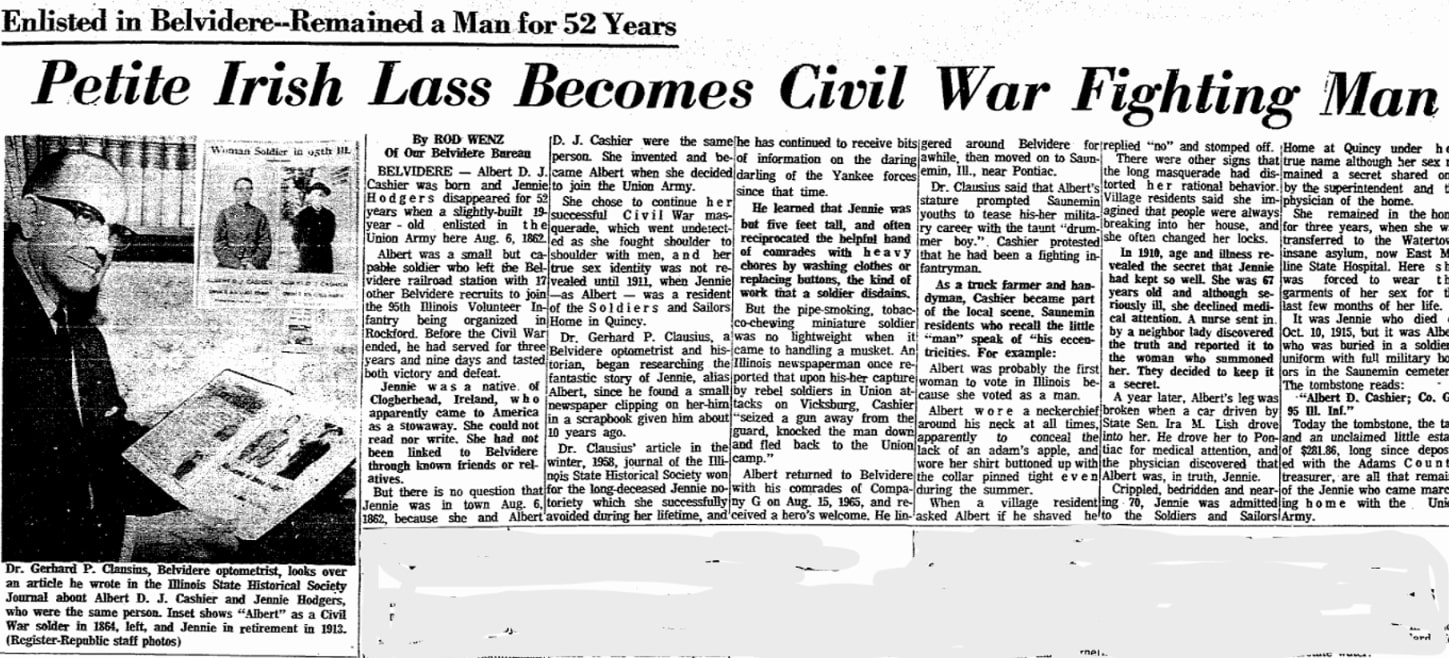 Clausius shared some of his research with the press:
He learned that Jennie [Albert] was but five feet tall, and often reciprocated the helpful hand of comrades with heavy chores by washing clothes or replacing buttons, the kind of work that a soldier disdains.

But the pipe-smoking, tobacco-chewing miniature soldier was no lightweight when it came to handling a musket. An Illinois newspaperman once reported that upon his-her capture by rebel soldiers in Union attacks on Vicksburg, Cashier "seized a gun away from the guard, knocked the man down, and fled back to the Union Camp." [Yes, this story is all true.]
Clausius researched Cashier's life after he-she mustered out and moved to Saunemin, Illinois, remaining Albert D. J. Cashier. Here are a few tidbits reported in the article:
As a truck farmer and handyman, Cashier became part of the local scene. Saunemin residents who recall the little "man" speak of "his eccentricities." For example:

Albert was probably the first woman to vote in Illinois because she voted as a man.

Albert wore a neckerchief around his neck at all times, apparently to conceal the lack of an Adam's apple, and wore her shirt buttoned up with the collar pinned tight even during the summer.
For years Cashier was under the radar – until one day an accident brought her quiet world into the masses, prompting an elderly sergeant's recorded memories of serving with Cashier.
Stay tuned…
Explore over 330 years of newspapers and historical records in GenealogyBank. Discover your family story! Start a 7-Day Free Trial
Note on the header image: Civil War soldier Albert Cashier. Credit: Abraham Lincoln Presidential Library and Museum; Wikimedia Commons.
Related Articles: