Georgia Family History Expo – Duluth, Georgia 2011

Over 400 genealogists gathered in Duluth, Georgia, for the annual Family History Expo held at the Gwinnett Center on Nov. 11-12, 2011.
Now in its second year, this conference has the size and feel of a national conference. There were over 60 informative family history sessions taught by two dozen experienced national speakers. Topics covered at this premier event for genealogists ranged from "Searching Your Scottish Ancestors" to "Special Sources for Confederate Research in the National Archives." Thanks to the conference's solid organization and the Gwinnett Center's well-managed layout, it was easy for genealogists to mingle with nationally-recognized speakers and take the time to ask meaningful, detailed questions.
For example, the Family History Expo made it easy for working genealogists to attend by having sessions scheduled well into the evening. Working genealogists that couldn't make the day-time sessions could attend sessions at night as well as all day on Saturday.
The speakers and vendors each shared their latest genealogy insights and tips. One nifty new application I learned about at this conference is a free family tree software program from TreeSeek.com. This application creates a nine-generation family tree fan chart that is easy to share with relatives and other researchers, as shown below. TreeSeek pulls family data from Geni or FamilySearch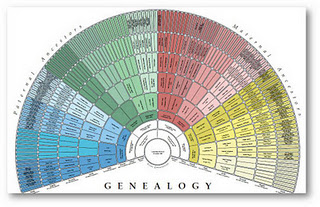 .Genealogists will find this free family tree software program a terrific way to easily share some of their family discoveries with relatives over the Holidays.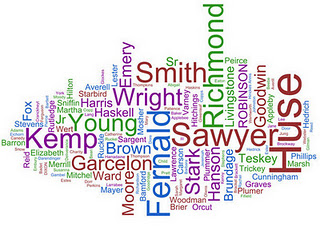 In addition to traditional family tree charts this program can also create a "Name Cloud" familiar to those of us working with 21st Century genealogy computing. Tom Kemp, GenealogyBank's Director of Genealogy Products, gave three lectures at the Expo, all focused on the value of newspapers for genealogists.
Friday, Nov. 11: "African American Newspapers"
African American newspapers in GenealogyBank's collection, published from 1827-1999—the largest collection of African American newspapers online. He provided practical advice for genealogists, such as: methods for efficient searching; and how to clip and save newspaper articles about your family. The lecture gave practical examples of the type of information family historians can find in these old newspapers, such as this obituary of Mary Stamps that appeared in the Atlanta Age (Georgia) 13 January 1900, page 2.
Saturday, Nov. 12: "21st Century Genealogy"
(All Levels) For this lecture, Tom concentrated on the ten essential online resources that you need to research your family online, save time, and improve the accuracy of your family history. He showed his audience how to cut through the clutter on the Internet and focus on the ten core resources with the reliable, essential content that genealogists use to document and preserve their family trees.

Genealogy sites Tom discussed included:
· Ancestry
· FamilySearch
· GenealogyBank
· Google Books
· Internet Archive
· Scribd

As Tom told his audience: "It's a great day for genealogy! Researchers need to know about these terrific online genealogy resources."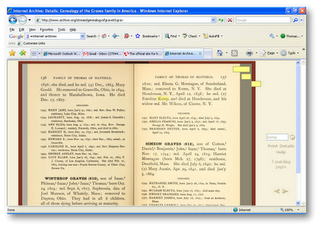 Saturday, Nov. 12: "Newspapers: Finding the Details about Your Family"
It was standing room only for this 2011 Family History Expo session, in which Tom explained how to use the more than 5,700 newspapers in GenealogyBank's
online newspaper archives
, published from 1690-Today. He taught how to search efficiently, and clip and save newspaper articles about your family—providing practical tips for searching these online newspapers published over the past three centuries.