Introduction: In this article – to help celebrate Mexican food on Cinco de Mayo – Gena Philibert-Ortega searches old newspapers to find a variety of recipes for enchiladas. Gena is a genealogist and author of the book "From the Family Kitchen."
Cinco de Mayo commemorates Mexico's military victory over French forces at the Battle of Puebla on 5 May 1862. Over time, the holiday has become a celebration of Mexican, and Mexican American, culture – including, of course, food. Enchiladas are a popular part of this cuisine.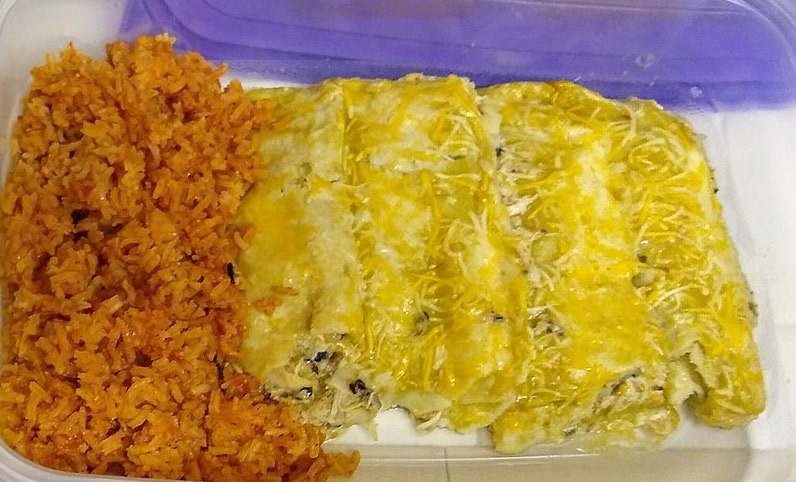 Have you made enchiladas before? Exactly what an enchilada is depends on where you're eating it. One food dictionary I consulted states that an enchilada is:
"A tortilla with various fillings of meat, cheese, chili pepper sauce, chorizo sausage, and other ingredients. Enchilada is an American-Spanish term meaning 'filled with chili' and first appears in print in America in 1887." *
While an enchilada typically includes a corn tortilla and other ingredients smothered in a sauce (either red or green), the way it is presented will be different if I'm ordering it in Southern California, New Mexico, Texas, or Mexico.
A rolled tortilla stuffed with ingredients like meat, cheese, and/or vegetables, and then covered in a sauce, is one type of enchilada. Stacked enchiladas are familiar to New Mexicans who layer the tortillas with ingredients and then top it off with sauce and a fried egg. A North American adaption of the enchilada presents it like a lasagna to create an Enchilada Casserole, alternating layers of tortillas and ingredients like chicken in a casserole dish, topped with sauce and cheese.
Experimenting with various ingredients and types of enchiladas is a tasty endeavor. Here are some recipes for you to consider.
Early Recipes
The first recipe I found in GenealogyBank's Historical Newspaper Archives was in the San Francisco Call Bulletin in 1901. The recipe, supplied to the newspaper by Mrs. M. E. K. of Salinas, starts with making tortillas and the sauce. These enchiladas include onion, boiled eggs, and a "thick layer of grated cheese."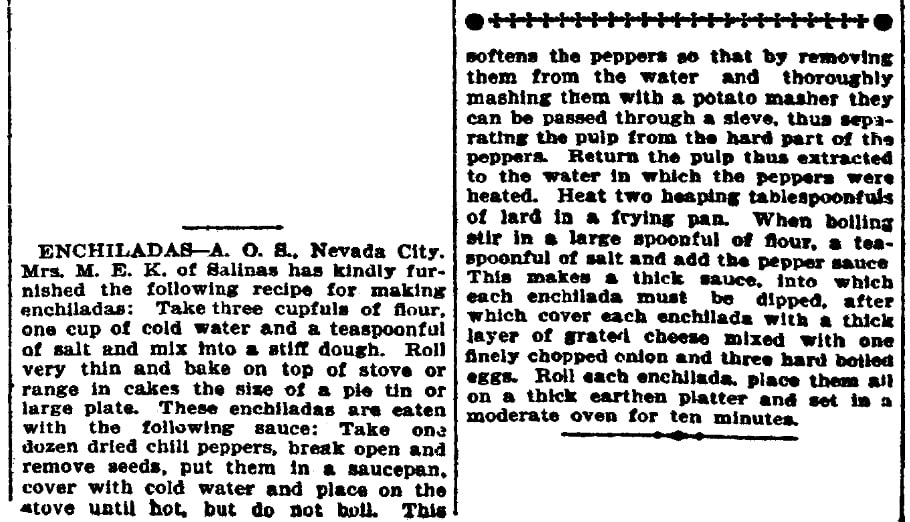 In this 1919 "Answers to Correspondents" column, one writer asks for a recipe for Enchiladas de Huevo. The recipe provided includes boiled eggs, olives, and onions. The recipe also recommends "Mexican cheese" or, if not available, Parmesan. The sauce for these enchiladas is a Chili Colorado (traditionally a red meat sauce).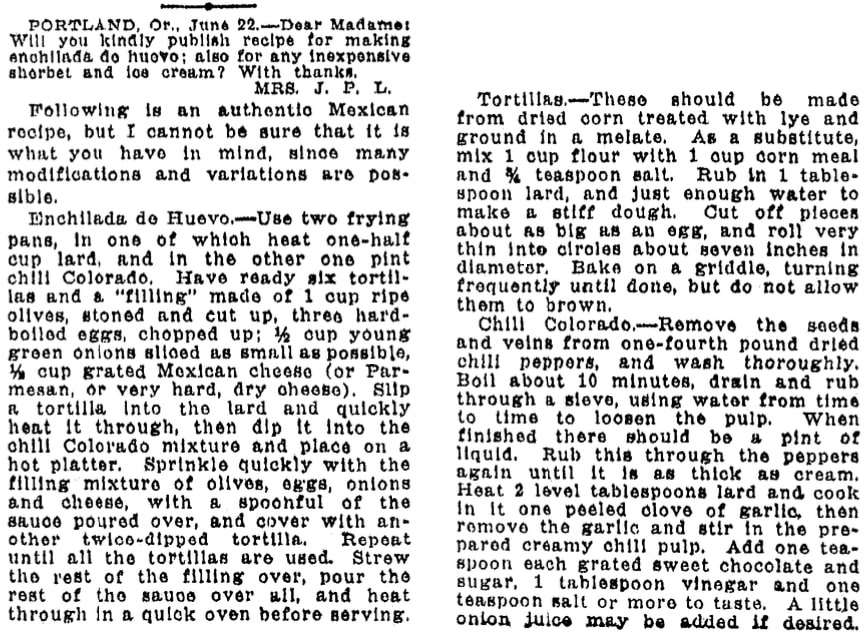 More Recent Recipes
Because enchiladas are basically tortillas, sauce, and a filling, they are adaptable to various diets and preferences. This vegetarian enchilada recipe includes a green sauce.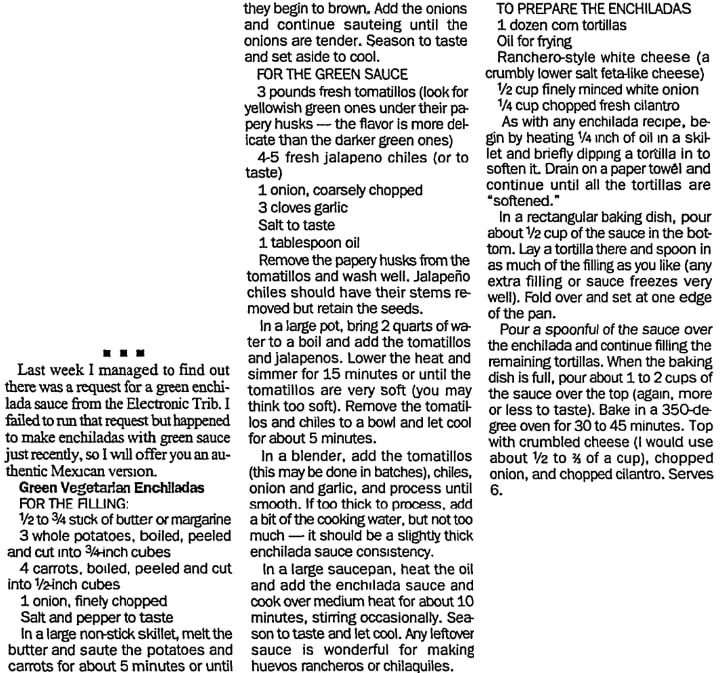 You can buy canned enchilada sauce to make things easy, but there are also plenty of sauce recipes that can be found in newspapers. This sauce recipe published in 1988, El Paso Del Norte Enchilada Sauce, is by chef and cookbook author Paul Prudhomme and is recommended as an ingredient in a hot or cold dip.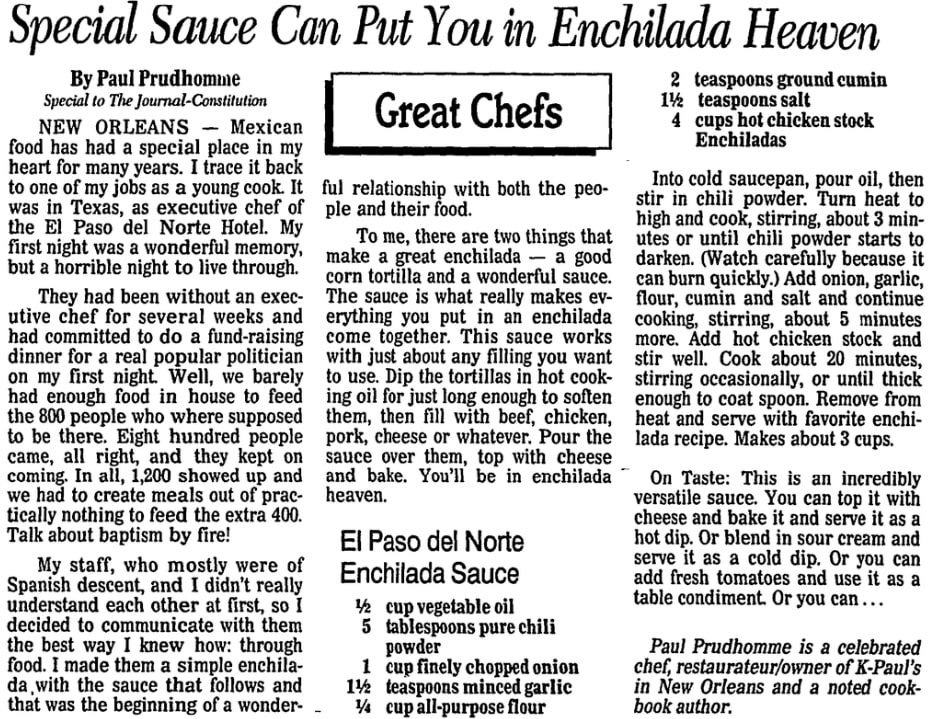 Enchilada Casserole
I grew up eating Enchilada Casserole and continue to make it for my family. Although you can use any type of meat, we usually prefer shredded chicken. You can be somewhat creative with the filling, adding vegetables (corn or squash for example) or beans (pinto or black beans). I usually top mine with shredded cheese, olives, and onions, and then bake.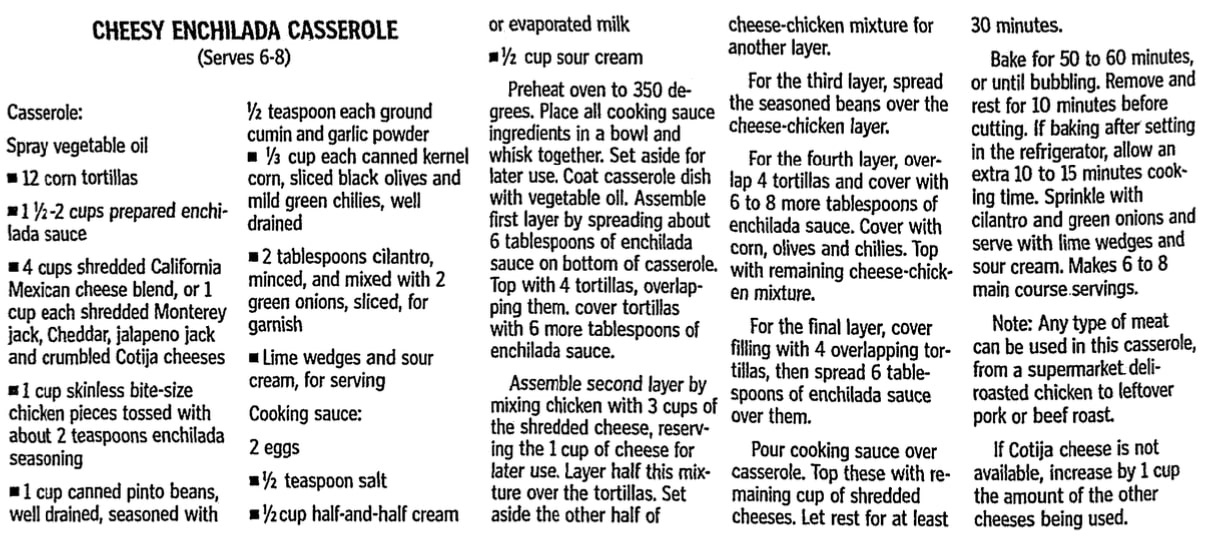 Before serving, add avocados, guacamole, shredded lettuce, sliced radishes, olives, or sour cream. This is a great recipe to use up any meat leftovers you have.
A different take on the Enchilada Casserole is this vegetarian version that uses black beans, cottage cheese, bell peppers and onions. Instead of enchilada sauce, a mild green salsa is used for this recipe; however, you could substitute with a canned green enchilada sauce.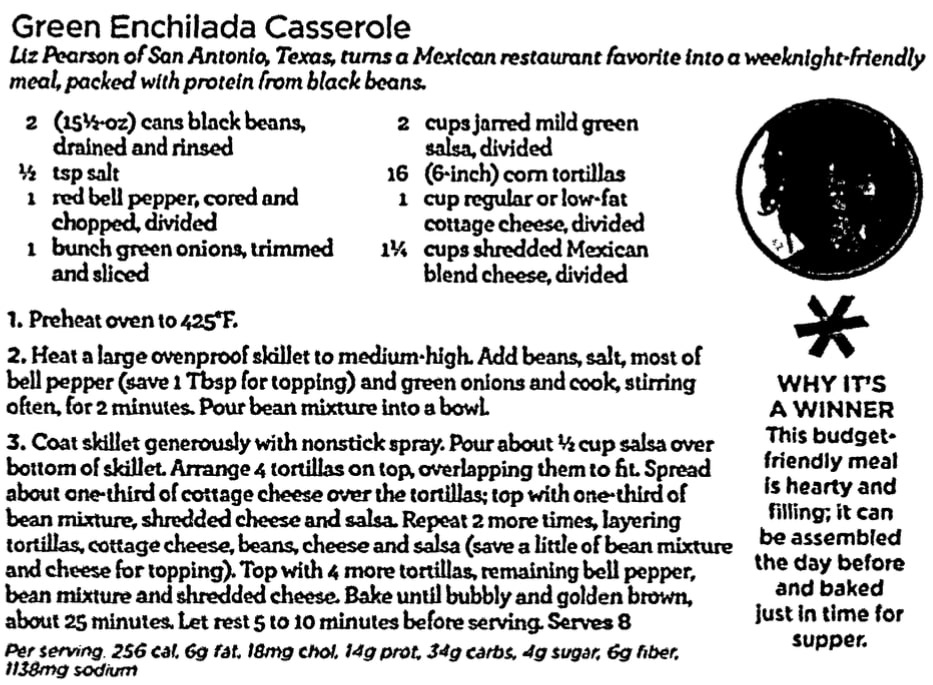 What's for Dinner?
Enchiladas are a great dish that can be customized according to your family's tastes. Need some recipe ideas? Search GenealogyBank's Historical Newspaper Archives for the recipe you want to try.
* Mariani, John F. The Dictionary of American food & Drink. New York: Ticknor & Fields, 1983, p. 158.