Introduction: In this article – to help celebrate May being National Hamburger Month – Gena Philibert-Ortega searches old newspapers to find a variety of recipes using ground beef. Gena is a genealogist and author of the book "From the Family Kitchen."
Yes, it's true that most food has its own day – or, in some cases, a whole month – dedicated to it. Even lowly hamburger (ground beef) has a month honoring it. Much maligned but probably one of the more familiar recipe ingredients, my family ate a lot of it when I was growing up.
365 Ways to Cook Hamburger
Hamburger was the meat featured in weekly meat loaf, burgers, spaghetti, goulash, casseroles, and soups. It was inexpensive, and since my dad didn't like chicken, it was the natural choice for dinner. Our family probably ate 20 or so recipes that incorporated the familiar meat, but according to the best-selling 1960 cookbook by Doyne Nickerson, there are actually 365 Ways to Cook Hamburger.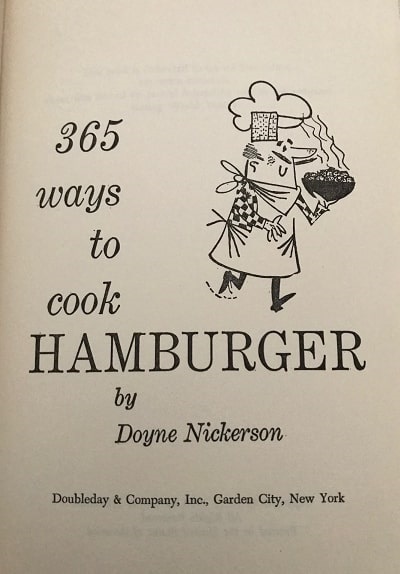 Genealogists will appreciate that the author Doyne Nickerson dedicated his hamburger tome to his mother-in-law, Delphine Franklin, "whose files turned up several interesting recipes she prepared during World War I." Though her thrifty recipes may have provided some inspiration, Nickerson also drew from his own experiences as an "author, actor, a hydroponic gardener, an advertising writer, a painter, and during the depression a young man who ate hamburger three times a day."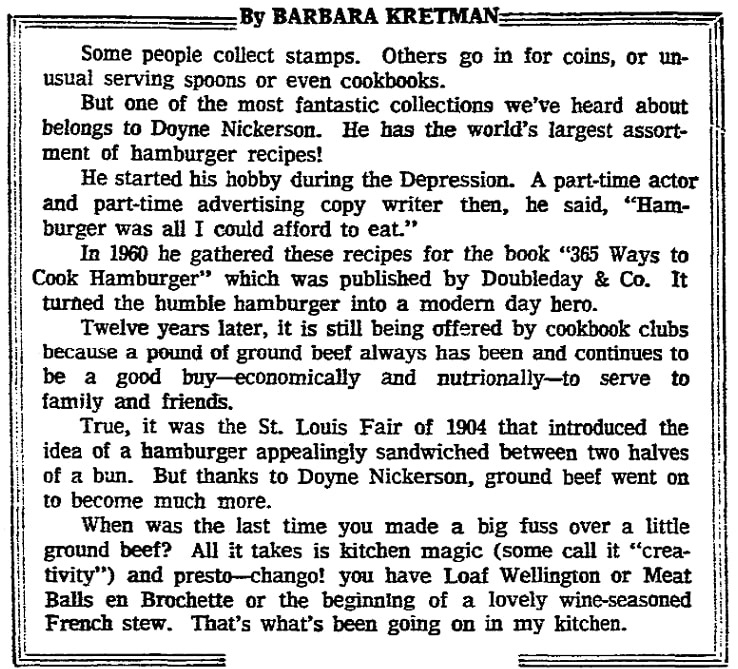 There's no doubt what types of recipes 365 Ways to Cook Hamburger contains. While it would be something that would appeal to a wide audience, it did have some stiff competition for readers who had other cookbook choices – including one that would become legend. Quite simply, a cookbook devoted to hamburger isn't in the same league as Julia Child's Mastering the Art of French Cooking. (As one newspaper article wrote: "Gourmet cooking is a continuing art, and one would be naive to suppose that this book could be approached with the same 30-minute-preparation-attitude as '365 Ways to Cook Hamburger.')
Nonetheless, 365 Ways to Cook Hamburger is a cookbook that was popular for nearly two decades because it provided families with low cost, easy-to-prepare recipes. It was a cookbook known by everyone, from those who needed its low-cost recipes to others who probably didn't – including Julie Nixon, the daughter of then President-elect Richard Nixon, who received it as a gift for her wedding to David Eisenhower.
Recipes
Some food writers used Nickerson's book as a punchline in introducing their own recipes for ground beef. This 1976 food column by Carmen Jones has her admitting that she laughs whenever she sees 365 Ways to Eat Hamburger and questions who would want to eat ground beef every day, but she then provides her own ground beef recipes for her readers.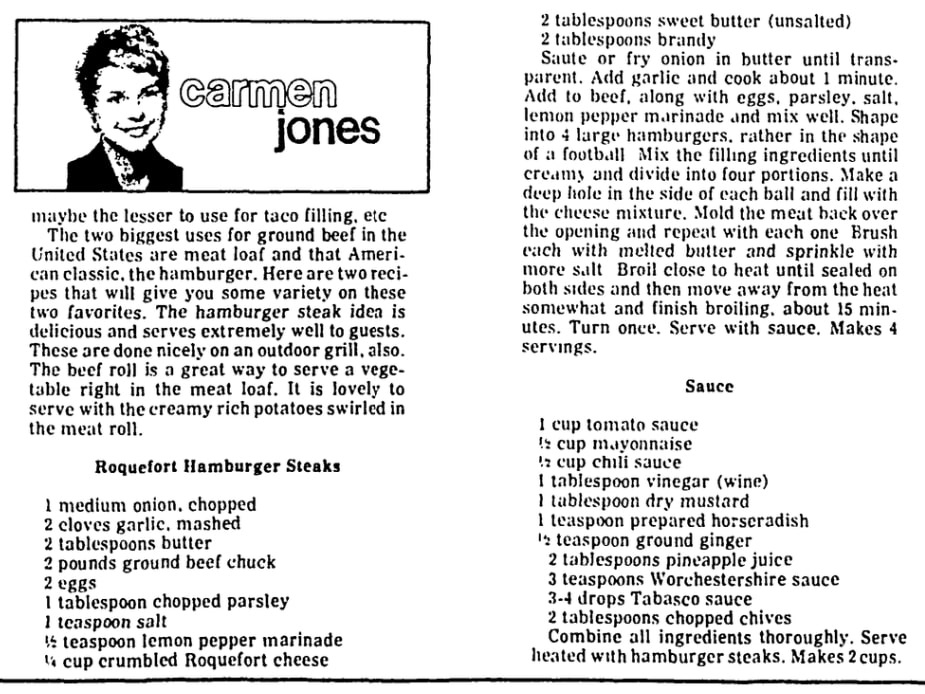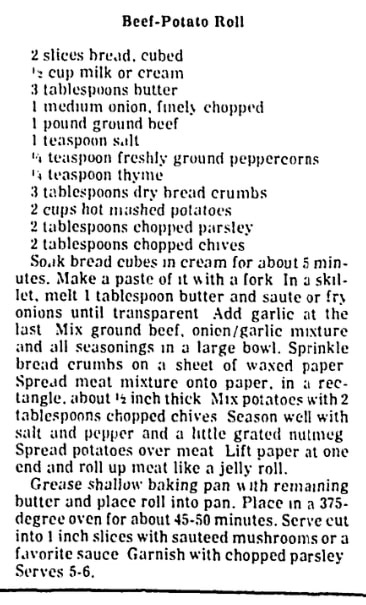 Many of the recipes found in 365 Ways to Cook Hamburger have endured over time and changes in taste, such as Tamale Pie or Meat Balls Bourguignonne, as well as recipes for favorites like hamburgers and meatballs.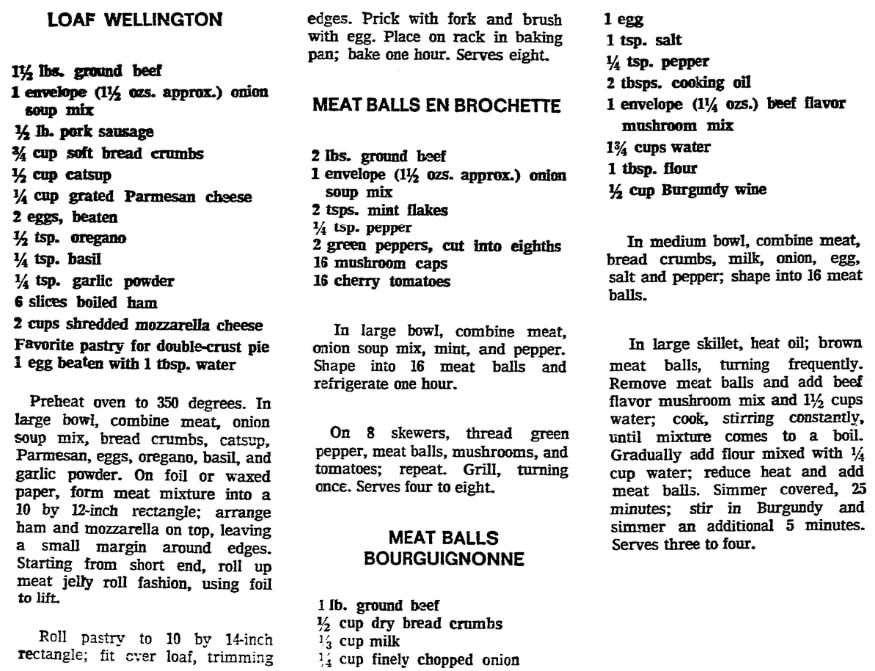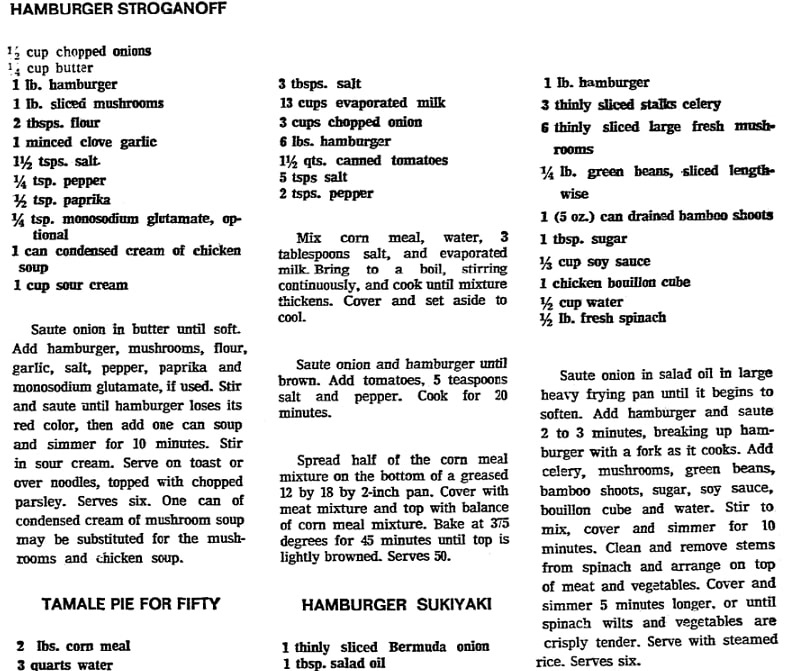 Saving Money Never Goes Out of Style
It's easy to make fun of a 60-year-old cookbook dedicated to hamburger, but home cooks always need good ideas for the endless question of "what's for dinner?" Nickerson continued to answer that question with a 1983 version of his best-selling cookbook, titled The New 365 Ways to Cook Hamburger and Other Ground Meat.
Ten years later, another chef would come up with a similarly titled book, and that would be joined by numerous other "365 Ways" books by a variety or authors looking to educate readers on how to cook everything from chicken to seafood and everything in between. Yes, it's easy to poke fun at the idea of a cookbook dedicated to cheap ground beef recipes, but in the end, preparing economical meals is something most people are interested in no matter what the time period.
Note: An online collection of newspapers, such as GenealogyBank's Historical Newspaper Archives, is a great way to learn about the lives of your ancestors, including the foods they ate and the recipes they used.