Introduction: Gena Philibert-Ortega is a genealogist and author of the book "From the Family Kitchen." In this guest blog post, Gena writes about a lunch menu from the Titanic on the day the ship struck the fateful iceberg—April 14, 1912—and talks about the massive quantities of food carried and served on that immense ship.
Mention to anyone that you are going on a cruise and most likely one of the first topics of discussion will be about food. Cruises are synonymous with large quantities of food. Whether it's a buffet or a more formal meal in one of the cruise ship's restaurants, the quantity and variety of food seems limitless.
The abundance of food on a passenger ship is not a modern phenomenon; consider the Titanic, that infamous passenger ship that sank in the early morning hours of 15 April 1912.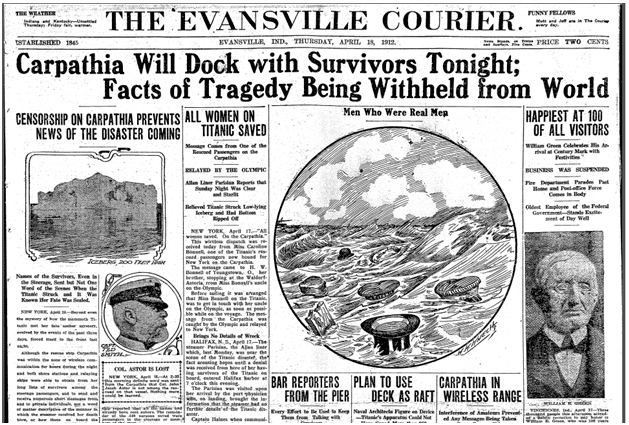 The RMS Titanic rang in a new era in ship travel because even the third class passengers had access to a variety of food—though not the same foods or amounts as the first class passengers.
It amazes me to think about how much food had to be secured, purchased, and stored before a cross-Atlantic voyage on a ship as large as the Titanic. With 2,224 ship passengers and crew there had to be large quantities of everything from fresh water, to produce and meat, to alcohol. Practically every need of the passengers was anticipated down to the availability of kosher food.* The website Titanic Facts has a page entitled Food on the Titanic which provides an idea of the massive quantities of food needed to cater for such a voyage, including: 11,000 pounds of fresh fish, 40 tons of potatoes and 40,000 fresh eggs!
Obviously the type of food served to a passenger on the Titanic corresponded to how much they paid to sail. However, unlike earlier ship voyages that required steerage passengers to bring their own food, Titanic's third class passengers were fed food similar to second class passengers with a few exceptions, such as being served high tea in place of dinner. First class Titanic passengers paid up to 25 times more for their passage and the food they were offered reflected that price difference.**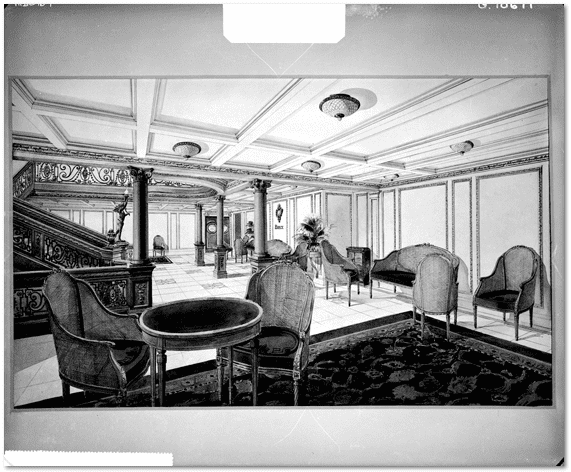 Photo:  http://www.flickr.com/photos/nationalmaritimemuseum/2843687676/ Accessed 4 April 2013.
A first class lunch menu from the fateful day the Titanic struck an iceberg, April 14, 1912, is now on display at Titanic Belfast. The Titanic menu gives us a glimpse of some of the foods that were served to the millionaires sailing on the vessel. A large selection of meat dishes could be sampled, including: corned ox tongue, bologna sausage, grilled mutton chops, roast beef, veal & ham pie, corned beef, chicken a la Maryland, and spiced beef. Seafood offerings included: potted shrimps, salmon mayonnaise, Norwegian anchovies, and soused herrings. Vegetables and cheeses were also offered for lunch. Probably one of the more unfamiliar dishes served was Cockie Leekie, a soup whose ingredients include young fowl and leeks.
You may wonder how a paper menu from the day of the iceberg collision might have survived all these years. It seems that some paper items did survive; they were ensconced in the pockets of the coats, or in the case of the above menu in the purse, of those who made it safely to a lifeboat. This particular old Titanic menu now on display at Belfast is not the only copy of that day's menu. Several years ago, a copy of that same ship luncheon menu was appraised on the PBS show Antiques Roadshow. You can watch that Titanic menu appraisal on the PBS website.
Because of the tragedy of the Titanic, most newspaper and magazine food articles concentrate on the last meal served on the Titanic the evening of April 14, 1912 (the ship struck the iceberg 11:40 that night, sinking less than three hours later). In fact there's even a book on the subject, entitled Last Dinner on the Titanic: Menus and Recipes from the Great Liner by Rick Archbold & Dana McCauley.
* "Availability of kosher food aboard Titanic sheds light on immigration via England." Accessed 27 March 2013.
** "Food and Menus on the RMS Titanic 1912." From: About.com British & Irish Food. Accessed 2 April 2013.
(Visited 960 times, 1 visits today)